Music festival wave to hit surf town of Waiao
The Seafood, Blues and Brews Festival in Yilan County's Waiao will feature a diverse selection of food and music, giving revelers the option of a mellower beach party vibe
Next weekend, the sleepy surf town of Waiao (外澳) in Yilan County (宜蘭) will transform into a hopping music hub for the first annual Waiao Seafood, Blues and Brews Festival. The party kicks off at noon with an eclectic lineup of performances mixed with a fine selection of fresh seafood, western-style barbeque and craft beer.
Festival-goers can expect the event to be a bit more low-key than the annual Gongliao Ho-Hai-Yan Rock Festival (貢寮國際海洋音樂祭) in Fulong Beach where nearly a million people have attended the past few summers. Home to a small, tight-knit community of local and expat surfers who also double as musicians during the evenings, Waiao is not quite as established as a beach destination as Fulong, although their black sand beaches are cleaner, the water is clearer and the mountainous backdrop more picturesque.
"The surfers, artists and musicians who flock to Waiao have really been the ones who have shaped the culture here," says Garrett Ball, the owner of the Rising Sun Surf Inn, which organized the event.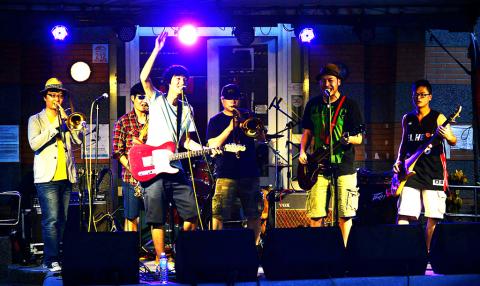 Mary Bites Kerry performs at the Waiao Art and Music Festival in October last year.
Photo courtesy of Rising Sun Surf Inn
This chill, welcoming vibe will likely be reflected in next weekend's festival, which will be about appreciating art and culinary creations, as well as the company.
Or, as Ball says, "this festival is different than ones like Fulong because it follows the pyramid of great festivals that is great food, great music and great drinks."
Rising Sun also sponsored the Waiao Art and Music Festival in October of last year, which was sort of a trial run for this year's event.
"Although this year it is a small and cozy festival, it'll get bigger each year while still maintaining that formula of great festivals," Ball says.
DRINK UP AND CLEAN UP
The theme of the festival is blues, but there will also be a fair dose of alternative rock, folk and hip-hop from Taipei-based bands such as Dress Shop, The Red Cliff and 25th Parallel (緯度二十五). In addition, Mike Zulu of Riseage who has played in 48 of the 50 US states, will be one of the international performers taking the stage.
Those who intend on filling up on booze and partying all-out should think twice though. Ball says he can't stress how important it is for partygoers to remember to keep the beach clean. He frequently organizes beach clean-ups at Waiao, and another one will be held on the morning of the festival, at 9:30am. The organizers have also reduced the amount of plastic cups and paper plates needed for food and drinks. Each person only gets one cup for beer, so you will need to hold onto it or pay for another cup.
Ball envisages that clean-up shouldn't be too big of a problem though — "last year's Art and Music Festival proved that the people coming out here have a strong sense of pride for their hangout and cleaned up quite nicely," he says.
So if you're itching for a mellower beach festival vibe, head down to Waiao next weekend, but do remember to clean up after you drink up.
Publication Notes
Festival Notes
What: Waiao Seafood, Blues and Brews (外澳海樂)
Where: Waiao Train Station (外澳火車站)
When: April 25 at noon
Admission: Free
On the net: www.facebook.com/events/
1688960991331627
Getting there: To get to Waiao Train Station (外澳火車站) from Taipei, take the bus from Taipei City Hall Bus Station (市府轉運站) to Jiaosi (礁溪) for NT$90, then the train three stops northbound to Waiao for NT$15
Comments will be moderated. Keep comments relevant to the article. Remarks containing abusive and obscene language, personal attacks of any kind or promotion will be removed and the user banned. Final decision will be at the discretion of the Taipei Times.