THEATER: Mouthwatering poetry
Thespians, literature lovers and foodies can gather Sunday at Nakedfood to recite food-themed poetry and re-enact a chapter from 'Alice in Wonderland'
Alice in Wonderland turns 150 this year, and to commemorate its publication, the Red Room Radio Redux (R4), a non-profit that organizes English-speaking, Thespian-style events throughout Taipei, will be hosting a Mad Hatter's Tea Party on Sunday at Nakedfood by Delicious Taipei, a new restaurant in Da-an District (大安).
Ruth Giordano, the event's organizer, says that it will be an afternoon of good food and good poetry. She tells the Taipei Times that great works of Western classical literature were performed at banquets, and she hopes to continue the tradition in Taipei, although in a more casual and inviting setting.
"There's a long tradition of food and literature working together," Giordano says. "Both tickle our senses and stimulate our imagination."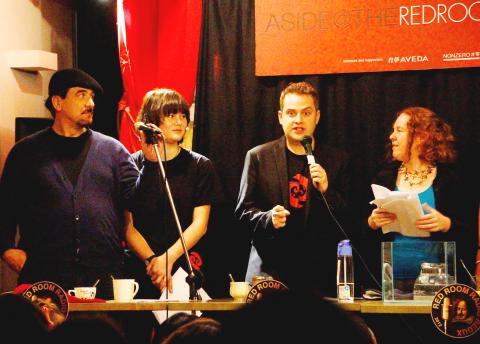 Performers take turns reading a chapter from Lewis Carroll's 1865 novel Alice in Wonderland at the Red Room in Taipei last month.
Photo courtesy of Red Room
The afternoon's activities will be split into two rounds. In the first round, guests will recite poetry on the theme of food. Participation is optional and no one will be pressured to read aloud. Maya Angelou, William Carlos Williams and Roald Dahl are among the chosen authors.
In the second part, performers — mostly musicians, filmmakers and writers who are involved in Taipei's art scene — will read a chapter from Lewis Carroll's Alice in Wonderland, each of them assuming a different role such as the hare or the Cheshire Cat. They will perform it as a radio-style recording, with amplified voices and gestures. In addition, there will be pre-recorded sound effects and background music in order to enhance the audience's experience.
'FLAVOR AND SATISFACTION'
Giordano says the tea party will be a good opportunity for people to unplug and bond over "good literature and tantalizing culinary creations."
R4's past events have attracted many poets and writers. During Christmas last year, they held a reading of Charles Dickens' A Christmas Carol, where they passed the book around and took turns reading it aloud. The same crew also performed a rendition of the Mad Hatter Tea Party last month, and for Sunday's tea party, some of the guests have offered to present their own original work.
R4 is always scouting out informal yet cozy venues for their theatrical events. There are no curtains and only minimal lighting so that attention is directed at the performers.
This will be R4's first event at Nakedfood. Giordano says that when choosing the venue, the restaurant's mission seemed to fit well with their idea of how a tea party to be.
"Nakedfood's approach to food is imaginative, fun and poetic," Giordano says.
She adds that she liked Nakedfood's outlook that "a healthy life should not only be an artful one, but should also indulge in flavor and satisfaction."
The event is not only for thespians, literature lovers and foodies, but also anyone who wants to unwind and indulge in the richness of words and rhymes from a bygone era. In other words, appreciating the art as it is, in its pure form, rather than from behind a television screen or tablet.
As Giordano says, "to hear poetry read aloud is a rare treat in the 21st century."
Publication Notes
Performance Notes
What: The Mad Hatter's Tea Party
When: Sunday at 2pm
Where: Nakedfood by Delicious Taipei, 22-1, Ln 160, Xinsheng S Rd Sec 1, Taipei City (台北市新生南路一段160巷22-1號)
Admission: NT$500, including a selection of raw canapes and wine (proceeds go to Christian Salvation Service)
On the net: www.facebook.com/events/1619620328257126
Comments will be moderated. Keep comments relevant to the article. Remarks containing abusive and obscene language, personal attacks of any kind or promotion will be removed and the user banned. Final decision will be at the discretion of the Taipei Times.