Happiness gap may favor liberals
Researchers have found that when behaviors rather than self-reports were examined, liberals seem to have a small but statistically significant happiness edge
Conservatives are happier than liberals, or so decades of surveys that ask about life satisfaction would suggest.
The existence of a so-called ideological happiness gap is so well established that recently social scientists have mostly tried to explain it.
But a new series of studies questions the gap itself, raising the possibility that although conservatives may report greater happiness than liberals, they are no more likely to act in ways that indicate that they really are happier.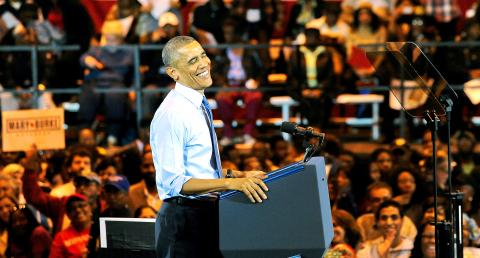 US President Barack Obama smiles while speaking during a campaign event for Wisconsin Democratic Gubernatorial candidate Mary Burke at North Division High School in Milwaukee, Wisconsin, last October. Recent studies show that although conservatives say they are happier, liberals behave happier.
Photo: EPA
"If it's real happiness, it should show up in people's behavior," said Peter Ditto, a professor of psychology and social behavior at the University of California, Irvine, and an author of an article about the studies, which were led by Sean Wojcik, a doctoral candidate at the university.
"What our evidence suggests is that it's limited to self-reports of subjective well-being," Ditto said.
The article appears in an issue of the journal Science last week.
In fact, when behaviors rather than self-reports were examined, liberals seemed to have a small but statistically significant happiness edge.
The researchers examined two behaviors linked to happiness: smiling and using positive language. For their subject pool, they chose large groups whose political leanings could be identified with some reliability, including members of Congress and users of Twitter and LinkedIn.
One study analyzed the emotional content of more than 430 million words entered in the Congressional Record over 18 years. Liberal-leaning politicians, the researchers found, were more likely to use positive words and no more likely to use sad or negative words.
Political ideology in the study was defined by the speaker's voting record or party affiliation.
The study also examined publicly available photographs of 533 members of Congress, finding that conservative politicians were less likely than liberals to display smiles involving facial muscles around the eyes, a measure that previous research has found to be associated with genuine emotion.
Two other studies analyzed the emotional tenor of language in 47,000 Twitter posts by nearly 4,000 Twitter users and the photographs of 457 users of LinkedIn, with similar results. The Twitter users were identified as liberal or conservative depending on whether they subscribed to feeds from the Democratic or Republican parties. The LinkedIn users were affiliated with organizations associated with liberal or conservative ideologies, like Planned Parenthood and the Family Research Council.
In their report, the researchers note that the ideology gap, while thoroughly established over the years, was based on a single methodology: asking people how happy they are.
But such self-reports, they argue, are susceptible to people's habit of evaluating themselves in an unrealistically positive manner, a tendency that psychologists call self-enhancement.
A fourth study in the series surveyed visitors to YourMorals.org, a psychology research Web site, in which participants filled out questionnaires measuring life satisfaction and the propensity to self-enhance. As in previous research, conservatives reported greater happiness than liberals. But they were also more prone to self-enhancement, the study found.
"Conservatives' reports of happiness do seem to be bolstered by this self-enhancing tendency," Wojcik said.
The research will almost certainly reignite debate over which side of the partisan aisle is happier — and spawn further studies.
And the findings have limitations, as the investigators themselves concede.
"It would be a mistake to infer from our data that liberals are 'objectively' happier than conservatives or that conservatives' self-enhancing tendencies are necessarily maladaptive," they write in their report.
Ed Diener, a professor of psychology at the University of Virginia who has spent decades studying happiness, said that the new research "is very interesting," and shows the importance of using a variety of different methods to assess happiness and other psychological states.
But, he noted, the differences between groups found in the study were small and the results were open to other interpretations.
Among the rank and file who fill out Internet surveys, for example, conservatives might be happier, while among political leaders, liberals might be happier, he said. And political speech might reflect the speaker's efforts at impression management rather than happiness.
"I would very much like to see the findings replicated" by other researchers, Diener said.
Ditto agreed that the studies could not definitely answer the question of who was happier.
"You get into sort of philosophical territory here," he said. "If you say that you're happy, are you really happy? That's where I think interesting future directions go."
Comments will be moderated. Keep comments relevant to the article. Remarks containing abusive and obscene language, personal attacks of any kind or promotion will be removed and the user banned. Final decision will be at the discretion of the Taipei Times.