Musings and Morrie
Over the next two weeks, the LAB Space in Beitou will host a play based on Mitch Albom's best seller, 'Tuesdays with Morrie'
Tuesdays with Morrie is the juggernaut of memoirs with 14 million copies sold, translations in 41 languages and a helpful push from Oprah Winfrey.
Mitch Albom's breakthrough book, which was first published in 1997, chronicles the reconnection between Albom and his former professor, Morrie Schwartz, 16 years after his graduation.
Brook Hall, one of the country's most well-known directors and producers of English-language theater, says it was the ideal story to interest audiences in dramatic theater.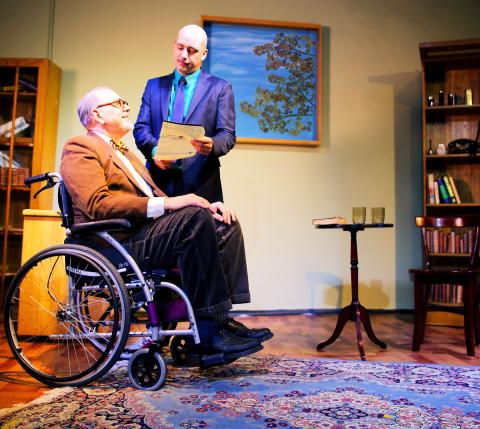 DC Rapier, left, and Victor Stevenson star in Tuesdays with Morrie, a play about weekly meetings and worldly advice between a dying professor and a former student.
Photo courtesy of Tobie Openshaw
Hall had always loved the book and was fascinated by the power of creative work in having a positive influence in the lives of its readers.
"The biggest Taiwanese theater producer did the show in Mandarin quite successfully, but I felt that non-Chinese speakers should get a chance to see the show as well."
Hall says that much theater produced by expats tends to be limited to comedy.
"I wanted to give actors a chance to really act some great drama and audiences the joy of seeing various stories live," Hall says.
BRINGING MORRIE TO LIFE
When choosing plays for his goal this year of one new production every three months, Hall picked Tuesdays with Morrie because he knew that DC Rapier, who Hall directed in Cole Porter's Anything Goes, would be ideal for the part of the wise professor dying of amyotrophic lateral sclerosis.
"He's one of those guys that is a blend of mentor and friend to many in Taipei," Hall said.
DC Rapier is well known for being a wiz on the blues guitar, but he trained in musical theater since he was in the Thespian Society in high school. To prepare for the role of Morrie, Rapier did his homework.
For Rapier, reading the script and viewing the film adapation was the easy part. He also watched Ted Koppel's interviews with the real-life Morrie Schwartz before reading Albom's book.
"Far more difficult and demanding has been the examination of my own life experiences, particularly those dealing with death, plumbing the depths of some very traumatic emotional states demanded by the role and the script."
While Rapier believes preparing for the role of Morrie has been both fantastic and challenging, he thrives on the undertaking.
"People should come prepared to laugh, to cry and to go away with a new appreciation of life," Rapier said.
"This a far more dramatic role than I've ever played before," he added.
CHANNELING MITCH
The final piece of the puzzle was finding an actor to play Mitch Albom. Hall held open auditions and Victor Stevenson was chosen for the role.
"This is a beautiful story about coming to peace with one's past mistakes, appreciating life and to never stop learning," Stevenson said.
Over the Lunar New Year, Stevenson went back to visit his family in Chile and wanted to use some of the experiences he had growing up to give a very honest performance.
"My dad died when I was a teenager and I remember the period when he was sick at home," Stevenson said.
"I went back home and saw my grandmother who is very old now. Just like Mitch and Morrie, talked about many different subjects. After each time we met, I thought, 'Maybe I can use this for Mitch.'"
Comments will be moderated. Keep comments relevant to the article. Remarks containing abusive and obscene language, personal attacks of any kind or promotion will be removed and the user banned. Final decision will be at the discretion of the Taipei Times.