Small but potent
Chinese celery is the reedy cousin of the familiar European variety, but what it lacks in bulk it makes up for in flavor
Wonderful fresh Chinese celery (芹菜) has hit the market stalls with the warmer spring-like weather. It is plentiful, cheap and flavorful, and with a little tweaking, it can be the perfect substitute in many recipes for the big, chunky European celery imported from the US and elsewhere.
Another good reason to opt for Chinese celery over European is that according to this year's Environmental Working Group report called the Shopper's Guide to Pesticides (www.ewg.org/foodnews), conventionally grown celery in the US is among the top 12 fruits and vegetables on which pesticide residues have been most frequently found. It needs to be said that locally grown Chinese celery is not exempt. There have been reports of high levels of pesticide residue found in locally grown celery sold in supermarkets, but at least produce from small "organic" farmers is increasingly available.
Chinese celery is the same species as the European variety most people in the West are familiar with, but it has a number of important differences. The stems are much thinner, and the flavor is a little sharper. It is a close relation to smallage (also known as wild celery), which is used in some French cooking for its pronounced bitter flavor.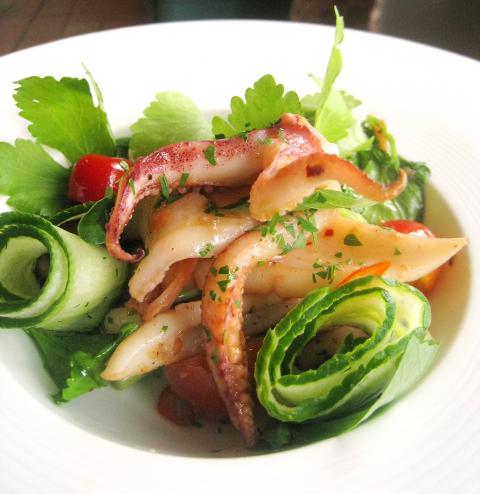 Pan-fried squid and celery salad is a perfect dish for a mild spring afternoon as the winter cold begins to give way to summer.
Photo: Ian Bartholomew
What Chinese celery lacks in bulk and physical heft, it more than makes up for in flavor. It is wonderfully refreshing and perfect as part of a light meal for the early spring.
The variety most commonly available in Taiwan is sometimes called Green Queen, also known as Shanghai celery, notable for its deep green stems and flavorsome leaves. The leaves can be eaten raw, but the stems can usually use a bit of cooking (even if just slightly wilted in the pan to reduce its pungency, as in the recipe provided). In Taiwan, it is a staple of various stir-fry recipes, providing a refreshing sharpness when fried with meat or hard tofu.
Chinese celery shares much the same health benefits as its European relatives, which means that there are far too many good things going on every time you take a bite of this mighty nutritional powerhouse for much detail to be given here. Suffice to say that it has powerful antioxidant and anti-inflammatory properties, is brilliant at keeping the digestive and urinary tract in good order and is beneficial to maintaining cardiovascular health.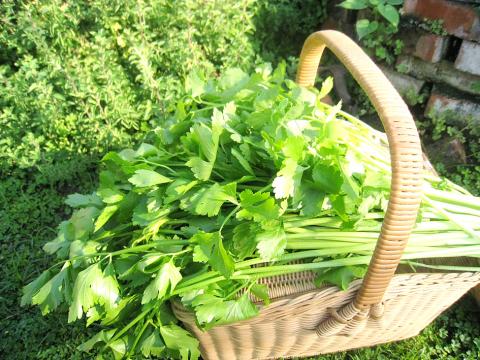 The vibrant green of Chinese celery makes it perfect for adding color as well as flavor to a salad.
Photo: Ian Bartholomew
All of this has not been sufficient to get people to actually like drinking celery juice, a vile concoction of nutritional gurus. The good news is that taking celery in this form is not necessary, and recipes like this one maintain its many benefits while still providing plenty of gustatory pleasure.
Pan-fried Squid and Celery Salad
Recipe (serves two)
Ingredients
2 medium squid
1 celery
2 cloves garlic, minced
1 small cucumber
2 tbsp rice vinegar
1 tbsp fine white sugar
1/4 cup white wine
1 tsp chili flakes (or to taste)
8 cherry tomatoes
Handful of basil leaves
2 stems flat leaf parsley, finely chopped
Olive oil
Directions
1. Clean the squid by pulling its head off and removing the innards. (Some people may find this a little icky, and most fishmongers will clean the cephalopods for you. This has many advantages, especially not having fishy, slimy kitchen waste to deal with, but they do not keep as well once cleaned.)
2. Remove the purplish membrane on the outside of the squid. This will generally come off easily with a little firm rubbing under the tap. Remove the beak and eyes but retain the tentacles.
3. Cut open the body and score the flesh with a sharp knife. Cut into lozenge shapes. Put together with tentacles and drain any excess liquid.
4. Mix the vinegar and sugar in a bowl. Add a pinch of salt. Use a peeler to cut long, thin slices from the cucumber. Soak the cucumber in the vinegar mixture until lightly picked, around 5 minutes. Pat dry with kitchen paper.
5. Wash the celery and separate leaves and stems. Remove any tough fibers from the outside of the stems, if any (these should hardly be present in the fresh, young celery plants you should be using for this dish). Wash and halve the tomatoes.
6. Heat a pan with olive oil until almost smoking then put the squid in. Add chili flakes. Season with salt and allow it to gain some color. Turn down the heat and add minced garlic. Add the white wine to deglaze the pan and check seasoning, adding more salt and pepper if necessary.
7. Throw in the celery. Over low heat, mix well, cooking for about 1 minute, coating the celery with pan juices. Remove from heat.
8. Add tomatoes and basil leaves to the pan. Mix and place into two bowls.
9. Decorate with the pickled cucumber, some tender celery leaves and a sprinkling of parsley.
Ian Bartholomew runs Ian's Table, a small guesthouse in Hualien. He has lived in Taiwan for many years writing about the food scene and has decided that until you look at farming, you know nothing about the food you eat. He can be contacted at Hualien202@gmail.com.
Comments will be moderated. Keep comments relevant to the article. Remarks containing abusive and obscene language, personal attacks of any kind or promotion will be removed and the user banned. Final decision will be at the discretion of the Taipei Times.