To your good health
From fermented black tea to beer mixed with lemon juice, beverage makers say they are trying to add nutritional value while curbing alcohol content and calories
For social drinkers seeking freedom from guilt, gluten or a hangover, the list of beverage options is growing longer.
Kegs of probiotics are newly on tap in bars, and fruit juices have found their way into bottles of beer, as the US beverage industry has introduced new offerings catering to health-conscious consumers wanting wholesome, low-alcohol options.
From fermented black tea to beer mixed with lemon juice, beverage makers say they are trying to add nutritional value while curbing alcohol content and calories. With these moves, some brands are seeking to capture the loyalty of the elusive female consumer — for whom casual alcoholic beverages like beer have typically had less appeal — without alienating men.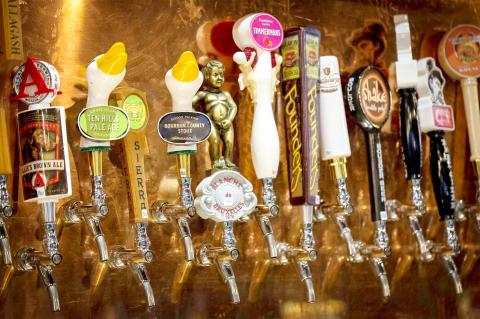 Anything on tap that's gluten-free?
Photo: Reuters
Dominic Geracia, a graphic designer from Pittsburgh, said he typically chose cider for social occasions. "It's gluten-free and it fills me up," he said. "It's a natural way to limit how much you drink."
HEALTHY OPTIONS
Geracia, 24, said he avoided gluten and was glad to have more healthful options at bars and restaurants.
"Some of these new drinks put you in less of a box if you're drinking socially. It takes away the pressure of having a difficult order," he said.
Jack Russo, an analyst at Edward Jones, called health and wellness a major trend in the beverage industry.
"Consumers are reading nutritional labels more and more," he said, "and the only alcoholic beverage that really does well with women is wine."
Sales of alcoholic beverages in the US generate about US$200 billion a year, according to Euromonitor International, a market research company. Beer commands the largest share of that — about 45 percent, or US$93 billion — and makes up 80 percent of sales by volume.
Light beer, including brands with moderate levels of alcohol, accounts for about half of all beer sold, according to the Beverage Information Group, which tracks sales in the US.
Among the new entrants looking to appeal to health-conscious buyers is Kombrewcha, a carbonated tea-beer brewed with agave sweetener that went on sale in Connecticut and New York last year. Made without malt or barley, it is gluten-free. The drink is fermented longer than traditional kombucha and contains 2 percent alcohol by volume — about four times that of most kombucha soft drinks, but still low for beer, which has 5 percent alcohol on average.
The drink's tagline invites consumers to "get tickled, not pickled." Its label additionally flaunts the drink's probiotic cultures, folic acid, antioxidants and 65 calories. The beverage is available in long-neck bottles and on draft.
Kombrewcha's development was almost accidental, according to Barry J Nalebuff, a co-founder of Kombrewcha and, years before, Honest Tea, which Coca-Cola acquired 100 percent of in 2011.
BUZZED ON KOMBUCHA
Honest Tea produced kombucha until 2010, when Lindsay Lohan, the actress, unwittingly set off a nationwide recall of the drink when celebrity gossip sites speculated that kombucha activated an alcohol-monitoring bracelet that Lohan wore while out on bail for charges of driving while intoxicated.
She denied any alcohol-related drinking, but the rumors spurred Whole Foods to test the kombucha sold on their shelves. Varieties of the item sold as soft drinks cannot exceed an alcohol level of 0.5 percent, per federal law. Several brands, including Honest Tea, exceeded that limit in the tests.
In another twist, some manufacturers proved that their products had been in compliance when bottled but that the drinks had fermented further afterward. Companies had a choice: withdraw their products or retool production formulas. Some opted for pasteurization to halt additional fermentation.
Honest Tea discontinued its kombucha varieties. But when Nalebuff, who teaches strategy at Yale School of Management, recently decided to get back into the business of selling kombucha, he chose to celebrate its alcohol.
"We turned the problem into an opportunity," he said. "Kombucha may be a US$500 million market, but beer is in the tens of billions."
Adam Fleck, director of consumer equity research at Morningstar, called the low-alcohol beverage market a growth segment, noting how well Michelob Ultra, a light beer with 4.2 percent alcohol, had outpaced regular beers in recent growth.
"We've seen more session ales," he said, referring to beers with alcohol under 5 percent, "and more lower-alcohol options in the last year."
Gluten-free options, too, have multiplied. Redbridge from Anheuser-Busch is a gluten-free beer with 4 percent alcohol by volume. And MillerCoors recently announced that it would begin selling a gluten-free Coors Peak Copper Lager in some West Coast states in February, replacing barley with brown rice and obtaining its protein from peas. It will have 4.7 percent alcohol.
"There's gluten-free beer, seaweed beer, beet beer, all kinds of fruit beer," said Giuseppe Pezzotti, senior lecturer on beverage management at Cornell University's School of Hotel Administration. "They've been around, but they've been local." Now, "you're seeing them all over the place."
Russo, the Edward Jones analyst, said that prices would be crucial to the success of alternative beverages.
"These types of products are marketed toward middle- to upper-income consumers who can afford to care," he said. "In the past, some have been priced too outrageously."
For instance, neither Tequiza, a fruit-flavored lager from Anheuser-Busch, nor Stampede Light Plus, a lager enhanced with extra vitamins, caught on.
Nalebuff of Kombrewcha, though, sees moderation as an appealing draw for this beverage category.
"It's a problem: You'd like something to drink but you don't want to get inebriated," he said. "What could you enjoy, be a part of the party with, but still be able to function afterward, be able to work out or do emails? It's an alcoholic beverage you don't have to feel guilty about."
Warning: Excessive consumption of alcohol can damage your health.
Comments will be moderated. Keep comments relevant to the article. Remarks containing abusive and obscene language, personal attacks of any kind or promotion will be removed and the user banned. Final decision will be at the discretion of the Taipei Times.