The Vinyl Word
Taiwan is not the only place where police are hot on the trail of foreign musicians performing without their work permits and visas. Tycho, who will be playing lush electronic melodies at The Wall tonight, actually got put in jail the morning after their gig last Saturday at the Qianshuiwan Culture Center (上海淺水灣文化藝術中心) in Shanghai, China. The drummer said that the promoters lied to the band about their legality, and the morning after the show, police confiscated their passports, arrested them and held them without questioning. Fortunately, the band was let go, charges were not pressed and Tycho made it to the safety of Taiwan a few days earlier than expected.
The Taipei Times caught up with the main architect behind the sound and vision of Tycho, Scott Hansen, before their brouhaha in China for an e-mail interview. Hansen has been creating the visuals and soundscapes for a decade as Tycho, but considers his most recent album, Alive, to be his first true Tycho record. In Alive, many human elements are infused into the atmospheric sounds.
"I'm always searching for the balance between the familiar and unfamiliar," Hansen said.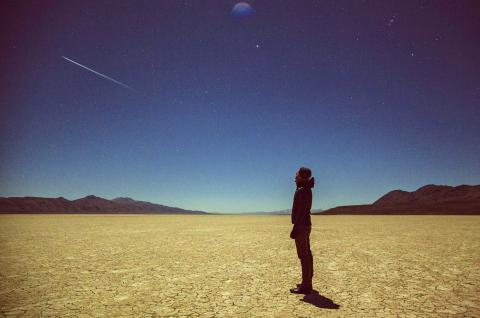 Ambient music and visual artist, Tycho will play with a four-piece band tonight at the Wall.
Photo courtesy of Tycho
"I want to create sounds that are grounded in reality while at the same time feeling somehow distant or just beyond reach. I do this by starting with a lot of synthetic sounds, but treating them with a kind of organic, aged texture. When I use instruments like guitars, bass and drums, I try to push them back in the more synthetic direction, to meet the rest of the content in the middle."
Even though Tycho began as a one man's vision, Hansen has opened up his project to a few band members — an experience that he finds liberating.
"It has freed me to focus on my strengths and broadened the palette I can draw from when producing the music. I think the result is something grounded firmly in the Tycho sound but with a greater sense of perspective," Hansen said.
For this tour, Hansen is bringing his full production, which consists of a four-piece live band along with brand new visual content and lighting. Also, The Wall promises that the musicians are all fully legal so they can enjoy Taiwan instead of worrying about a repeat of last weekend's misadventures.
■ Tycho plays tonight from 8pm to 11pm at The Wall, 200, Roosevelt Rd Sec 4, Taipei City (台北市羅斯福路四段200號B1). Admission is NT$1,500 at the door.
Comments will be moderated. Keep comments relevant to the article. Remarks containing abusive and obscene language, personal attacks of any kind or promotion will be removed and the user banned. Final decision will be at the discretion of the Taipei Times.