Theater: Putting the pieces back together
The Tainaner Ensemble has undertaken the Herculean task of staging the first two episodes of 'Quest and Amnesia' in alternating performances at the Metropolitan Hall this weekend, no easy task considering each runs for three hours
Playwrights, filmmakers, choreographers and authors embarking on massive, multi-episode, multi-year projects face a common problem: How to keep their original audiences interested and invested in the storylines amid the gap in years and how to ensure newcomers can catch-up on the plot developments?
Filmmakers and authors have it a bit easy since they can utilize flashbacks and other devices — witness Peter Jackson's use of voiceovers in the opening sequences of his Lord of the Rings and The Hobbit trilogies — while playwrights and theater companies are often left having to stage revivals of the earlier productions, not an easy task given the financial costs and the need to find rehearsal and performance space. If they are lucky, they might also find the money to film one or more performances of the show, which can then be released on DVD or for television broadcasts.
In June 2010, the Tainaner Ensemble (台南人劇團) premiered playwright and co-artistic director Tsai Pao-chang's (蔡柏璋) Quest and Amnesia (Q&A) at Taipei's Metropolitan Hall. It was the first installment of what Tsai said would eventually be a trilogy. However, it took four more years for Quest and Amnesia, Episode II (Q&A 二部曲) to reach the stage. It premiered at the end of October last year at the National Theater, having been commissioned by the National Theater and Concert Hall as part of the 2014 International Theater Festival.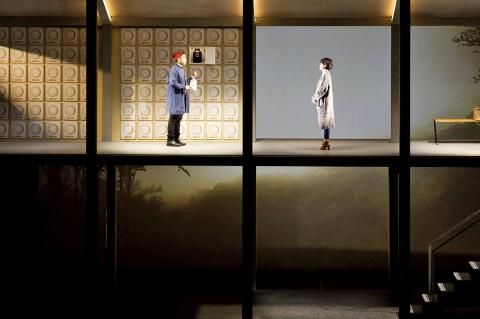 The Tainaner Ensemble is performing Tsai Pao-chang's Quest and Amnesia, Episode I and Episode II in tandem at Taipei's Metropolitan Hall this weekend.
Photo: Courtesy of Tainaner Ensemble
The Beitou-based company said that it had received so many requests from theatergoers over the years who wanted to see Episode I one again that it decided to put the two productions on together. The move is also in keeping with the 28-year-old company's decision, announced by co-artistic director Lu Po-shen (呂柏伸) last spring, to morph into a repertory theater, restaging signature productions and producing new ones. However, it is a move that is testing the endurance of the actors, technical crew and fans, given that the running time for each play is three hours, including one 15-minute intermission.
Cross-cultural and intergenerational experiences, as well as love stories, are at the heart of Tsai's two plays, which draw heavily from his own life experiences. Quest and Amnesia tells the story of an amnesiac, Liuyi, and his often-fraught relationships with family and friends. At the center of both is the issue of questions — the answerable, the unanswerable and those for which it is perhaps best not to learn the answer. What happens when a deceiver can no longer remember the stories that have been told? Episode I recounts the hit-and-run accident that left Liu Yi, who has returned to Taipei from Berlin, with amnesia. The driver who hit him, Fu Yenxin, visits him in the hospital — without revealing her role in his accident — but his parents think she is his girlfriend, not knowing that he is gay. She falls in love with Liu Yi, but fears discovery of her identity. At a New Year's Eve party, the lies and dreams are revealed and lives unraveled. Liu Yi decides to return to Berlin to find his past.
Episode II picks up with Liu Yi back in Berlin and Fu Yenxin in London, where she discovers that her grandfather is suffering from Alzheimer's disease. Relationships, both hetrosexual and homosexual are explored, as well as the upheavals caused by family migration.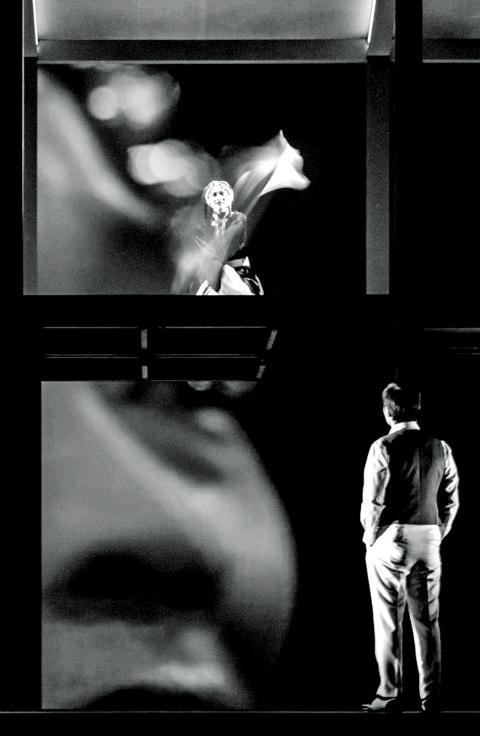 The Tainaner Ensemble is performing Tsai Pao-chang's Quest and Amnesia, Episode I and Episode II in tandem at Taipei's Metropolitan Hall this weekend.
Photo: Courtesy of Tainaner Ensemble
The plays are performed in Mandarin Chinese — as well as English, Cantonese, German and Hebrew — with Chinese subtitles. Both plays carry an "18 and up" advisory for adult subject matter and nudity and come with the warning that children under the age of 12 will not be admitted.
The company began their marathon dual productions last week and picked up again with Episode I last night, which will be repeated at tomorrow and Sunday's matinees. Episode II will be performed tonight, tomorrow night and Sunday night. Now the only question left is how long theatergoers will have to wait to see Episode III.
Publication Notes
Performance Notes
WHAT: Quest and Amnesia, Episode I and Episode II
WHEN: Tonight through Sunday at 7:30pm, tomorrow and Sunday at 2:30pm
WHERE: Metropolitan Hall (城市舞台), 25 Bade Rd, Sec 3, Taipei (台北市八德路三段25號).
ADMISSION: NT$600 to NT$2,500; available at NTCH box offices, online at www.artsticket.com.tw and convenience store ticketing kiosks.
Comments will be moderated. Keep comments relevant to the article. Remarks containing abusive and obscene language, personal attacks of any kind or promotion will be removed and the user banned. Final decision will be at the discretion of the Taipei Times.