Art exhibition listings
Leave Home (離家) is a solo exhibition by photographer Chen Yan-cheng (陳彥呈) at Taipei's 1839 Little Gallery. Last year, Chen moved away from the house he'd lived in for 16 years into a new home. In a gripping yet humorous exploration into concepts of time and space, Chen juxtaposes silhouettes onto pictures of cluttered bedrooms in order to show that although one can leave a place, there are still remnants of its old existence there. His photography that the idea of home is not just a physical location but sometimes also a mental state.
■ 1839 Little Gallery (1839 小藝廊), B1, 120 Yanji St, Taipei City (台北市延吉街120號B1), tel: (02) 2778-8458. Open Tuesdays to Sundays from 11am to 8pm. Free admission
■ Until Feb. 8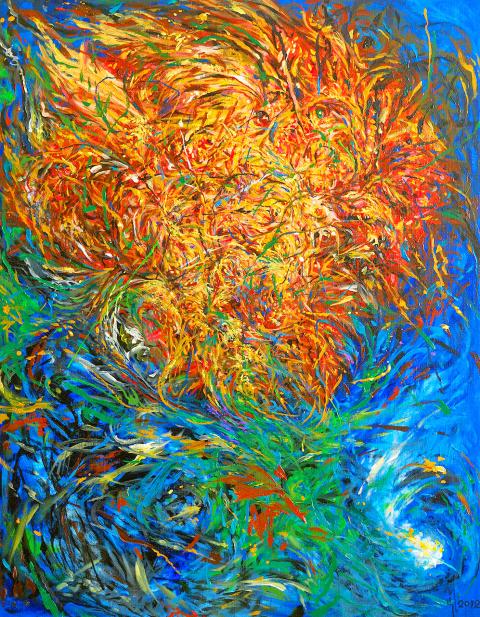 Hsieh Tai-cheng, Petals on Water (2012).
Photo courtesy of ArtDoor Gallery
ArtDoor Gallery is a snazzy and innovative gallery space in Taipei's Neihu District (內湖) that showcases anything from brush paintings to interpretive dance. Currently on display is The Blue Bird (發現青鳥), a solo exhibition by Hsieh Tai-cheng (謝岱成). Traditionally a symbol of happiness, the blue bird is the central feature of each of Hsieh's 21 paintings. Known for his surrealist-style techniques, Hsieh conjures up a fantasy world where so-called "perfect" blue birds metamorphose into different forms — some resemble aliens in pods whereas others sprout human features like arms and legs. Some birds are graceful and fluffy and others are large and menacing. Hsieh's paintings complicate the notion of happiness. In doing so, he shows how easily this ideal state can shift into something more sinister.
■ ArtDoor Gallery (藝境畫廊) 639, Ruiguang Rd, Taipei City (台北市瑞光路639號), tel: (02) 2658-5268. Open Tuesdays to Sundays 11 from 11am to 7pm
■ Until Feb. 15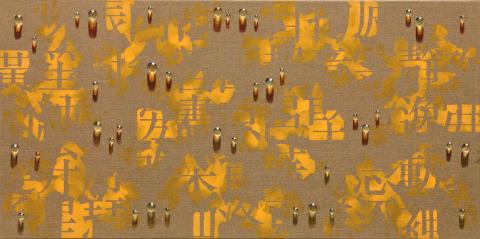 Kim Tschang-yeul, Recurrence DRA-0007 (2009).
Photo courtesy of Art Issue Projects
The Pioneers of Taiwanese Artists, 1971-1980 (台灣美術家刺客列傳1971-1980—六年級生) is the latest series featuring prominent artists from different decades at the National Taiwan Museum of Fine Arts in Greater Taichung. Artists born in the 1970s came of age after the lifting of Martial Law, in an era with major developments in popular culture, mass media and consumerism. Unlike the generation before them, this crop of artists did not experience social trauma firsthand, and as such, their artwork tends to be characterized by an emphasis on fleshing out the political nuances of every life — whether in abstract or realistic form. Huang shih-chieh's(黃世傑) bizarre aquatic life installation made out of found objects such as computer parts and motorized toys are all on display. Also exhibited are Isa Ho's (何孟娟) self-portraits in which she dresses up in army gear along with pink bras, thongs and shoes that eerily evoke the practice of foot-binding — each picture is named after a Confucian virtue like "respect" or "submissiveness." Ho believes that the modern woman should refashion old virtues to suit modern day situations.
■ National Taiwan Museum of Fine Arts, 2, Wuquan W Rd Sec 1, Greater Taichung (台中市西區五權西路一段2號) tel: (04) 2372-3552. Open Tuesdays to Fridays from 9am to 5pm, Saturdays and Sundays from 9am to 6pm
■ Until March 8
Chen Shun-chu, Family Black Boxes — Family Aquarium (1992).
Photo courtesy of Taipei Fine Arts Museum
Dansaekhwa: Korean Monochrome Painting (單色畫) is a joint exhibition consisting of artwork spanning three decades from six South Korean artists — all of whom are men in their 70s and 80s — who were pivotal in the development of the monochrome painting (or Danseakhwa) which began in South Korea in the 1970s. This artistic style arose out of a need to reinterpret modern western art through the lens of Korea's own history and culture. Lee U-fan, whose artwork has been showcased at New York's Guggenheim Museum, is among the six artists in this group show. Lee's stone sculptures and minimalistic paintings with single brush strokes have a zen-like quality. Park Seo-bo's paintings may look like western-style abstract art, but the methodological way in which he utilizes lines to create texture and space has an eastern flair. Another "founding father" of the Korean monochrome movement, Kim Tschang-yeul's Water Drop series, which are set against a backdrop of Chinese characters, combines western oil painting techniques with eastern appreciation for nature's beauty. Tying their artwork together is the ongoing struggle to reconcile local cultural identity with western notions of modernity.
■ Art Issue Projects (藝術計劃), 32, Ln 407, Tiding Blvd Sec 2, Taipei City (台北市堤頂大道二段407巷32號), tel: (02) 2659-7737. Open Tuesdays to Sundays from 11am to 6pm
■ Until March 15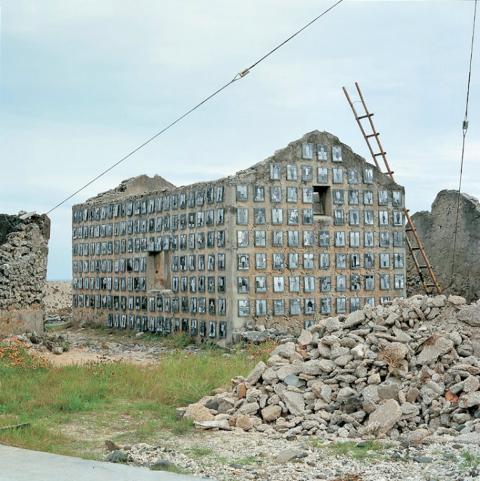 Chen Shun-chu, Assembly Family Parade — Penghu House I (1995).
Photo courtesy of Taipei Fine Arts Museum
The late Chen Shun-chu (陳順築), who passed away last year, was known for his fixation with converting his old family photographs into new installation forms — notably through pasting old black-and-white portraits on dilapidated buildings and abandoned fields around his native Penghu. Coral Stone Mountain, so-named after coral stone, a natural building material found on Penghu, the retrospective at the Taipei Fine Arts Museum includes a vast collection of Chen's artwork from the 1990s to today. Particularly fascinating are Chen's layering of old photos onto antique furniture fragments — more restrained and delicate than his "land installations," they nevertheless tell a similar tale of being haunted by one's memories.
■ Taipei Fine Arts Museum (台北市立美術館 TFAM), 181, Zhongshan N Rd Sec 3, Taipei (台北市中山北路三段181號), tel: (02) 2595-7656. Open Tuesdays to Sundays from 9:30am to 5:30pm and until 8:30pm on Saturdays
■ Opens tomorrow. Until April 26
Comments will be moderated. Keep comments relevant to the article. Remarks containing abusive and obscene language, personal attacks of any kind or promotion will be removed and the user banned. Final decision will be at the discretion of the Taipei Times.