A world of menus
Delectable dim sum options aside, Hong Kong's dining scene ranges from earthy Greek casseroles to oversized satays inspired by street food in Northern Thailand
I go to Rome and I know that there will be prosciutto in my days, bucatini in my nights. I go to Lisbon with an uncontestable agenda of the shellfish and the sausage that the Portuguese cook so enviably.
I go to Hong Kong with no foregone conclusions, just a blank menu to be filled any number of ways. That's what I love about it.
Technically, Hong Kong's cuisine is Cantonese, and you should fit some dim sum into your dining. But what really distinguishes this electrifying city is its almost unrivaled culinary internationalism. It's not just a global crossroads for business. It's a global crossroads for food, one of a handful of commercial capitals, like New York and London, that have no particular concentration of ambitious, accomplished restaurants in any one genre. The most appealing and important places cut across all traditions. Suffice it to say that in this one polyglot city across one hungry week, I ate the whole wide world.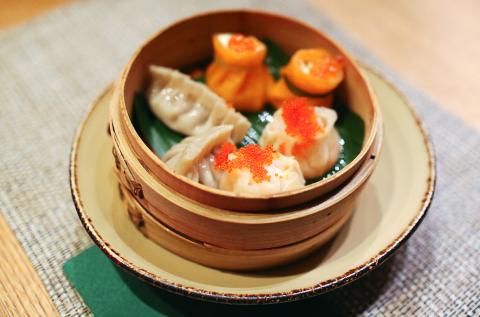 There's more to Hong Kong's cuisine than dim sum.
Photo: Bloomberg/ Andrey Rudakov
NUR
The main dining room opens to a terrace several stories above the streets of central Hong Kong, and on the night when I dined here, a gentle breeze blew in.
But that wasn't all that the terrace provided. Time and again, regarding dish after dish, our server noted that some leaf, shoot or blossom had come from the greenery out there, mere strides away. Forget farm-to-table, this was patio-to-table — and a vivid illustration of Nur's stated commitment to local products.
Hamburgers are served on a table at a restaurant in Hong Kong last year.
Photo: Bloomberg/ Brent Lewin
I had sat down to my dinner here with some doubts. The restaurant's name recognizes the first syllable of the chef's (Nurdin Topham) as well as the Arabic word for "light." Its website lays out both Topham's belief in a restrained, healthful discipline he calls "nourishing gastronomy" and his past involvement in "a somewhat unorthodox project —the deliciousness of insects." I braced for preciousness and strange critters. I needn't have.
Nur doesn't give you any choices. It serves just one tasting menu of nine courses including dessert, and they came in rapid enough succession and sensible enough measure that I never felt impatient or overwhelmed (although, by the end, I felt amply filled).
There were orbs of heirloom tomato with a texture almost like sorbet and a pool of tomato water around them. A subsequent dish combined salmon eggs with walnuts and horseradish yogurt. Squid, paired with charred onions and lemon basil, was exquisitely supple and sweet, and dessert was a fitting, fetching cap to a meal with such a vegetal, herbaceous bent: ice cream that tasted like French onion soup.
Although that terrace accommodates a few diners, I sat at a spacious and relatively quiet table just inside, within view of an open kitchen more fully and pleasantly integrated into the dining room than such stages often are. And I had a glass of white Burgundy, followed by a glass of Barolo, from a wine list that covered many of Europe's highlights.
SOUVLA
The white granite tables are rimmed in bright red. The booths and benches are upholstered in deep purple. There's a long, long bar that rests atop a long, long rectangle of pale stones held together by a mesh cage. As visually arresting as all of this is, I'm not sure what it has to do with Greece, which is the country whose cooking Souvla pays tribute to.
But the menu would be instantly recognizable to any Athenian. The food would pass muster as well. Greeks like to think that they have some special secret for octopus that's tenderer than anywhere else, but they'd be hard-pressed to outdo the kitchen here, which sculpted and arranged the thin columns of pale pink flesh into a sort of pyramid. It was octopus Legos.
I'm an ardent lover of taramasalata, that Greek (and Turkish) spread of smoked fish roe and olive oil, and Souvla's achieved the perfect pitch of saltiness, along with an ethereal creaminess. It spread like a cloud across triangles of toasted pita that were glossed with oil and still warm.
Those two dishes came toward the start of our meal, and I figured that they'd be the high points. But there were taller peaks ahead. One was gemista, a hearty, earthy casserole of potatoes, tomato sauce and peppers stuffed with rice. The other was the slow-cooked lamb, ribbons of meltingly soft leg meat placed next to a glittering relish of pomegranate and a tiny glass bottle filled with a tangy yogurt dressing.
As I looked at the artful presentation of the lamb and thought back to the octopus, the decor suddenly made sense. It was an announcement that Souvla would respect Greece but reinterpret it with fillips all its own. So while Souvla covers the hoary classics — sanakopita, moussaka — it gives some of them a face-lift, and it tacks on a long list of elaborate specialty cocktails, the focal point of a lively bar scene.
CHACHAWAN
Chachawan opens wide to the street, with the sidewalk almost acting as its vestibule. This befits its air of scruffy, ragtag informality and a menu that's inspired in part by street food from Thailand, or, to be more specific, the northeastern Thai province of Isan. That's how narrowly focused this restaurant is, and that's how ethnically ambitious Hong Kong can get.
With the cooking of Isan you get ample spice. You get serious fire. One dish almost brought me to my knees. It looked so innocent, so pretty, a salad with a bright, approachable medley of colors and textures, courtesy of green papaya, cherry tomatoes, dried shrimp, peanuts. But there were a few small chilies lurking in there, and they soon enough registered their presence in my throat and in my gut, which was suddenly a caldron. It seethed and bubbled for hours to come.
Chachawan was worth the burn. Not every dish carried that risk, but nearly every dish had the interplay of contrasting effects that are at the heart of Southeast Asian cooking. In the "Larp Moo," a loose, wet mix of chopped pork, pork skin, shallots and mint needed something dry and firm, so it got that, from leaves of crisp, cool iceberg to be used as wraps.
Sweet and sour, sugar and spice, cold and hot: These were the currents that ran through most of the dishes, including a garlicky, boneless chicken thigh on a stick: a supersized satay. Sweet and salty were the playmates in an excellent dessert of coconut rice dumplings in a salted coconut cream.
HO LEE FOOK
The pork at Ho Lee Fook was nearly life-changing. I mean the strips of pork char siu, which refers to a Cantonese method of cooking the meat over fire and giving it a sweet red glaze. Char siu is a staple of Chinese takeout, but I've never had takeout that uses Berkshire pigs from Japan. When that caliber of flesh meets this method of preparation, the results are a fatty, flavorful knockout.
Then again, most everything I had at Ho Lee Fook wowed me. The restaurant fuses Cantonese with other Asian traditions as well as any flourishes that the chef, Jowett Yu, deems appropriate. It's thrillingly unbound, never letting precedent get in the way of deliciousness.
My favorite dish, even better than the pork, comprised slices of wagyu short rib that were arranged on one side of the bone, a green shallot kimchee on the other side and a jalapeno puree through which either or both could be swept. The way the heat of that puree cut the richness of the beef was exhilarating.
The menu sprawls across a half-dozen categories, including "raw," "roast meat" and "vegetables." There are fried chicken wings as well as hot-and-sour steak tartare, cabbage-and-pork dumplings and clams cooked in a Thai basil and tamarind broth. My companion and I ate twice as much as any two people should, longed to eat more and seriously thought about coming back the next night to do precisely that.
Comments will be moderated. Keep comments relevant to the article. Remarks containing abusive and obscene language, personal attacks of any kind or promotion will be removed and the user banned. Final decision will be at the discretion of the Taipei Times.