Steaming away that hangover
The secret of ridding yourself of a hangover is to take the cure before that first drink
The assignment was to discover the ultimate truth about hangover cures. Who does one ask about such things? I tried Andrei Fomin. After all, I reasoned, Andrei used to run nightclubs all over London — Propaganda in Wardour Street, that was him — plus he has a lot of witchy knowledge about herbs that his grandmother taught him. And, the clincher, he's Russian. Andrei tells me he has given up on nightclubs, "the false promise of paradise," and started London's first Russian bath house, "a real promise of good health."
That is why I am here, I reflect, as I lie in a steam room, head covered in oak leaves, while a large Latvian man lightly spanks me with fistfuls of more oak leaves. It's called parenie, which must be Russian for "attacked by a friendly compost heap." Then I am maneuvered outside and positioned under a large wooden bucket with a rope that my large Latvian?Why is he pulling that? Aargh! Freezing douche. Twice. Then it's into a huge wooden tub, freezing again. Someone wraps me in a white sheet and sends me over to the relaxation zone.
I drink kvass , fermented beetroot juice, and fireweed tea. On a large screen, a real-time film taken from the window of a train passing through Siberia. It is oddly compelling. Andrei gets me some herrings and a tot of vodka.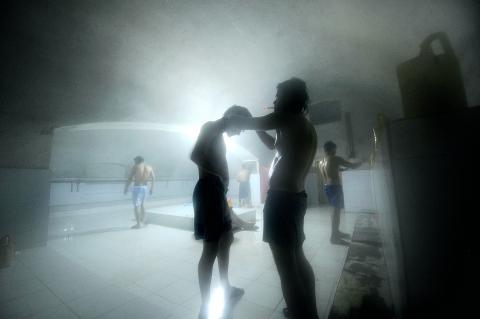 Steam first, drink second.
Photo: AFP/Farshad Usyan
"Parenie means 'steaming,'" he tells me. "The leaves catch the steam and slap it against you. Birch is good too, but we usually use oak that's been picked at the summer equinox, preserved, then soaked in cold water."
The large Latvian, my banschik (bath attendant), appears and takes me away again. I'm scrubbed from top to toe with honey and salt, hosed down, steamed for 10 minutes, douched. Back to relax. On the big screen, the birch trees are still rolling past.
Andrei serves more kvass and crayfish. "What we are doing here is totally authentic. A Russian bath house is a social occasion, but it is also different to a sauna: there is steam, carefully created at a very high temperature; there are special herbs; you spend 10 minutes in the steam to open the blood vessels, then a cold dip to bring an adrenaline reaction which releases serotonin."
Serotonin. I love it. Give me more.
Next, I'm lying on a hot stone covered in giant soap suds while I'm scrubbed with oak leaves. It feels like I'm being slowly absorbed into a giant mince pie. Then comes the hose-down, steam and douche.
Wrapped in a sheet, I am led slowly back to my green leather seat in the booth. I have been here before, it is home. Wow, that vodka tastes amazing. So pure, like me. We are now passing wooden houses, each with a small garden and a banya . Where is this train going?
I'm in the steam room again. Someone has placed a white conical woollen hat on my head. Douche. Sero?what did he call it? Heaven.
Three hours later, I am out on the City Road walking towards Kings Cross. I have a party to go to. I am going to drink a lot. I am already incapable of intelligible speech. This is the secret, I realise, of all hangover cures. Take them before you get the hangover. Next day I genuinely do not have one. Has anyone seen my keys and phone?
Warning: Excessive consumption of alcohol can damage your health.
Comments will be moderated. Keep comments relevant to the article. Remarks containing abusive and obscene language, personal attacks of any kind or promotion will be removed and the user banned. Final decision will be at the discretion of the Taipei Times.