Chinese go to Korea for a change of face
South Korea's government is promoting the country to Chinese tourists as a place to shop, eat, stay — and perhaps get a nip and a tuck
Liu Liping and two college friends recently toured Seoul on a month-long vacation funded in part by their parents. They saw the sights. They went shopping.
One night, the three young Chinese women visited the latest hot spot: a plastic surgery clinic.
Liu, 24, wanted to have her jaw broken and restructured to get a V-shaped face. Dr Kim Tae-gyu at Braun Plastic Surgery suggested something less drastic. "But look! I have huge bones, I need to do it," Liu protested. They settled on removing several millimeters of bone from her chin and cheekbones. Her friends, Wu Haiyan, 26, and Jin Meilan, 25, considered nose jobs.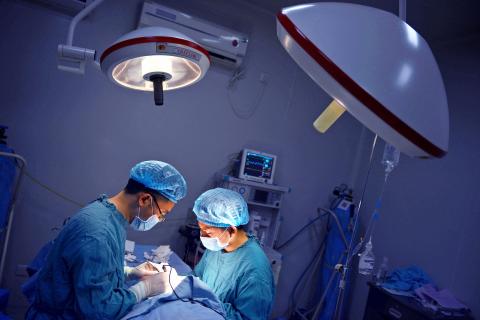 A plastic surgeon performs a nose operation at a clinic in the southwest Chinese city of Chongqing. Chinese women are increasingly heading to South Korea to have cosmetic surgery performed, perceiving it as safer and more hygienic.
Photo: AFP
UNDER THE KNIFE
Cosmetic surgery, pervasive in South Korea, is now the must-do activity for many Chinese visitors.
The lights stay on all night in the Gangnam district, where plastic surgery clinics line the streets. Signs in Chinese beckon visitors. Once they are inside, translators stand ready.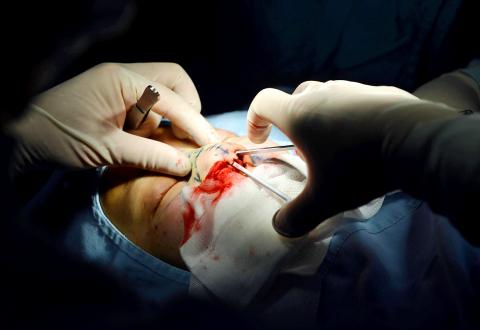 I want a nose just like Han Ga-in.
Photo: AFP
Seizing an opportunity to tap the steady and ubiquitous flow of China's newly rich who are traveling overseas, South Korea's government is promoting the country as a place to shop, eat, stay — and perhaps get a nip and a tuck.
And the Chinese, mainly women, are visiting in droves for body modifications, from the minor, like double eyelid surgery, to the extreme, like facial restructuring. While plastic surgery is common in China, South Korean hospitals are perceived to be safer and more hygienic, albeit pricier.
MEDICAL TOURISM
"When the Chinese come to the stores, they empty them," said Kim Soo-jin, a representative at the medical tourism unit of the Korean tourism office. "If we can turn them into medical tourists, they are more likely to stay longer. They will eat one more meal, buy one more thing and go to another site."
The South Korean government is setting aside as much as US$4 million a year to help promote the medical tourism industry, which is dominated by plastic surgeons. It expects 1 million medical tourists a year by 2020, up from 211,218 last year, with Chinese travelers representing the largest segment.
Tour operators sell travel deals that include shopping, sightseeing and plastic surgery. Premier packages include a stretch limo for the ride from the hotel to the clinic. Licensed brokers take a cut of the total surgery costs, up to 35 percent.
While prices for tourists vary widely, a basic double eyelid surgery can cost more than US$900. A plastic surgery trip, with hotel and other activities, can run around US$15,000. In general, it is more expensive than in China.
"I've seen them coming in with bags of money," said Dr. Ro Young-woo, a founding partner of a South Korean franchise chain of clinics called Oracle Clinic.
K-POP INFLUENCE
Popular culture has had an influence. Korean television shows and movies are wildly successful in China. Patients often take magazine photos to their consultations.
"We see more assertiveness in Chinese patients than Korean patients," Dr. Kim Eung-sam, a plastic surgeon and director at the Hershe clinic in Seoul. "They want to look like certain Korean celebrities."
During their trip, Liu, Wu and Jin planned to see the sights featured in their favorite Korean TV show, My Love From the Star. They bought clothes like those worn by the show's female star, Jeon Ji-hyun. Jin asked for the same nose as another famous Korean actress, Han Ga-in.
South Korea is building on a tradition of cosmetic surgery. A recent study by the International Society of Aesthetic Plastic Surgery estimated that South Korea had the highest rate of cosmetic surgery per capita of any country in the world. Seoul TouchUp, a government-approved medical tourism agency, states in its marketing materials that "Korean women are arguably more objectified by their male counterparts than any other women in the world."
"In terms of advertising, it's very much exaggerated," says Dr. Cha Sang-myun, the chairman of the Korean Association of Plastic Surgeons, which is calling for tighter industry regulations. "You see it everywhere: on the subways, on the buses and even in the movie theaters."
It has also become an attainable commodity for Chinese, particularly for young women who see plastic surgery as a way to enhance their personal or professional prospects.
"I did it now because I thought it would be harder to do later on," said Wang Yue, a soft-spoken woman from Beijing who spoke days after a double eyelid procedure, a nose implant and facial contouring.
Wang, 24, said most of her friends had some form of plastic surgery "because we want to be more beautiful." She rattled off the benefits, like the chances of making more money.
Besides, she added, "I think I'll look better in different clothes."
CONCERNS: UNDERGROUND SURGERIES
Some Korean doctors are voicing concern. The flood of demand has spawned a cluster of unlicensed hospitals, brokers and unqualified doctors, according to Cha of the plastic surgeon association. "If there are 10 plastic surgeons out there, there are another 100 who are not qualified," he said.
And the procedures that many Chinese tourists seek come with the highest rate of complications. Some undergo several procedures at once. Kim at Braun described how one recent patient booked a series of surgeries — double jaw, facial contour, nose job, double eyelid, liposuction and a fat graft.
One of the most popular procedures is facial contouring, which involves altering the shape of the face by shaving and removing bone from the cheeks, jaw and chin. Double jaw surgery is a more radical and popular version that requires realigning the top and bottom jaws.
FETISH
Chinese patients undergo these painful surgeries to alter their faces into a V-shape, giving them highly coveted delicate features. They are also popular among Korean men and women.
"I think they have gone totally overboard," said Dr Walter Peters, a professor of surgery at the University of Toronto. Radical jaw surgery in the US and Canada, he added, "could sometimes be done for cosmetic reasons, but it is usually done for developmental or post-traumatic reasons."
Jin had already had her nose done once in China. "The more I do it, the more I become interested in it," she said.
"Many friends around me have gone under the knife," she added. "Since my friends have become more beautiful, I think I should become more beautiful."
Comments will be moderated. Keep comments relevant to the article. Remarks containing abusive and obscene language, personal attacks of any kind or promotion will be removed and the user banned. Final decision will be at the discretion of the Taipei Times.