Restaurant review: Pinknic 野餐吧
Tourist-congested at any time of the day, the Songshan Cultural and Creative Park (松山文創園區) and surrounding area has become the latest hot spot in the city, where trendy cafes, boutique stores and restaurants have replaced old neighborhood businesses. Inside the park, a branch of Eslite (誠品) dominates the skyline, though the bookstore itself occupies only a fraction of the glitzy shopping mall, movie theater, performance hall and hotel, the rooms for which begin at NT$11,000.
Among all the dining choices, however, I often opt for Pinknic, a brunch spot at Eslite's basement food court, for a light meal or beverage after an afternoon of shopping or a film screening at the nearby theater. It is a convenient spot to grab a sandwich, savor a salad or enjoy a relaxing time amid throngs of diners and shoppers.
Taking up a quiet corner of the basement, the restaurant's lush plants and picnic baskets filled with fruit and vegetables creates a homey and welcoming ambience. Families seem especially attracted to Pinknic.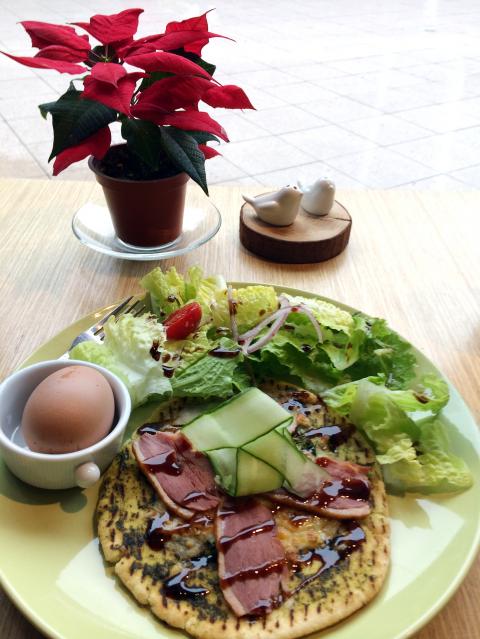 The duck breast and cheese pizza with homemade pesto, served with a boiled egg.
Photo: Ho Yi, Taipei Times
For brunch, I often order the baked pumpkin, tomato, baby corn, broccoli and boiled egg (NT$380) and leave the restaurant satisfied, knowing that I have taken my daily dose of vegetables.
The Cuban sandwich (NT$380) is a flavorful combination of pork, ham, cheese and slices of pickled cucumber, served with fries, salad and a soft drink of your choice.
On a recent visit, I ordered the duck breast and cheese pizza with homemade pesto and boiled egg (NT$380). The best way to eat the dish, as I found out, is to wrap the tender meat, bits of onion and cucumber all together with a slice of pizza with dried tomatoes and broccoli on top and enjoy the ingredients all at once in one big bite.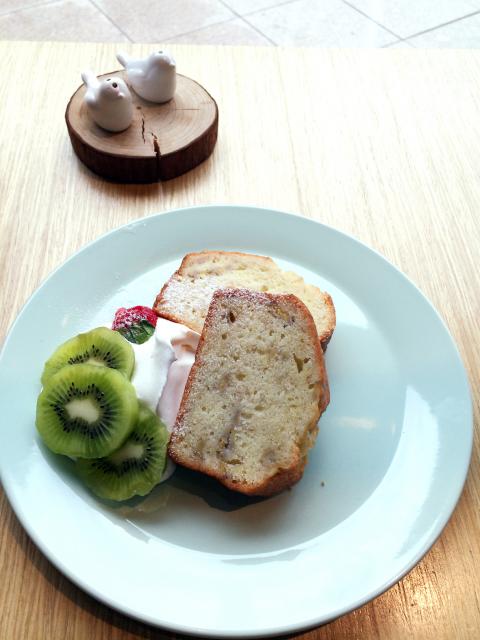 Pinknic's banana bread.
Photo: Ho Yi, Taipei Times
The eggs benedict with smoked wild salmon, homemade hollandaise and fries (NT$390) seemed to be a poplar brunch choice on the day I visited.
For lovers of Italian food, there are a number of pastas and risottos to choose from, such as the spaghetti carbonara with anchovy and semi-boiled egg and creamy porcini and mushroom risotto. The pasta dishes all come with bread and soup and a price tag of NT$360.
If you are looking for something to share with friends, the brunch spot offers a hearty plate composed of slices of Ilan's cherry duck meat, seasonal fruits, cheese, bread and a homemade spread (NT$300). The double-cheese pizza with honey (NT$250) will probably ordered by a brave soul — that or someone with a sweet tooth.
Speaking of desserts, Pinknic offers a substantial selection of cakes and pastries. The banana bread (NT$160) is particularly filling but a little too dry. Other choices includes earl gray tea scone (NT$160), French toast with fruit (NT$250) and creme brulee (NT$180).
There is also a list of freshly squeezed juices. My favorite is the rose lemon juice (NT$170), which delights with its floral scent. The restaurant's coffee department seems to be especially fond of making innovative brews. Here, you can sip a latte flavored with Himalayan rock salt and caramel or brown sugar and dried longan (龍眼) for NT$180.
Those looking for a more spacious dining environment might want to check out Pinknic's flagship store, located at 9, Alley 27, Ln 216, Zhongxiao E Rd Sec 4, Taipei City(忠孝東路四段216巷27弄9號). Telephone: (02) 2711-0820.
Publication Notes
Pinknic 野餐吧
Address: B2, 88 Tobacco Factory Road, Taipei City (台北市菸廠路88號B2)
Telephone: (02) 6636-8070
Open: Daily from 11am to 10pm
Average meal: NT$450
Details: Menu in Chinese and English;credit cards accepted
Comments will be moderated. Keep comments relevant to the article. Remarks containing abusive and obscene language, personal attacks of any kind or promotion will be removed and the user banned. Final decision will be at the discretion of the Taipei Times.