What Taiwan was Googling in 2014
Taiwanese spent much of their time this year buried in their iPhones swooning over South Korean heartthrobs
The year's not quite over, but Google has already compiled data on what Taiwan was searching for in 2014 — and the top searches show that Web users were too lazy to type URLs.
The list released last week shows that Taiwan's top search words were "Facebook," "Yahoo" and surprisingly, "Google." That's right, people were opening their Web browsers to the Google page so that they could search for ... the Google page.
Number four was "YouTube," followed by the Chinese name for auction site Ruten, then "weather" (天氣), "translate" (翻譯), popular discussion board Eyny forum (伊莉論壇), and e-commerce site "PChome," with job search Web site "104" rounding out the top 10.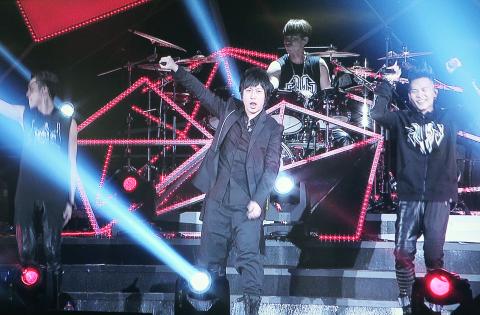 Pop-rock band Mayday were the only Taiwanese group to make it on to the top five for people searches this year.
Photo: Hu Shun-hsiang, Taipei Times
In terms of fast-trending searches, "World Cup" saw the biggest upsurge in searches by Taiwanese users over the year, reflecting interest in soccer — a sport that is largely overlooked most of the time.
Googlers were clearly also concerned with a trade pact with China, as its Chinese abbreviation fumao (服貿) came in second on the list, followed by "iPhone 6" in third and its much cheaper competitor, Xiaomi (小米), in fourth.
The list of most popular people searches must have been a hard pill to swallow for Taiwanese entertainers, who gave up the top spots to their South Korean rivals.
Heartthrob Kim Soo-hyun — who plays the dashing alien Do Min-joon in drama series My Love from the Star — was the most likely to beam his way into Taiwanese Web users' search bar, followed by compatrior Lee Min-ho, who starred in the drama The Heirs.
Korean pop group Girls Generation was fourth.
The only Taiwanese to make the top five were pop-rock band Mayday (五月天) and the bizarre sub-culture Internet celebrity known as Tong Shen.
Taiwan's pop king Jay Chou (周杰倫), who sort of vaguely announced he was getting married this year, may be heartbroken for not even making the list despite that bombshell.
In terms of trending searches, one double winner is Ko Wen-je (柯文哲). The underdog surgeon and political independent who managed to win the race for mayor of Taipei also topped the trending search for people, indicating a big jump in searches for his name over the year.
On the trends list, he was followed by Kim Soo-hyun (again!), student protest leader Lin Fei-fan (林飛帆), cartoonist Wan Wan (彎彎) who saw her popularity suffer when it came to light she was having an affair, and Cheng Chieh (鄭捷), a university student being prosecuted for stabbing nearly 30 people — four fatally — on the Taipei Metro in May.
Ultimately, the data corroborate what we already know: many Taiwanese went through this year with their heads buried in their iPhones or Xiaomi handsets, focused almost exclusively on largely trifling domestic issues except for when a few handsome Korean men managed to find their ways onto their screen.
Comments will be moderated. Keep comments relevant to the article. Remarks containing abusive and obscene language, personal attacks of any kind or promotion will be removed and the user banned. Final decision will be at the discretion of the Taipei Times.