The Vinyl Word
As the year comes to a close, so does Korner's Berlin booking trifecta of Ben Klock, Nina Kraviz, and Marcel Dettmann — with the latter headlining tonight's finale. The small club has been fueled with a new type of vibe these last two weeks — one with a touch of European flair in both music and mood.
Dettmann, a Berlin-based techno DJ, is perhaps best known for his lengthy back-to-back sets with Ben Klock, which sometimes span over 12 hours. The two have developed a synergy that has come to define Berghain, the Berlin club whose sound is so distinct that it has been dubbed Berghain techno. Next year looks promising for Korner — the club has established itself as one of the few in Taiwan to offer an underground experience comparable to Western Europe.
TZUSING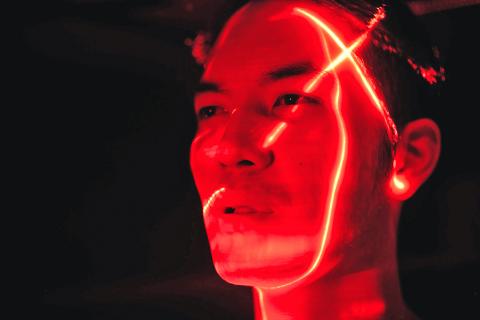 Growing up in an isolated industrial neighborhoods is part of the inspiration for Tzusing's dark techno tracks.
Photo courtesy of Bass Kitchen
Tomorrow night, Korner shifts its focus back to Asia as Bass Kitchen returns with an installment of Deep Fried House. Tzusing (涂子訢, Tu Zixin) from China will enchant audiences with his experimental style of industrial-sounding black techno.
Bass Kitchen has strong connections with forward-thinking musicians. The music that Tzusing plays is innovative and experimental, while being approachable and straightforward. However, the music he produces isn't the type that you would find in a record store. But, Tzusing says, that's why he makes it.
Some have likened his production style to electronic body music (EBM), which blends elements of synthpunk and post-industrial music. It began in Europe and has recently been making waves for its parallels with hard techno. Tzusing, however, has a tame side and he grew up wanting to make music like the English band Portishead. Tzusing was picked up by the New York label L.I.E.S. for his fresh approach to angst. His Shanghai party series, Stockholm Syndrome, has also landed him gigs at clubs like Korner. He doesn't wish for too much attention though.
■ Marcel Dettman plays tonight from 11:30pm to 7am; Tzusing plays tomorrow night from 11:30pm to 5am at Korner, 200, Roosevelt Rd Sec 4, Taipei City (台北市羅斯福路四段200號B1). Admission for Dettman: NT$1,500 at the door and includes a drink; Tzusing is NT$500 at the door and includes a drink.
TRIANGLE REOPENS
LGBT club Triangle gets an honorable mention this weekend since they are reopening tomorrow after weeks of upgrades. The club will spread the festive vibe by offering free admission to partygoers dressed all in white. DJs and drag queens will also be sharing the spotlight in a lineup that includes Magnolia La Manga, Scarlet Boutee and Bouncy Babs, along with dance music DJs Nina, Jimmy Chen, David S, Cooper Hypnoz and Yao.
■ Werk! is tonight from 11pm to 5am at Triangle, 1, Yuman St, Taipei City (台北市玉門街1號). Admission is NT$300 for men and NT$500 for women and both include a drink. People dressed in white get in free.
Comments will be moderated. Keep comments relevant to the article. Remarks containing abusive and obscene language, personal attacks of any kind or promotion will be removed and the user banned. Final decision will be at the discretion of the Taipei Times.