Live Wire: Rockabilly weekend and the ongoing live house problem
Elvis Presley and Chuck Berry probably never dreamed the hits they released in the 1950s would go on to form the core repertoire of a band of greasy haired Hong Kong hepcats more than half a century later. The Boogie Playboys claim to be the only Hong Kong rockabilly band to ever release an album, and even though their retreads from the original rock 'n' roll songbook sometimes chug when they're supposed to rev, they can be downright rocking when they shift to Cantonese. They have somehow succeeded at adapting the loopy language of hard-boiled cop movies, kungfu cinema and Cantopop love ballads to the country-western style crooning of Hank Williams Sr and the hopping riffs of an electrified rhythm guitar.
This weekend, The Boogie Playboys come to Taiwan for a weekend of rockabilly in Taipei and Greater Tainan. They're teaming up with local stalwarts Sugar Lady and Fullhouse (富而好施) and bringing an entourage as well. Sugar Lady is Taiwan's longest running rockabilly band formed in 2002. They play with a punk or psychobilly edge, channeling Stray Cats and covering 1950s Hong Kong singer Grace Chang's (葛蘭) anthem, I Want You To Be My Baby. Also on the card is DJ Dave "Wobbly" Ross and the pinup girl-styled songstress Miss Cathy.
Though rockabilly survives as a dedicated subculture in Japan, in Taiwan, it seems like a locust swarm that migrates for a decade at a time, to emerge out of the earth at lengthy intervals. These bands might not quite make up a swarm, but they nevertheless are going to sweep through Greater Tainan tonight and Taipei tomorrow.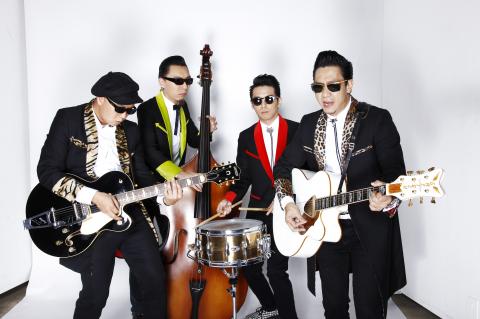 Hong Kong's The Boogie Playboys play tonight in Greater Tainan and tomorrow in Taipei.
Photo courtesy of The Boogie Playboys
■ The Boogie Playboys play tonight at 9pm at Tin Pan Alley (叮盤巷), 28, Beimen Rd Sec 2, Greater Tainan (台南市北門路二段28號). Tickets are NT$250 at the door. Tomorrow from 9pm at Revolver, 1-2 Roosevelt Road Sec 1, Taipei City (台北市羅斯福路一段1-2號). Tickets are NT$400 at the door.
THE NEW MAYOR AND THE LIVE HOUSE PROBLEM
As part of his election platform, Taipei's mayor-elect Ko Wen-je (柯文哲) declared he would, within three months of taking office, solve the problem of live house closures. The promise was made in one of Ko's trending campaign videos, released just a few days before last month's election.
Ko's video showed sweeping support for music and makes a positive example of Nashville, a city of 600,000 with over 100 live music venues. By comparison, Taipei City has a population of 2.7 million, but only around 20 live houses.
Taipei's live houses have been under attack in recent years, especially with the closing last year of Underworld, a rock club that had been launching young bands since 1995. Other venues also felt pressure, including Pipe and rock 'n' roll bars like Jr Cafe.
Ko says that live houses are traditionally lumped in with other nightlife industries, like karaoke parlors and hostess bars. He claims that live music venues should be treated differently and not "be bound to death by building codes and fire safety regulations."
Underworld shut its doors after a long series of complaints from a neighborhood group, the Shidahood Association (師大三里里民自救會), which meticulously researched city regulations and filed complaints against numerous restaurants, bars and shops in the area. Many business owners felt they had been singled out and were unfairly attacked.
Ko also pledged to support large music festivals, to fortify Taipei as a center for recording and production, and to use music as a form of city marketing. He also proposed a rather strange idea of creating a series of music festivals in the city's night markets.
For Taiwan's music community, this is mainly good news. But not everyone is flush with optimism.
"He's putting a lot of different issues together, and I'm worried he doesn't have a clear understanding of the problem," says Ho Tung-hung (何東洪), Underworld's founder and a chief proponent of the movement to legalize live houses.
"He thinks the problem is that bands just don't have a place to play, so he is going to find some small clubs for them. But the problem we had is that the government always told us we had to keep alcohol sales and musical performances separate," says Ho. (If you've been to Legacy lately, you'll notice they've removed the bar for this reason.)
"The category of business licenses is not determined by the local government. It's determined by the central government. It's hard to know what he'll do," says Ho.
On Wednesday, reports appeared that Ko appointed Ni Chong-hua (倪重華), a guru with experience in TV, film and pop music to head Taipei's Department of Cultural Affairs. As head of Mandala Records two decades ago, Ni released Wu Bai's (伍佰) first album and helped guide the rocker's early career, sending him to perform in pubs and hone his sound in front of a live audience — rather than trying to fashion him into an pop-idol. Ni also helped to bring MTV to Taiwan and has worked on a number of hit TV shows.
News of Ni's appointment has already met with serious criticism and led to the resignation of several policy advisers — though mainly due to the selection process.
"Ko has been talking about live houses and indie music in the same breath as pop music and city marketing," Ho says. "Maybe this is a change, but it's really too early to know what it means yet."
Comments will be moderated. Keep comments relevant to the article. Remarks containing abusive and obscene language, personal attacks of any kind or promotion will be removed and the user banned. Final decision will be at the discretion of the Taipei Times.