Fear of flying grows as 3.5 billion take to the skies
If professional golfer Florian Fritsch could have caught a bus from his native Germany to Nairobi in east Africa, he might have made the 2010 Kenya Open. Instead, he stayed put, grounded by his fear of flying.
The 29-year-old's phobia became so debilitating that Fritsch began fabricating illnesses to remain earthbound. After skipping five of two dozen events in one year, he gave up the tour altogether, playing just enough to keep his credentials while mulling a life spent helping amateurs improve their swing at his local club.
"On the day of the flight, I feel like I'm the next one up on death row," said Fritsch. "Then going to the airport, at the airport, during the flight I feel like someone is playing Russian roulette with a gun pointing at my head and it keeps clicking and I'm just waiting for that boom to go off."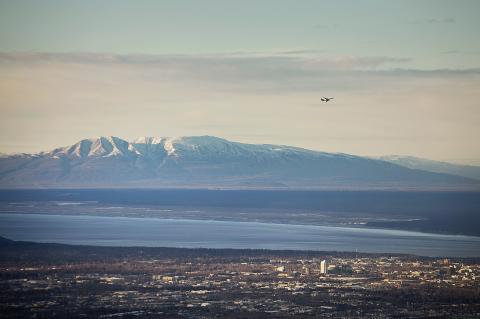 Liftoff can be the most anxious time for those who have a fear of flying.
Photo: Bloomberg
Airlines have recognized the need to act if they want to win people like Fritsch as customers. Easyjet Plc said this week that it's increasing the number of courses offered to fearful travelers next year in response to increased demand. British Airways has also expanded its network of seminars adding New York in 2012, Dubai a year later, followed by Johannesburg this year and Dublin in 2015.
Air France said demand is up for its dedicated seminars, which can costs hundreds of euros and combine practical knowledge about the physics of flying with psychological discussion and relaxation techniques to cut stress.
EVERYONE AFFECTED
Fear of flying is prevalent at all levels of society and education. Common to all is the anxiety from loss of control, coupled with a lack of information about an unfamiliar environment, said Philippe Goeury, a psychologist at Air France's anti-stress center that teaches the course. The terror tends to surfaces in the wake of a major event, be it marriage, the birth of a child or death of a loved one, he said.
"Rising demand for these courses reflects the increasing stress of daily life," Goeury said. "There's constant pressure to deliver better performance, more people are seeing psychologists, everything's amped up. Being on an aircraft can crystallize a lot of these anxieties."
With more than 3.5 billion people set to board an aircraft next year, flying has become so ubiquitous for work and leisure that even rare disasters leave most travelers unfazed. Yet for a significant minority, the fear of being suspended in midair, trapped in a slender metal cylinder above the clouds, can ruin vacations and sabotage careers.
AMPLIFIED FEARS
Over 70 percent of people have felt anxiety about flying, according to a survey released by All Nippon Airways Co last week. The Japanese airline developed an app that uses a puzzle and music to distract passengers during take-off, typically the most stressful part of a journey.
Some airlines, including British Airways and Deutsche Lufthansa AG, let passengers put their new-found confidence to the test with an actual flight at the end of a course.
Air France opts for a cockpit simulator in order to create turbulence, engine-blowouts and aborted landings.
Virgin Atlantic Airways's course has helped 2,000 people annually since it started in 1997, instructor Richard Conway told an audience of about 100 attendees at an all-day Sunday session at London Gatwick Airport last month. Grouped in tables of 10, the soon-to-be passengers nervously pulled rubber-bands they'd been told to slide onto their wrists to snap away negative thoughts.
USING HUMOR
Fees start at around US$200 and can exceed US$5,000 for private lessons. While humor is employed to soothe anxieties, whether participants are afraid of turbulence, flying over water or claustrophobia, getting the tone right is a challenge, Conway said.
"Hopefully, it's cosseted hand-holding without making people feel inferior."
By the end of Virgin's seminar, participants were asked to confront their fears in form of an actual flight. Course attendees nervously clutched partners who had agreed to accompany them or peppered the pilot or psychologist with last-minute questions. Some were stoic and quiet, while others were tearful, snuggling teddy bears or aggressively tapping pressure points they had learned about in the seminar.
Some people don't make it onto the plane at all or rush off at the last moment. During taxi, the pilot described the sounds and bumps as the plane picked up speed and took off. By the time the plane cleared the clouds, cheering and laughter erupted as first-time fliers relaxed and others jubilantly discussed the techniques that worked.
BOUNCY CASTLE
"The few little bumps we experienced, I actually enjoyed, almost as if we were on a bouncy castle," said Chris Slaski, a London-based composer.
At EasyJet's so-called Fearless Flyer course, the goal is to deliver messages in "language a phobic can relate to," founder Mark Wein said. A movie showed in the three-hour evening session featured a man going to an airport, with a voice-over streaming the typical emotions experienced by apprehensive fliers.
According to Texter-Millott GmbH, which runs two-day group seminars for the equivalent of US$980 on behalf of Lufthansa, about 80 percent of participants say the seminar helped reduce their fear of flying "noticeably," though only 30 percent manage to fly completely without fear afterwards.
For Fritsch even three years in a holding pattern of therapy, hypnosis and fear-of-flying courses has not managed to cure him outright. He still hates flying. And if he manages to qualify for a US major, Fritsch said he already knows how he will get there.
"I think the Queen Elizabeth manages the voyage from Portsmouth to New York in four days," he said.
Comments will be moderated. Keep comments relevant to the article. Remarks containing abusive and obscene language, personal attacks of any kind or promotion will be removed and the user banned. Final decision will be at the discretion of the Taipei Times.