The rebirth of the Bulau Bulau
A small Aboriginal community in Yilan County is showing that they can be self-sufficient while holding on to their traditions
When Kwlai, 33, returned to the village after completing his military service, he found that most of its original inhabitants had left. There were only 14, mostly elderly, people living in Bulau Bulau village. Most of the tribe had either moved out to look for work, a common scenario faced by many Atayal villages.
But for the last 10 years a small community in Hansi Village (寒溪村), Yilan County has been developing a system of self-sufficiency that allows it to survive while embracing modernity.
The community now attracts those who are interested in the way they grow and produce their crops — wild mushrooms and millet wine — which they sell in their restaurant.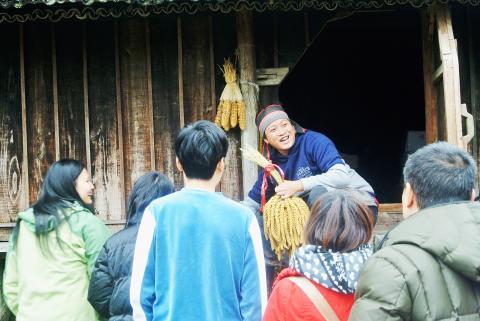 Lawa, 20, explains how millet is harvested and prepared to produce millet wine.
Photo Courtesy of kwlai
Deliberately accepting only 30 people a day and without any advertising or publicity they are fully booked until the end of the year. But Kwlai insists that they don't want the village to be seen as a tourist attraction.
"We don't want to be a show or a cultural center, we want to be a living tribe," said Kwlai, who helped kick-start the Bulau Bulau's renewal.
Although their revenue allowed them to purchase Land Rovers, the only way to bring visitors through the steep mountain roads into the Plateau where they are located, Kwlai says profits go towards rebuilding the small community and finding a balance between tradition and modernity. Currently, 43 people live in the village.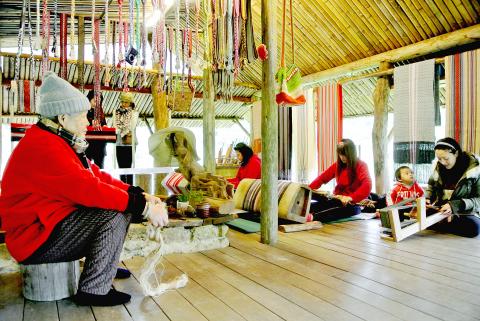 Women weave in a workshop in Bulau Bulau, a village in Yilan County.
Photo Courtesy of kwlai
GROWING PAINS
When Kwlai's father returned to the community upon his retirement a decade ago, he found that much of the land had been rented to ginger farmers. The land had also been corroded by pesticides and fertilizers.
Father and son soon convinced the remaining villagers to plant their own crops, which they could sell for a profit in Taipei. The project largely failed, however, because at the time there wasn't an established market for their produce.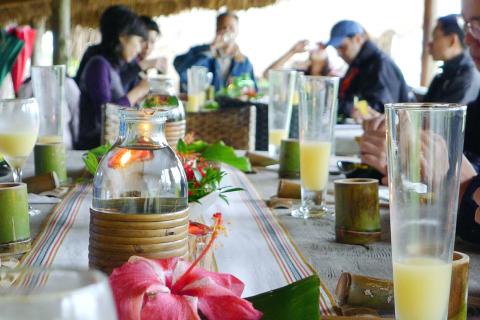 An inside view of the restaurant at Bulau Bulau.
Photo Courtesy of kwlai
Kwlai then hit on the idea of using his extensive experience in hospitality to open a restaurant in the picturesque mountain community. At first, they only served business associates of Kwlai's father. But through word of mouth, they began receiving more requests than they could manage.
Today, diners can have a full meal made from locally sourced food, while learning about Bulau Bulau culture and music from hospitable residents.
NEW MINDSET
As with many Aboriginal communities, Kwlai says it is difficult to attract young people to return to the village to work and live.
"Young people here always worry about the salary since we don't have a lot of income," he said. As an added incentive to return, Kwlai has initiated various projects. One saw 15 teachers and artists visit the village to pass on their knowledge of tourism, weaving, carving, farming, construction and food production.
Young people are now a common sight in the village. From Tuesday to Saturday they show visitors how to produce millet wine, raise chickens and manage mushroom plantations. In one building, young girls weave traditional textiles, which they then sell.
Lawa is a friendly 20-year-old who has lived in the village for three years.
"I decided to come back to learn traditional skills. Now I'm studying tourism here. What I like the most in my daily routine is talking to visitors," Lawa said.
One project that Lawa expresses particular pride in are some recently constructed houses, built by the community's elders using locally sourced wood and stone. The elders have even promised to build more if younger people relocate to the village and start a family.
For people like Kwlai, it offers hope for the future foundation of a living village.
"What wee try to do is we change their mindset. Instead of asking them to come to work, we ask them to come for another education, for another future," he says.
Comments will be moderated. Keep comments relevant to the article. Remarks containing abusive and obscene language, personal attacks of any kind or promotion will be removed and the user banned. Final decision will be at the discretion of the Taipei Times.