More than a New York gangster biopic
Filmmaker Raymond Chu discusses the journey that led him to writing his first feature film on the criminal underworld of Manhattan's Chinatown
Raymond Chu (朱永睿) sits at an outdoor table of an Italian restaurant in Taipei's business district of Neihu (內湖) smoking a cigarette. Dressed in Ralph Lauren plaid tweed, it feels as if the young filmmaker has brought a whiff of debonair Brooklyn back with him to Taipei.
The native New Yorker and co-founder of Lofty Entertainment, who spent his high school years in Taiwan, was taking a break from writing the script of his first feature film The Bloody Angle, which he will discuss tomorrow at the historic Yang San-lang Art Museum (楊三郎美術館) in New Taipei City for the monthly Filmmakers Night organized by South African filmmaker Tobie Openshaw.
While directing his short film American Odyssey, which premiered at the Soho International Film Festival in May, Chu was compiling research on Chinese-American gangsters in Manhattan's Chinatown. The Bloody Angle, he said, will tell the story of Sai Wing Mock, also known as Mock Duck, whose criminal organization the Hip Sing Tong wreaked havoc on Doyers Street and clashed with their rivals from the On Leong Tong, another gang.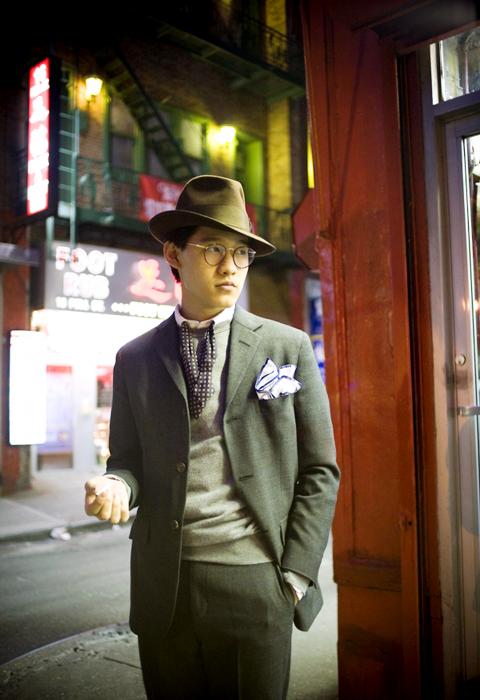 Filmmaker Raymond Chu wears one of his many vintage tweed ensembles and signature fedoras on Doyers St in Manhattan's Chinatown.
Photo courtesy of Rose Callahan
Chu says there was a time in Hollywood when Italian Americans were depicted as petty thieves, but Francis Ford Coppola's The Godfather "elevated the image of the Italian gangster family into a Shakespearean epic."
Chu hopes to do the same for Chinese Americans with his own film. As with any film director, part of the drive is personal.
"Growing up as an Asian American, people's perceptions of us were that we were coolies and worked in factories," Chu says. "So I started to wear suits because people needed to know that Asian Americans can dress well too."
People with Asian ancestry are still very much portrayed in American pop culture as conforming to certain molds, from the model minority to the kungfu villain — and filmmakers like Chu believe in producing more films in which Asian Americans really stand their own ground.
It hasn't been an easy feat though, given the dearth of information published about Mock Duck. However, one of the most exciting parts of the research process for Chu was talking to Mock's great-granddaughter Laura Isler.
"Ninety percent of what she told me was different than what I read in the books," Chu says. "Then somewhere down the line, we discovered that Mock Duck had started a second family after his first family was killed in 1916 and that she was part of the second family."
After this revelation, Chu felt that delving further into the gangster's life was probably a good approach.
"The more specific you get, the more universal your story becomes," he said, referring to the similar experiences shared by Italian and Chinese immigrants living in New York.
People who show up to Filmmakers Night can also expect some fashion lessons. Chu, who has been wearing fedoras and vintage tweed since his high school days, used to work for Ralph Lauren.
"I don't design clothes, I design dreams," Chu says, quoting the legendary designer.
Likewise, Chu adds, filmmaking is not only about selling a film, but it's essentially selling a dream to your audience.
"It's an attention-currency economy," he said. "Your value is based on how much attention you get."
Publication Notes
Event notes
What: Filmmakers Night with Raymond Chu, Asian-American Filmmaker
When: Tomorrow at 5:30pm
Where: Yang San-lang Art Museum (楊三郎美術館), 7, Boai St, New Taipei City (新北市博愛街7號)
Admission: NT$300 per person at the door; includes light refreshments
On the net: www.facebook.com/events/1738720999686360/
Comments will be moderated. Keep comments relevant to the article. Remarks containing abusive and obscene language, personal attacks of any kind or promotion will be removed and the user banned. Final decision will be at the discretion of the Taipei Times.