'Santaland Diaries' are coming to town
Director and producer Brook Hall brings David Sedaris' politically incorrect one-man play to life for seven shows at The LAB Space, his new theater in Beitou
Brook Hall has always pushed himself to do more. Unsatisfied with the year-long waiting lists to rent theaters to stage plays, Hall, whose directorial efforts include Smokey Joe's Cafe, Anything Goes, Title of Show, The Game and Hedwig and the Angry Inch, and partner Victor Stevenson now run The LAB Space (實演場), which is part of the 4,000-ping warehouse-cum-art space Polymer (空場) in Beitou.
"Having our own place eliminates [space] issues," Hall said. "We've been having acting workshops and auditions, and doing a lot of [set] building."
The Diaries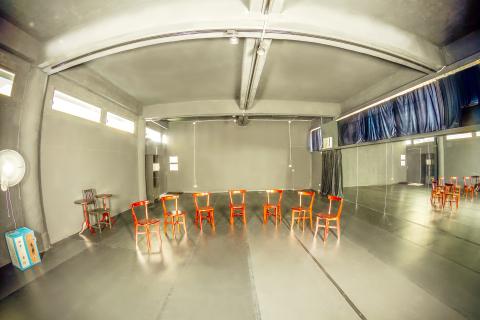 Santaland Diaries will be the first show at The LAB Space.
Photo courtesy of Kenny Paul
The one-man play, Santaland Diaries, gives audiences a birds-eye view of the craziness of Christmas season. It has adult themes, Chinese subtitles and, to Hall, shows the true meaning of Christmas.
"It is a modern version of The Christmas Carol and there are lessons to be learned. It's ironic and dark but with a big heart," Hall said.
Hall says he assembled a trusted team to help him run the debut show. "I've always wanted a creative team that I could work with … and Jenna Robinette was the first person I called," Hall added.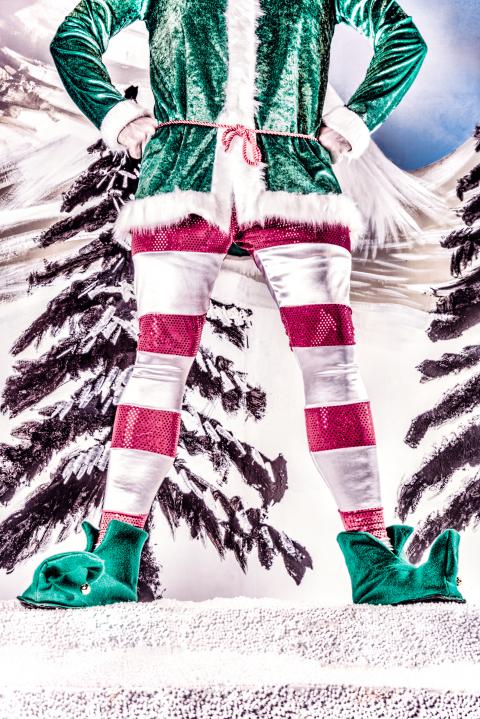 Brandon Thompson stars as an elf that goes through hell while working in Macy's department store in New York City for one holiday season.
Photo courtesy of Kenny Paul
Robinette worked with Hall designing the outfits for Hedwig and the Angry Inch and is doing the same for Brandon Thompson's elf in Santaland Diaries.
"I have a very weird cathartic relationship with Christmas, and this allows me to dig deeper into why this holiday means so much to me," Thompson said about his character as an elf working through the holiday hell at Macy's department store in New York City. "And ... Brook promised me all the candy canes I could eat if I took the role."
One of the additions for this version of Santaland Diaries is keyboardist Andrew Page's live scoring of the play. "He has a collector's item keyboard that makes amazing sounds. It's his secret sauce," Hall said.
Set designer Ross McCarry was recruited to create magical scenes for the background. "He came up with the night sky at the Winter Solstice," Hall said. "I like when there is meaning within art."
The Future of the LAB Space
Hall aims to start small and hopefully grow with The LAB Space. There is seating for 70 people for each show, and he will be doing plays with two to five actors, six to eight times per year. With scheduling difficulties out of the way, Hall sees a bright future for drama in Taiwan.
"This is all or nothing for me," he said. "As long as people want to see what we are doing, I am going to put everything into it."
Publication Notes
Performance Notes
What: Santaland Diaries
When: Saturday, Sunday and Wednesday at 8pm. Additional shows from Dec. 18 to Dec. 21 at 8pm
Where: The LAB Space (實演場), 3F, 9, Beitou Rd Sec 1, Taipei City (台北市北投路一段9號3樓)
Admission: NT$350, available through www.accupass.com/go/santaland or at the door
On the Net: www.facebook.com/labspacetw
Comments will be moderated. Keep comments relevant to the article. Remarks containing abusive and obscene language, personal attacks of any kind or promotion will be removed and the user banned. Final decision will be at the discretion of the Taipei Times.