Golden Pin breaks out
The 33-year-old design award bids to become the premier distinction in the Chinese-speaking world
For the first time, the Golden Pin Design Awards has opened its doors to entries from outside Taiwan, with hopes of becoming the premier design distinction in the Chinese-speaking design world.
The Golden Pin, under a different name, came into existence in 1981 to recognize Taiwanese manufacturers that made products for the local market. This year, organizers called for entries from companies selling, manufacturing or designing innovative products in any Chinese-speaking country.
"It's a big risk and it might be the biggest mistake," says Chu Ping (朱平), Canmeng (Aveda) Taiwan founder and a Taiwanese member of the jury committee.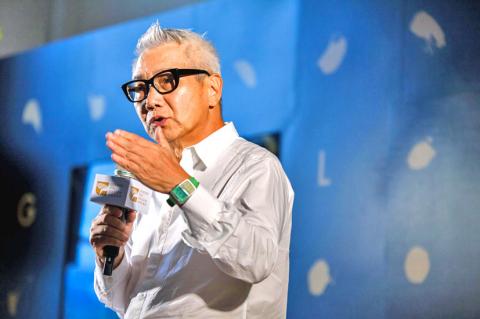 Chu Ping will co-host this year's Golden Pin Design Award 2014 Best Design Award Ceremony with Janet Hsieh.
Photo courtesy of Taiwan Design Center
"Though if you don't take risks and you don't allow failure to be one of the options, you wouldn't be able to do design at all."
By becoming a high-profile award, Golden Pin could end up a high-profile mistake. While it scales up, it must also break even financially as nominations, marketing and other logistics become more complex.
It's now competing with other design awards — Red Star Design Award, Successful Design Award and other Chinese programs — that recognize and often shape the direction of products in the world's fastest-growing market.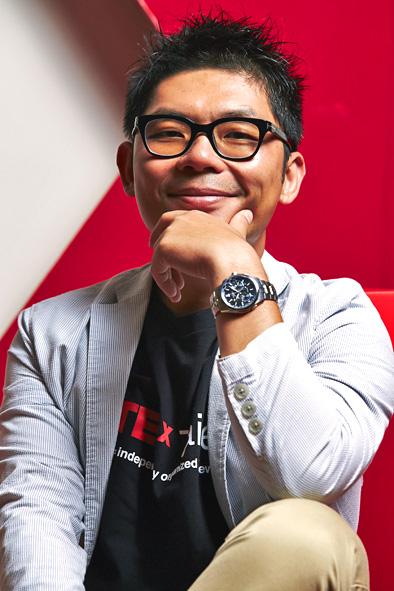 Jason Hsu, curator of TEDxTaipei. TEDxTaipei Salon: Design Transformed will be held on Thursday in conjunction with the Golden Pin Design Award 2014 "Best Design" award ceremony.
Photo courtesy of TEDxTaipei
While Golden Pin's expansion will be technically difficult, organizers say it is Taiwan's chance to finally have a seat at the table.
"People say things like, 'Taiwan is being marginalized,' but in reality Taiwan isn't being marginalized. Taiwan has never been at the center," said Golden Pin award ceremony director Johnason Lo (羅申駿).
This year's expanded Golden Pin received over 1,000 entries in categories like digital animation, commercial packaging and interior design.
"Best Design" winners will be announced next Thursday at an award ceremony in Taipei. The red-carpet event starts at 6pm and will be preceded by themed TED salon.
"There's a session on huaren design, what it means to be designing for the Chinese-speaking market," said curator Jason Hsu (許毓仁) of TEDxTaipei.
The eight speakers at TEDxTaipei Salon: Design Transformed include Eric Pan (潘昊), a Forbes China's "30 Under 30" entrepreneur; Ray Chen (陳瑞憲), of the company behind the groundbreaking China Airlines' 777-300ER; and Magnus Aspegren of the BMW Group's Shanghai Studio.
Also on Thursday, an exhibition opens at the Songshan Cultural and Creative Park featuring this year's winners and a retrospective on the Golden Pin Design Award. The Golden Pin Design Award 2014 Exhibition runs to March 1 and entry is free until Dec. 31.
Huang Yi — on the edge of design and dance
By Diane Baker
Staff reporter
While most people attending the Golden Pin Design Award 2014 Award Ceremony on Thursday will be watching to see who the winners are, many others will be happy to catch a glimpse of one of Taiwan's most innovative young choreographers.
Huang Yi (黃翊) will perform a 20-minute version of the critically acclaimed Huang Yi & KUKA — 1st & 2nd Movements at the show.
The choreographer, 30, has been making waves in Taiwan's dance world since he was a student at Taipei National University Of Arts, cementing his reputation with works for Horse (驫舞劇場) and Cloud Gate 2 (雲門2) as well as his solo projects, most of which have focused on melding technology with dance.
He spent the money he received from a Lo Man-fei (羅曼菲) dance scholarship grant in 2007 to buy a crane arm to hold a camera, which he used to great effect in his Spin series. He also created a production where dancers were partnered with motion-sensitive violins played by computer.
A few years ago, Cloud Gate Dance Theatre (雲門舞集) founder Lin Hwai-min (林懷民) tried to break Huang Yi of his addiction to technology by requiring him to choreograph works for Cloud Gate 2 that focused just on the dancers. Luckily for the dance world, however, Huang Yi soon fell off the wagon.
His most recent works have centered around a robotic arm made by German manufacturer KUKA that he conceptualized and programs. It took him two-and-half years of pre-production work and rehearsals to create the cross-disciplinary performance.
"Dancing face to face with a KUKA robot is like looking at my face in a mirror. I make KUKA mimic my movements, and I learn from him, I make myself dance like a machine," Huang Yi has been quoted as saying.
He said he was thrilled to be asked to perform at the Golden Pin Awards.
"During high school, I depended a lot on my graphic design skills to help my family through a difficult financial period. I am very grateful to the design field for helping me through difficult periods in my life," he said in a press statement.
Publication Notes
Event notes
What: TEDxTaipei Salon: Design Transformed
When: Thursday from 10am to 4pm
Where: B2 performance hall at Eslite Spectrum Songyan Store (誠品松菸店 B2表演廳), 88 Songyan Rd, Taipei City (台北市菸廠路88號)
Admission: Student passes for NT$500, NT$1,500 for general pass, available through www.accupass.com/go/2014tedxgp
Comments will be moderated. Keep comments relevant to the article. Remarks containing abusive and obscene language, personal attacks of any kind or promotion will be removed and the user banned. Final decision will be at the discretion of the Taipei Times.