Restaurant review: La Creperie
It is never an easy task to find good, reliable crepe restaurants in Taipei, but the problem is alleviated with the arrival of La Creperie into the city's East District (東區) earlier this year. Featuring the sweet and savory pancakes originating from Brittany, France, the playfully designed cafe is the seventh branch of the successful chain, which was launched in Shanghai in 2007 by a Breton expat named Philippe Ricard, and has since expanded to other Asian cities, including Hong Kong, Ho Chi Minh City and Phnom Penh.
True to its origin, the Breton peninsula known for granite coasts and seafaring pursuits, La Creperie attracts clientele with a vibrant, oceanic theme that adds a sense of nautical charm to the dining experience. Sitting at the wooden table by a porthole-shaped window, diners are served by young waiting staff in sailor uniforms. The lighthouse motif is featured prominently throughout the restaurant's decor, even on salt and pepper shakers.
The ambience in the two-story cafe is snug and cozy. On a sunny day, the outdoor balcony which doubles as deck seating would make an ideal spot for chilling out amid the bustling shopping district.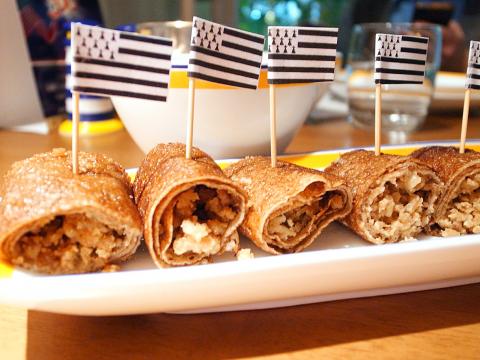 Brittany rolls are easy to share among friends.
Photo: Ho Yi, Taipei Times
The restaurant offers about 40 kinds of galettes, which are savory crepes made with buckwheat flour, and sweet crepes made with wheat flour as well as a selection of salad and appetizers.
My dining partner and I began our meal with a starter called the Brittany rolls (NT$180), which is a fun variety of galette that wraps the flavorful fillings into rolls with little Brittany flags stuck in each one. The fillings come in three choices — beef and spinach, caramel pork and spicy chicken. We had the pork sauteed with caramel which went fairly well with the moist, nutty-flavored pancake.
For galettes, we went with la capitaine (NT$390), composed of sauteed scallops flamed with whisky, bacon, leek fondue and cream, and were pleasantly satisfied. Slightly crisp around the rim and tender inside, the pancake made a fine paring with the plump, juicy scallops bathed in rich, creamy sauce.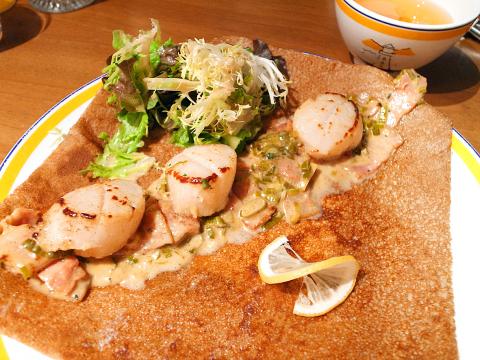 La capitaine features three juicy scallops on top.
Photo: Ho Yi, Taipei Times
Also recommended are La piano (NT$340), which is topped with smoked salmon, spinach, egg and cream, and la super Eckmuhl (NT$380), a delightful concoction of Reblochon cheese, potatoes, bacon and onions. Vegetarian choices include L'Ar men (NT$260) with French Emmental cheese, tomatoes, spinach and Dijon mustard, and la brestoise (NT$260), topped with homemade ratatouille, Emmental cheese, sunny-side up egg and salad on the side.
Our crepe feast ended on a high note with le defi (NT$240). With homemade salted butter caramel, cooked bananas and caramel ice cream, the sweet pancake would surely satisfy the cravings of any serious crepe lover. Liqueur lovers might want to check out the restaurant's crepes served flambe, which involve the pancake drenched in liqueur and set on fire.
Strangely, the crepe chefs also put together a selection of pasta. Though it is understandable to accommodate local taste buds more familiar with Italian food than Breton pancakes, one cannot help but wonder, who would order pasta in a crepe restaurant?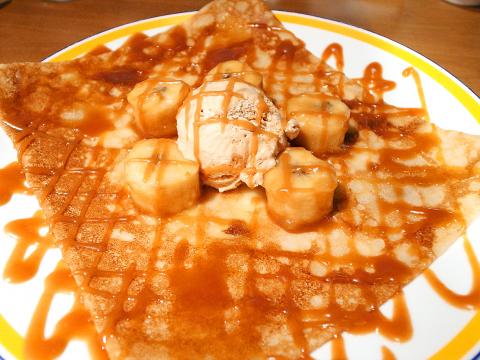 La defi is one of the most popular crepes at La Creperie.
Photo: Ho Yi, Taipei Times
One dish that must accompany the crepes and galettes at La Creperie is the sparkling Breton cider poured in bolee, Brittany's traditional cider cup. Three varieties are on offer. The sweet or dry cider of Val de Rance costs NT$140 per cup and NT$590 per bottle. The Kerne cider is said to be dry and fruity and comes with a tag of NT$650 for each bottle.
Service was amicable on the day we visited. Our French host was kind enough to introduce us to the Breton culinary tradition and came by every now and then to make sure that we were enjoying the food.
Publication Notes
La Creperie
Address: 45-2, Ln 187, Dunhua S Rd Sec 1, Taipei City (台北市敦化南路一段187巷45之2號)
Telephone: (02) 2775-3949
Open: Tuesdays to Fridays from noon to 11pm, Saturdays and Sundays from 11am to 11pm
Average meal: NT$600
Details: Menu in Chinese and English; credit cards accepted
On the net: www.facebook.com/lacreperietaipei
Comments will be moderated. Keep comments relevant to the article. Remarks containing abusive and obscene language, personal attacks of any kind or promotion will be removed and the user banned. Final decision will be at the discretion of the Taipei Times.