Bringing democracy to the next level
It's time for politicians to move away from outmoded electoral campaign tactics, such as blaring slogans into loudspeakers, and start appealing instead to young voters with a more issues-focused approach
"I will stop…I will stop at nothing" sang the rock group Radiohead in the opening lines of their song Electioneering, which in its few short lines presents a cynical view of the politics surrounding elections.
Having been involved in politics for years, I was fairly dismissive of this skeptical attitude towards politicians. But the run-up to the nine-in-one elections, has for the first time demonstrated some literal truth to these lyrics, with many of the electoral tactics seeming naive, condescending or downright desperate. The Taipei mayoral election in particular proved to be a dramatic, acrimonious campaign with accusations of bugging campaign offices, candidates having harvested organs for sale and a television advertising campaign being ripped off an American lottery advert, to name but a few incidents.
For those voters who support one of the two candidates, it has been fuel to the fires of their opinions. But in such a race, the target of much of your campaign should be swing-voters.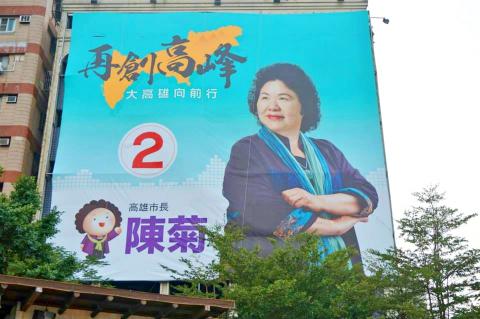 Greater Kaohsiung mayor Chen Chu posts cartoon images of herself all around the city as an electoral campaign tactic.
Photo: Dana Ter, Taipei Times
Instead, many campaigns focused on efforts to blacken the name of the opponent. But at a time when voters, especially younger ones who are more likely to be undecided, have easy access to information online and through social media, spreading lies and half-truths about your opponent is a policy doomed to failure. Negative strategies in general serve only to disillusion undecided voters, driving them away from the ballot box altogether.
The new mayor of Taipei Ko Wen-je (柯文哲), who ran as an independent candidate has shown himself to be more aware of this than most. His efforts to rise above playground politics and run a professional, issues-focused and transparent campaign has paid dividends. His campaign was not without fault, but by Taiwanese standards, it's a step forward.
Despite being a Democratic Progressive Party (DPP) supporter, Ko's decision to run as an independent and state that his top officials in office will not be actively party-political chimed with the sense of discontent many have with both the DPP and the Chinese Nationalist Party (KMT). He was also transparent with his campaign finances, refusing donations once he had reached the permissible amount. Furthermore, Ko moved away from the usual campaigning and instead asked for the public's opinion on officials to work with him in office should he win. This type of direct democracy is a challenge to the traditional political squabbling.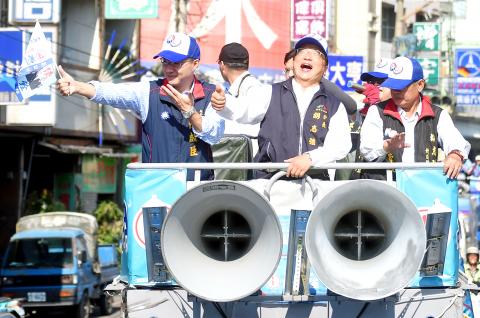 Chinese Nationalist Party (KMT) Greater Taichung mayor Jason Hu, who just lost a re-election bid on Saturday to his DPP rival Lin Chia-lung, campaigns on Thursday prior to the nine-in-one elections.
Photo: liao Huei-tung, Taipei Times
Desperate Times, Desperate Measures
If only other politicians could learn from some of Ko's campaigning tactics.
In the Greater Kaohsiung ward where I live, there were 17 candidates running for the local elections. At one time or another over a period of months, supporters of every one of them have driven past my house with music and campaign slogans blaring out of loudspeakers. This tactic, besides frequently waking up my recently-born daughter, has annoyed me intensely because common sense suggests that it simply doesn't work.
In the UK, for example, there are restrictions on when you can campaign for an election. While there is maneuvering beforehand, it is officially one month before an election that campaigning can start. But even then, such tactics will usually only be used a few days prior to voting. This is an effective tool for reminding voters to go and vote.
Here, as election day draws closer, the trucks increase in number and become convoys of noisy supporters who let off fireworks. Meanwhile, the candidate stands up front, waving enthusiastically at passersby who are doing their best to ignore the din and those creating it. In Greater Taichung the day before the election, I even saw one such convoy with a half-naked pole-dancing girl.
Just before the election, is this really the best use of a candidates time? Swing voters, particularly younger ones, want to hear the candidate discussing issues, stating their positions and answering questions. Public meetings or open debates with opponents are effective, as is simply going to public places and talking. Finding time for more than a handshake and a hello, to actually listen to people and respond to their concerns, is more effective than peering through the sunroof of a car.
The majority of public events I have seen here are campaign rallies, with supporters cheering every word. This is preaching to the converted. You know these people will vote for you.
Then there are the free tissues and sachets of coffee that accompany leaflets. The mayor of Greater Kaohsiung, Chen Chu (陳菊), now in her third term, even sent every household a set of stickers with a cartoon character of herself on them.
Despite their ineffectiveness, such techniques persist. And when they fail to bring expected returns, they intensify, making them bigger and louder, when what they should be doing is changing tact, rising above such primitive tactics, and moving the political debate on — as Ko managed to achieve in Taipei.
Disillusioned Sunflowers
A couple of weeks ago, I spoke to a number of younger, politically active Taiwanese at football match between Taiwan and Hong Kong. Many were there to take part in the pre-match protest in support of Hong Kong's Umbrella movement, and were part of the Sunflower movement.
The sense of disillusionment among them was palpable. Many said they were voting DPP or Ko in Taipei, because they were instinctively anti-KMT. But some were not planning to vote at all. As they clearly had strong political convictions, I asked why. "There is no one that I can really trust to represent my views" they said. "They are all as bad as each other."
I find this sense of disillusionment and disenfranchisement surprising and depressing.
Taiwan is a young democracy, but to have lost such vast swathes of the public to antipathy already is a sorry state of affairs.
In the UK, politicians are using increasingly inventive means to remain relevant, and communicate their views on issues that matter. Many are now active on social media platforms like Twitter and some post regular short videos onto YouTube discussing a topical issue. There is an increased focus on local issues, or national issues from a local perspective.
It is these local issues which affect people's daily lives. So naturally, strong communication in these areas can win votes.
Such approaches like shouting from the back of a truck and handing out free sachets of coffee only make candidates in Taiwan appear distant and irrelevant. They perpetuate the idea that politicians are in the game for themselves.
All candidates here, winners and losers, should now be undertaking a careful analysis of their campaigns to see what worked and what didn't. It is the disillusioned, disenfranchised voters, especially the powerful youth voice that spoke with such volume during the Sunflower movement, but sees nothing representing their views in mainstream politics. They will soon be the majority, and electioneering here needs to move fast to keep up with the expectations of this modern electorate.
Comments will be moderated. Keep comments relevant to the article. Remarks containing abusive and obscene language, personal attacks of any kind or promotion will be removed and the user banned. Final decision will be at the discretion of the Taipei Times.