Old school fat
Animal fats are beginning to shake off decades of stigma as the causes of obesity and heart disease and are finding a new place in clean, sophisticated and, most importantly, great-flavored cooking
The scandals surrounding various kinds of cooking oil and fats have raged in the media these last few months, making it almost impossible for the health conscious to know what can be eaten with assurance. The type of oil used is not something that is usually noticed by consumers when dining out, and food stalls and restaurants inevitably do what they can to reduce costs, often unknowingly using tainted or inferior oil (see Foul Taste on page 12 of Nov. 6 Taipei Times). Food manufacturers are ever eager to protect their bottom line and are not above passing on the health costs of substandard food to the consumer (see Cashing in On Adulterated Oil on page 12 of Nov. 25, 2013 Taipei Times). So what are we to do? Of course there are high-end imported oils readily available in the supermarket, but for the truly paranoid, nothing beats rendering oil yourself.
While vegetable oils are not something you can make at home, lard and schmaltz, the fat of pigs and chickens respectively, are relatively easy to manage, and really help to enhance flavor of all kinds of dishes from toasted sandwiches to elegant braised meats. It helps that animal fats have been enjoying a resurgence, with highly-regarded food writers and chefs touting their benefits, particularly now that hydrogenated fats — once marketed as the way to a slimmer, healthier body — have been shown to have been clogging our insides with trans-fatty acids and killing us slowly in all sorts of unnoticed ways. Books such as Australian chef Jennifer McLagan's Fat: An Appreciation of a Misunderstood Ingredient and Michael Ruhlman's The Book of Schmaltz: Love Song to a Forgotten Fat are just two excellent books that are making the case for the use of homemade animal fats and their many uses in the kitchen.
This is not the time or place for attempting to summarize the scientific arguments in favor and against the use of animal fats, but suffice to say that science is showing us what our ancestors knew all along: that animal fats are perfectly good for you when eaten in appropriate quantities. My own point of departure is simply that it tastes good, a realization I had as a child when I insisted on eating butter rather than margarine. I have gone on to discover that while butter remains one of life's great pleasures, sandwiches toasted with chicken fat and potatoes fried in lard just cannot be beaten for flavor.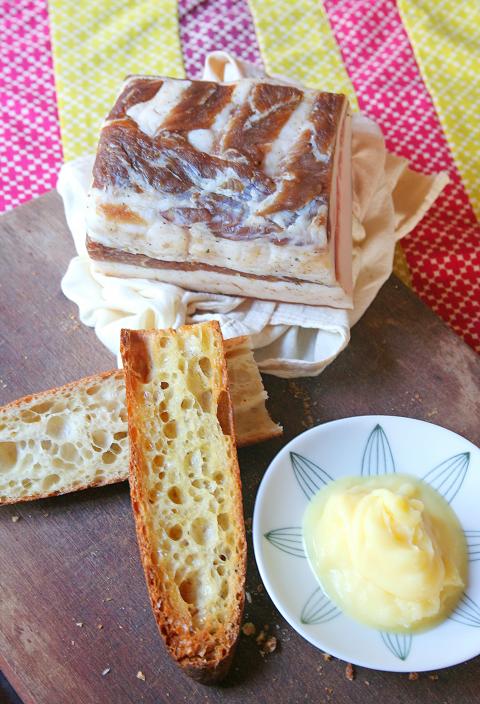 Pork belly fat makes for great eating when salted. Chicken fat (lower right) is lovely on bread, taking toast to a whole new level.
Photo: Ian Bartholomew
Pork back fat is readily available from traditional Taiwanese butchers, often already helpfully diced. In the past, it has always been cheap and easy to obtain, but I have noticed that more and more people are asking for this product at my local butcher, and it might be a good idea to put in an order in advance.
As for chicken fat, this is not so easy to obtain commercially. Its availability ties in with something I have wanted to write about for some time: the benefits of using a whole chicken. Getting our chickens from a local farmer, I feel it is necessary to find a use for every bit of the bird, not least the skin and fat, and now I find that schmaltz is something that I simply cannot do without in my larder. I would only recommend rendering chicken skin and fat if you are purchasing organic or naturally raised chicken, as factory-raised chickens probably contain high levels of antibiotics and other undesirable elements that will only get concentrated in the fat you render.
If you have an oven, rendering chicken and pork fat is a pretty straightforward affair. Though time consuming, it does not require much hands-on involvement and you just need to keep an eye on the time. Fat can also be rendered on the stove top, but requires more involvement in the form of regular stirring to prevent the fat from coloring too much. The whole process also involves some unpleasant washing up at the end, but if you do a large quantity, it is definitely a worthwhile investment of time and effort. The fat keeps well in the fridge for months and can be frozen for up to a year.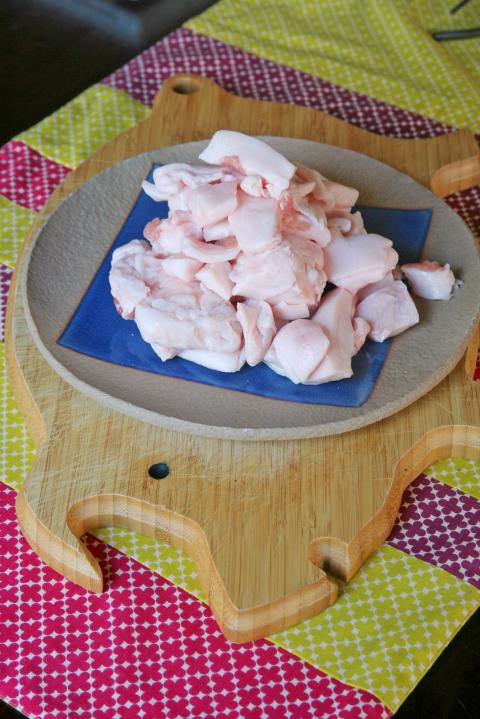 Pork back fat is easily obtainable from traditional butchers in Taiwan.
Photo: Ian Bartholomew
Rendered Fat
Start with about 1kg of pork back fat or a mix of chicken fat and skin. This should be very cold, or even partially frozen, making it much easier to handle. Chop into small pieces and lay out in a heavy flameproof casserole.
In the oven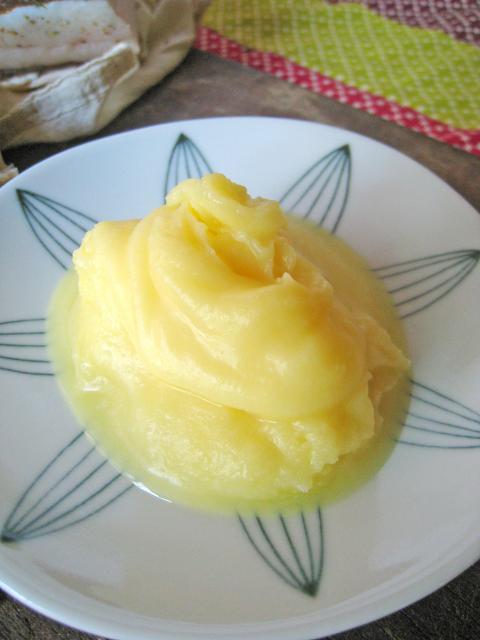 Chicken fat, or schmaltz, has a long history in the kitchen, particularly associated with Jewish cuisine, where it is used in place of lard.
Photo: Ian Bartholomew
1. Preheat the oven to about 120c.
2. Add around 75ml of water for every 500g of fat to prevent it coloring. This will evaporate during cooking.
3. Place the casserole in the oven. Stir at around 30 minutes, then stir every half hour until the fat just begins to color, around three to four hours. The smaller the pieces of fat, the more quickly it will render.
4. As soon as the fat begins to color, remove from the oven and allow to cool slightly. Pour the oil through a muslin cloth into clean containers. When cold, refrigerate.
Comments will be moderated. Keep comments relevant to the article. Remarks containing abusive and obscene language, personal attacks of any kind or promotion will be removed and the user banned. Final decision will be at the discretion of the Taipei Times.