Restaurant review: Liu's Traditional Juancun Food (劉家酸白菜火鍋)
Though it's easily the calling card restaurant of Greater Kaohsiung's Zuoying District (左營), the original Liu's Traditional Juancun Food (劉家酸白菜火鍋) is hard to find by accident.
To reach Liu's, a local favorite for its pickled cabbage hot pot, you have to go down a lane flanked by trees that leads to a naval base gate with guards. Turn right, pass by a pack of wild dogs and go through a second, albeit abandoned, naval base gate. At the end of it all is a military recreation center that closed permanently a few years ago. After nightfall, Liu's restaurant is the only source of light in the cul-de-sac.
It is remote, but it is also very busy. The dining hall is a large room of banquet tables and a few tables for smaller parties, which were filled to capacity during my visit on a weekday evening. Service is no-frills and brisk, with the first dish arriving in under 10 minutes and the others following in rapid succession.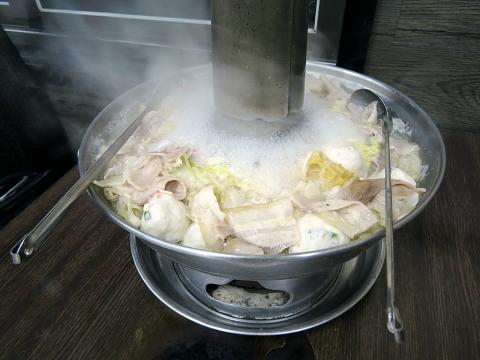 The signature hot pot, made with salted cold-fermented green cabbage.
Photo: Enru Lin, Taipei Times
Liu's makes traditional cuisine of the nearby naval dependents' villages. The menu has the signature hot pot, noodles, braised meats, fish-paste snacks — and notably, no rice-based dishes. Historically, these villages have tended to consume wheaten foods, partly due to a high concentration of Civil War refugees from China's wheat belt.
The restaurant got its start as a neighborhood dumpling house, but dumplings probably aren't the main attraction anymore. At NT$5 each, they are a bit overpriced for the area. There's one option, a savory pork with chives, but it's a small morsel in tough-looking thick skin that's a lot less al dente and more watery than it looks.
However, the flour wraps are some of the finest you can find. It's not about the special ingredients: There's no crab or exotic vegetables, just common meats and lettuce, but the lettuce is crisp and the braised beef is jaw-droppingly good. Served in thick slices, it's slightly smoky, soft and aromatic. Ingredients are assembled in a brilliantly golden fresh flatbread that's somehow both moist and crispy, like a jazzed-up version of Indian naan. Rolls range from NT$45 to NT$90 and are big enough for two to share.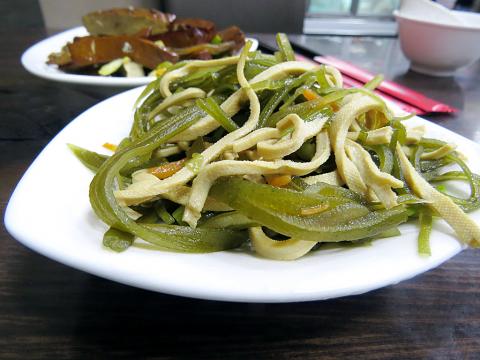 Appetizers include stringy tofu.
Photo: Enru Lin, Taipei Times
Liu's is best known for hot pots made with salted cold-fermented green cabbage, which it makes in-house in a slow natural process. The dish is popular, and when I was there, most families had one at the center of the table, brewing away in a copper pot with a tall smoking chimney. A small hot pot (NT$520) should be good for two to three people, a large (NT$920) serves six to eight and extras like beef meatballs and sliced meats can be added a la carte.
Even without add-ons, it's a lot of food. The pot holds a seemingly bottomless lode of ivory-marbled pork, fish-paste balls, floppy tofu skins, firm tofu and finely shredded cabbage, which is juicy and mild. It's the flavor of the broth that is most unusual — a flavor that would be difficult to replicate at home. There's a true-to-form sour pungency of top-grade pickled cabbage, rounded out by a sweetness and a faint char flavor, probably given by the copper pot.
For the last few years, the dish has been fueling a healthy frozen-food delivery business and expansion plan. Liu's now has five branch locations: three in Greater Kaohsiung, one in Yunlin and a store in Taipei that had its grand opening yesterday. Hot pots are half price during off-peak hours, from 2:30pm to 4:30pm and 9pm to 10:30pm.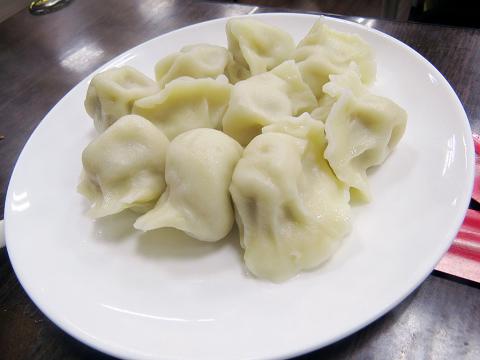 Liu's started as a neighborhood dumpling house, but is now better known for its cabbage hot pot.
Photo: Enru Lin, Taipei Times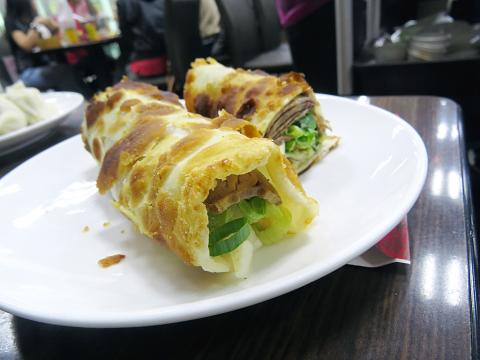 Wraps are served in cooked-to-order flatbread similar to Indian naan.
Photo: Enru Lin, Taipei Times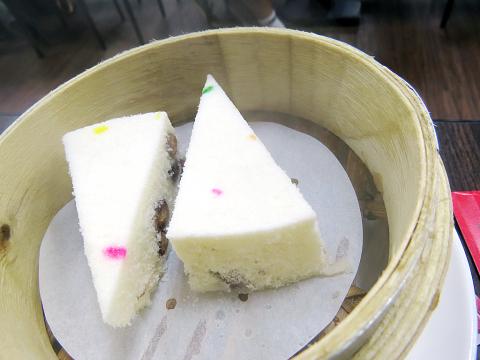 Liu's makes a small assortment of flour-based desserts traditional to the neighboring naval dependent's villages.
Photo: Enru Lin, Taipei Times
Publication Notes
Liu's Traditional Juancun Food
劉家酸白菜火鍋
Address: 9 Jieshou Rd, Greater Kaohsiung (高雄市介壽路9號)
Telephone: (07) 581-6633
Open: Daily from 11am to 2pm, 2:30pm to 10:30pm
Average meal: NT$400
Details: Menu in Chinese, no service charge
Comments will be moderated. Keep comments relevant to the article. Remarks containing abusive and obscene language, personal attacks of any kind or promotion will be removed and the user banned. Final decision will be at the discretion of the Taipei Times.