City council candidate Wang Yi-kai
The Sunflower movement activist hopes to change Taiwan's political system from within
Wang Yi-kai (王奕凱) was among the first to storm the Legislative Yuan on the evening of March 18 when some 300 students and demonstrators took over its chamber, shortly after the Chinese Nationalist Party (KMT) cut short the review of the highly controversial cross-strait service trade agreement. The occupation of the legislature lasted for 24 days and came to be known as the Sunflower movement.
Wang, 29, is now running for city council in the Shilin (士林) and Beitou (北投) districts.
"As a candidate for city councilor, my political platform has to address local issues concerning voters," he says.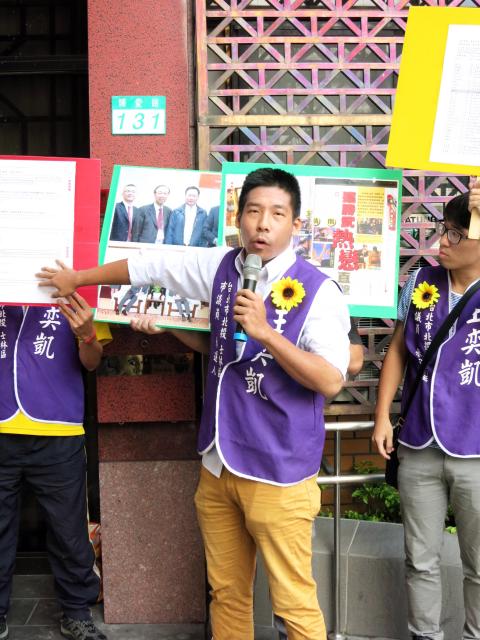 Independent Taipei City councilor candidate Wang Yi-kai holds a press conference outside the Taipei District Prosecutor's Office accusing a Taipei City government consultant of corruption.
Photo: Chen Wei-tsu
Wang is among a new generation of activists who began their political activities on the street, protesting the pro-Beijing, pro-business policies of the administration of President Ma Ying-jeou (馬英九). Responding to the public's increasing demand for reforms, some activists and protesters see the year-end local elections as an opportunity to enter the political system to change it from within.
Wang says his supporters are those who have their own independent viewpoints on politics and social issues, not tied to major political parties, believing that he has the upper hand in the election since many of his competitors are either corrupt or lack clear political ideals.
Years of living and working in the areas also help Wang to gain a close connection to the local environment and its residents.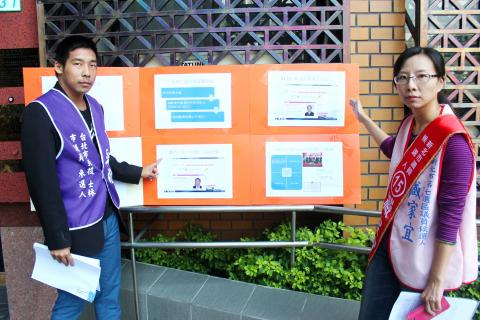 Independent Taipei City councilor candidate Wang Yi-kai, left, holds a press conference outside the Taipei District Prosecutor's Office, accusing the KMT heavyweights of corruption.
Photo: Chen Wei-tsu
POLITICAL AWAKENING
Raised in a veterans' village in which the majority of residents supported the Chinese Nationalist Party (KMT) and the New Party, Wang experienced a political awakening in 2008, when he joined the Wild Strawberry Movement (野草莓運動), which was initiated by college students and professors to protest excessive police force.
He took part in sit-ins, organizing inter-campus connections and befriending like-minded activists such as Lin Fei-fan (林飛帆) and Chen Wei-ting (陳為廷). After the Wild Strawberry, Wang dropped out of college to work as a stock broker by day, while his nights were spent with young activists, anarchists, hippies and other bohemian types to discuss and debate public affairs ranging from nuclear power to LGBT rights.
Wang gradually felt that it was not enough to live with farmers or protest on the streets. Facing what he sees as Beijing's increasingly aggressive plan to gain economic control over Taiwan in the short term, and political control in the long term, he joined an independence group that believes the KMT is harmful to Taiwan's future, while the Democractic Progressive Party (DPP) has lost its way.
CONNECTING WITH LOCALS
A Shilin native, Wang stresses that running a local election campaign is all about connecting with voters. Every day, Wang and his campaign staff spend six to seven hours "sweeping the streets" — campaign jargon for appearing at traditional markets, temples, weddings and public funerals to speak with potential voters, hand out flyers and make speeches.
Wang and his campaign team also visit the district's borough wardens, important community-based elected officials who can get out the vote around election time. Wang says that borough wardens have an intimate understanding of the issues that are important to voters and how to solve problems within a community.
"I have picked up plenty of information, news and tips regarding local communities from [borough wardens], which I then incorporate into my policy platform," Wang says.
From regulating construction projects to promoting environmentally-friendly tourism, Wang's political platform consists mostly of ideas gathered from local residents and borough wardens as well as his own political views such as promoting Taiwan's independence. With his family background and working experience, Wang says he has found ways to navigate the different viewpoints, especially those who are "conservative and want to maintain the status quo."
"If elected, we will hold public speeches and events, letting people know that there are many ways to gain independence. It doesn't have to lead to war or social turmoil as we are taught to believe," he says.
STARTING FROM SCRATCH
As a first-time candidate, Wang says matching the resources of established candidates who represent the larger political parties is difficult. He says his campaign team has struggled with even the most basic, practical matters like knowing where to visit and who to speak to.
"They [other candidates] have an organizational structure through which information from vote captains is collected and adopted," he says.
He cites the Mid-Autumn Festival as an example. Whereas candidates from the larger political parties have established networks which enable them to attend up to 30 festival events per day, Wang only has resources to attend four. He adds that the KMT and DPP have "vote-securing troops" (固票部隊), or political operatives who know where supporters can be found.
Admittedly, running an election campaign is never a fair game. Lacking resources to gain wide exposure, the political newcomer chooses to reach out to voters one individual at a time, a strategy that he calls effective because it provides room to extemporize on his policies.
On the other hand, Wang's election campaign is funded by private donations and his own pocket book, which has shrunk because he stopped working in May to concentrate on the campaign. His team consists of mostly volunteers and members of the Taiwan Independence Reformation Association (獨臺新社), Taiwan Referendum Alliance (公投護台灣聯盟), Restoration of Taiwan Social Justice (臺左維新) and Formoshock (福爾摩鯊會社).
When asked why he chose not to collaborate with more established pro-Taiwan parties such as the DPP or Taiwan Solidarity Union (TSU), Wang says he hasn't ruled that out. However after seeking advice from DPP heavyweights, including Chen Shih-meng (陳師孟) and Annette Lu (呂秀蓮), they believe they need to make their own political accomplishments first before considering becoming part of the political establishment.
"If we work with the DPP, everything we learn will come from them. Then we will never be able to bring reforms and real changes," Wang says.
Comments will be moderated. Keep comments relevant to the article. Remarks containing abusive and obscene language, personal attacks of any kind or promotion will be removed and the user banned. Final decision will be at the discretion of the Taipei Times.