Love at second sight
A new dating Web site highlights the moments when daters discover each other's endearing qualities
Match.com and eHarmony have tussled over which dating Web site has spawned more marriages, and in August, a self-regulatory advertising panel ruled eHarmony should discontinue marketing claims including "#1 Most Marriages."
The National Advertising Division, an arm of the Council of Better Business Bureaus, ruled the survey on which eHarmony based its claims was inadequate.
Now the dating Web site Zoosk is introducing an advertising campaign that makes no assertions about marriage, or even love. Rather, the campaign is based on the slogan "First Comes Like," intended to highlight the moments when daters discover each other's endearing qualities.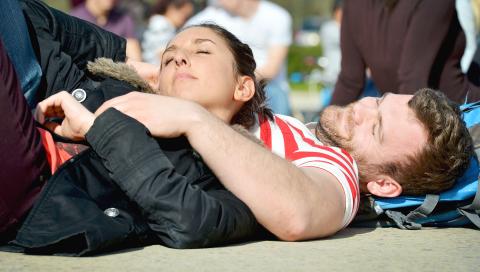 Let's first be friends.
Photo: EPA
In a new 30-second television commercial, a bewildered-looking man stands in a crosswalk gazing at his smartphone, at a photograph of a woman on the Zoosk app. "Love does not come first," says a female voice-over, as the man looks up from his phone to a coffee shop window, where the woman from the photo sits. They walk amiably in a park and soon part with awkward waves from two paces away.
"First comes, 'Nice meeting you,'" the voice-over continues, as the man later telephones the woman, prepares dinner in his apartment while she tries on outfits in hers, and welcomes her at his door. "First comes getting everything right," says the voice-over as they clink glasses in his living room.
That is followed by the sound of the smoke alarm because dinner has burned, and the voice saying "First comes getting it a little wrong." Later that night, they laugh on a park bench as they eat pizza, and the woman brushes a crumb from his cheek. "Love does not come first," the voice-over concludes. "First comes like."
Hugo Stenson directed the spot, which will be introduced on television Monday, with a minute-long version appearing only online. The campaign is the first work for Zoosk by Muhtayzik/Hoffer in San Francisco; "Muhtayzik" is the pronunciation for the surname of the agency's co-founder and executive creative director, John Matejczyk.
"We looked at the whole category of online dating, and it seemed strange that this thing that should be intimate and personal was being sold like a used car, with promises like, 'Most marriages on this site!'" Matejczyk said.
'FALLING IN LIKE'
"There's this false, overburdened approach to dating with these sites that are so much about getting married, but just 'falling in like' with someone is more attainable," he said. "We thought, why not enjoy the process and experience the beauty of meeting someone you really like?"
Zoosk, which declined to reveal advertising expenditures for the campaign, spent US$2.3 million on advertising in 2013, according to the Kantar Media unit of WPP.
Allison Braley, the vice president of marketing and communications at Zoosk, said the company conducted focus groups with single people, and few were itching to marry.
"For some small percentage of people, it's like, 'I'm joining this site because I want to get married tomorrow,'" Braley said. "But for a lot more people it was, 'I want to meet somebody who I enjoy spending time with and sure, I'd love to get married, but I'm much more interested in figuring that out on my own.'"
UNIQUE APPROACH
As with many popular Web sites, Zoosk uses algorithms to match singles with similar values and preferences. But it says it is unique in applying "behavioral matchmaking," which connects users based not on stated preferences alone, but also on actions, such as whom they send messages to, respond to and ignore.
"Using our technology, we're going to try to introduce you with more people that you click with, and it's up to you where you take it from there," Braley said.
About 22 percent of Americans from age 25 to 35, and about 17 percent from 35 to 44, have used a dating Web site or mobile app, according to a 2013 report from Pew Research. Another 2013 study, published in the Proceedings of the National Academy of Sciences, found that about 35 percent of couples who married from 2005 to 2012 met online.
In 2013, Americans spent $2.2 billion to find romance, 75 percent of it for online and mobile dating services, according to IBIS World, a research firm.
Jeremy Edwards, an analyst with IBIS World, reviewed the new Zoosk commercial, and said it was "well done, but not really a departure from what we've seen more recently" from dating sites. He said the popularity of smartphone apps that show little more than photos of singles who are nearby for quick meetings and, sometimes, trysts, like Tinder and Grindr, underscore that many consumers are more interested in dating than exchanging vows. Recognizing this, some older sites have begun to de-emphasize marriage in ads, he said.
Billboards in New York, Chicago and Los Angeles will show would-be couples, photographed by Winnie Au, sneaking glances.
"We're not showing people hugging, or holding hands, or kissing," Matejczyk said. "You get a sense of this woman looking over at this guy and thinking, 'Hmm, he's not bad,' and this guy looking over at this woman and thinking, 'Yeah, she could be something.' That first sort of spark is in many ways so very exciting."
Comments will be moderated. Keep comments relevant to the article. Remarks containing abusive and obscene language, personal attacks of any kind or promotion will be removed and the user banned. Final decision will be at the discretion of the Taipei Times.