Art exhibition listings
Los Angeles, the land of smoke and mirrors. Pop artist Jonathan Paul, aka Desire Obtain Cherish, makes a tack-sharp and satirical statement about his hometown in a solo exhibition, Addict. The show collects 12 pieces — like celebrity glamor shots made up of colored pills — that depict a world in which gratification is instant and image consciousness borders on obsession.
■ Bluerider Art, 9F, 25-1, Renai Rd Sec 4, Taipei City (北市仁愛路四段25-1號9樓), tel: (02) 2752-2238, open Tuesdays to Sundays from 9am to 6pm
■ Until Dec.10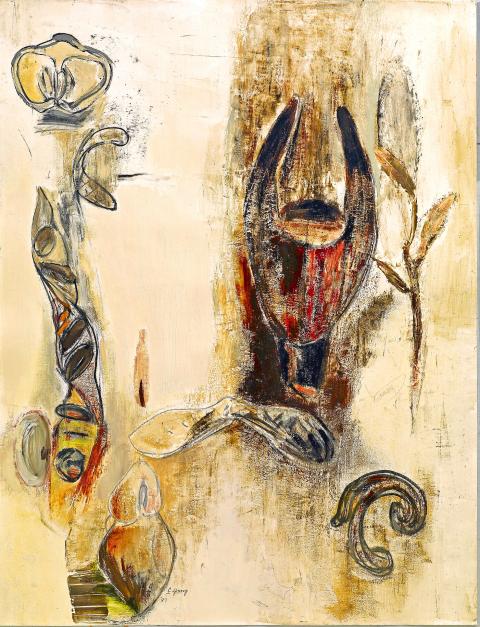 Yang Chi-hung, Primordial Strength (1987).
Photo courtesy of Asia Art Center
The Poetics of Polyphony (複調的詩學) is a two-gallery retrospective on leading abstract painter Yang Chi-hung (楊識宏) of Taoyuan County. On view at Asia Art Center (亞洲藝術中心) are Yang's seminal paintings from the 20th century, from representations of the self to explorations of civilizations and archeology that were heavily influenced by Yang's experiences in New York. A second exhibition at Asia Art Center Taipei II features Yang's most recent works, a return to Eastern ink calligraphy informed by abstract expressionism. Yang is a US National Studio fellow and winner of the Outstanding Asian Art Award from the Governor of New York.
■ Asia Art Center, 177, Jianguo S Rd Sec 2, Taipei City (台北市建國南路二段177號), tel: (02) 2754-1366. Open Tuesdays to Sundays from 10am to 6:30pm
■ Asia Art Center II (亞洲藝術中心二館), 93, Lequn 2nd Road, Taipei City (台北市樂群二路93號), tel: (02) 8502-7939. Open Tuesdays to Sundays from 10am to 6:30pm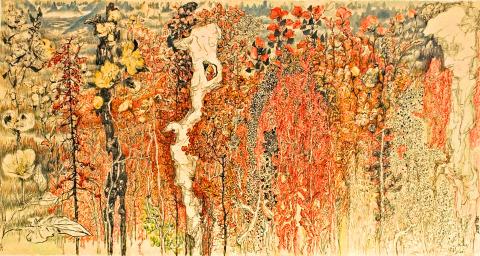 Pang Kang-long, Work of Autumn Leaves (2014).
Photo courtesy of Yi&C Contemporary Art
■ Until Dec. 7
Japanese contemporary photographer Kouhei Hirose presents Yokushiroku (欲視錄), a visual record of street life in Tokyo and Taipei. In 30 black-and-white images of pedestrians, he exposes private desires that are habitually suppressed.
■ 1839 Contemporary Gallery (當代藝廊), B1, 120 Yanji St, Taipei City (台北市延吉街120號B1), tel: (02) 2778-8458. Open Tuesdays to Sundays from 11am to 8pm. Free admission
■ Nov. 23
Wormhole: Geo-attraction (蟲洞: 地緣引力) is a mixed-media exhibition featuring Chen Fei (陳飛), Gao Ludi (高露迪) and 14 other top artists from China's young adult demographic. Curated by Sun Dongdong (孫冬冬), works here exemplify thematic concerns of this generation, which is shaped like none before by Web 2.0 and China's meteoric rise, according to the gallery notes. Spanning film, graphics and installation, the show also provides a survey of the latest stylistic transition in Chinese contemporary art.
■ Lin & Lin Gallery (大未來林舍畫廊), 16 Dongfeng St, Taipei City (台北市東豐街16號), tel: (02) 2700-6866. Open Tuesdays to Sundays from 11am to 7pm
■ Until Nov. 23
Pang Kang-long (彭康隆) presents a new variation on contemporary ink painting at his solo show Romance of Trees, Flowers and Stones (花木述石). Each of the 20 paintings features individual plants painted with a time-consuming dotting technique until no white space is left on the canvas. From afar, the dots materialize into a scene, and up close they form surprisingly micro-fine details of individual grass clusters and leaves. Pang is a native of Hualien County best known for avant-garde contemporary approaches to traditional landscape painting.
■ Yi&C Contemporary Art (易雅居當代空間館), 22, Ln 252, Dunhua S Rd Sec 1, Taipei City (台北市敦化南路一段252巷22號), tel: (02) 2781-3131. Open Mondays to Fridays from 10am to 7pm and Saturdays and Sundays from 2pm to 6pm
■ Until Nov. 27
Comments will be moderated. Keep comments relevant to the article. Remarks containing abusive and obscene language, personal attacks of any kind or promotion will be removed and the user banned. Final decision will be at the discretion of the Taipei Times.