The Big Apple exposed
New-media artist Kuo I-chen reveals a side of New York City populated not by the glitterati but castaways and aliens
Kuo I-chen (郭奕臣) was dazzled by the glamor of Manhattan when he first arrived in 2012. Then he met those without a home living on the street below the New York City's magnificent skyline. The unbridgeable gap between the luxury enjoyed by the rich and powerful and life at the bottom of society brought with it feelings of anxiety. It reminded him, he says, of the Hiroshima Peace Memorial Museum, which the artist visited before arriving.
financial crisis
"The financial crisis [in 2008] and Occupy Wall Street [are] like an atomic bomb blast. It's a global problem that erupted in New York and radiated out from there. I feel like I am returning to the center of the storm, looking for ruins and debris," Kuo says.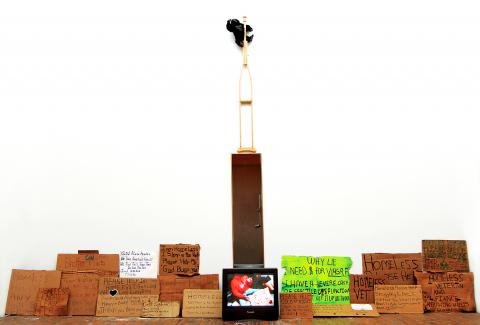 Kuo I-chen, Home-Less is More (2014).
Photo courtesy of Aki Gallery
Kuo decided, during his two artist-in-residence visits to the city — one at the International Studio & Curatorial Program and the other at the Chinese American Arts Council between 2012 and 2014 — to examine this often overlooked aspect of New York. The result is Manhattan Project — Kuo I-chen Solo Exhibition (曼哈頓計畫 — 郭奕臣個展), a series of video installations and photos, currently on display at Taipei's Aki Gallery (也趣藝廊). It is named after the Manhattan Project, the name of a US government research and development project that produced the first atomic bombs during World War II.
PROBING NEW YORK'S DEPTHS
Kuo's work offers insight into the human lives shaped by what he believes to be runaway capitalism.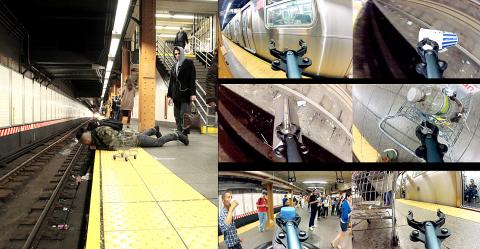 Kuo I-chen, Soul Out (2014).
Photo courtesy of Aki Gallery
Home-Less is More is a video installation depicting 24 cardboard signs made by and bought from homeless people and a King Kong figure climbing on top of a worn crutch salvaged from the street near his studio as if it was the Empire State Building.
A mirror at the center of the piece reflects whomever stands in front of it.
The video shows Kuo bargaining for the 24 signs. One sign belonged to an Iraq veteran looking for a job; another reveals that its previous owner ended up on the street after being laid off. Others request a miracle and money to buy Viagra.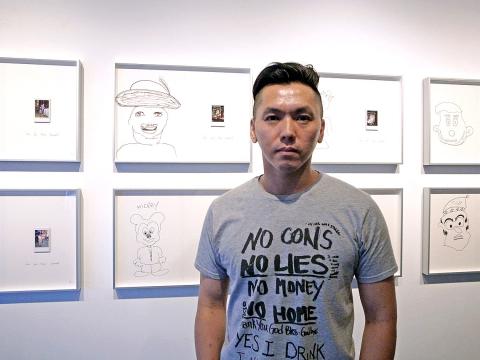 Kuo I-chen.
Photo courtesy of Aki Gallery
Rather than exploring each person's life story in a compassionate or exploitative manner, Kuo chose a financial transaction similar to the way one buys a piece of clothing.
"For most, these signs are just cardboard, worthless. But for the homeless, they are everything they have. They are their means of production," the 35-year-old artist says.
IMMIGRANT WORKFORCE
The Face of Time, a series of photographs, reveals the faces, mostly immigrants from South America, masked by the Mickey Mouse, Hello Kitty and Super Mario costumes they wear to make tips from tourists in Times Square.
Kuo took full-frontal photographs of some of the street performers with their masks off and asked them to draw self-portraits, which are amateurish but cute.
"They can't use their true identities to earn a living. They have to adopt a sweet image. It is a distorted image of one's self and also a familiar face of our time," Kuo says.
Soul Out literally probes deep beneath the city's streets. Shot with a camera that was mounted on a large pliers-like device, getting the footage required Kuo to dangerously lean over the subway tracks, use the device to pick up trash, place the detritus in a miniature shopping cart and, when full, dispose it into nearby trash cans.
Kuo, working alone on the project, says it was somewhat dangerous because he had to keep an eye out for oncoming trains and suspicious-looking people.
"I was told beforehand that New York's subway is filthy and smelly. I was still shocked. Rats and trash were everywhere," Kuo says.
He added that he was inspired by the items displayed by the Hiroshima Peace Memorial Museum that were given by victims of the atomic bombing of Hiroshima as a record of their grief and anger. In its own small way, Kuo's exhibition does the same for those who live a life on the streets.
Publication Notes
Exhibition notes
What: Manhattan Project — Kuo I-chen Solo Exhibition (曼哈頓計畫 — 郭奕臣個展)
When: Until Sept. 28. Open Tuesdays to Sundays from noon to 6:30pm
Where: Aki Gallery (也趣藝廊), 141 Minzu W Rd, Taipei City (台北市民族西路141號)
Admission: Free
On the Net: www.galleryaki.com (English and Chinese)
Comments will be moderated. Keep comments relevant to the article. Remarks containing abusive and obscene language, personal attacks of any kind or promotion will be removed and the user banned. Final decision will be at the discretion of the Taipei Times.