Politicizing pop culture
Teng Chao-ming's solo exhibition Therefore, X=X uses artistic reinterpretations of Taiwanese pop culture to confront the historical implications of cross-strait politics
You may not care about politics, but politics cares about you. This is the main lesson that viewers can take from Teng Chao-ming's (鄧兆旻) solo exhibition, Therefore, X=X (因此,X等於X) at Project Fulfill Art Space (就在藝術空間), a breezy, open-air gallery in Taipei's Da-an District (大安).
Teng, who was born in Taipei in 1977, transforms four pivotal moments of Taiwanese pop history into works of art. The songs, films and books which inspired him span the period of the Japanese colonial era to the height of martial law in the 1960s and 1970s. Three of the four original creators were born in China but grew up in Taiwan after 1949.
Employing more text than visual imagery, Teng's artwork especially speaks to the younger generation of educated Taiwanese who came of age in a vastly different socio-political atmosphere detached from nostalgia for China. Teng's artistic renditions of past works therefore reminds young viewers that history shapes present day politics and identities — a timely message in the wake of the student-led Sunflower movement.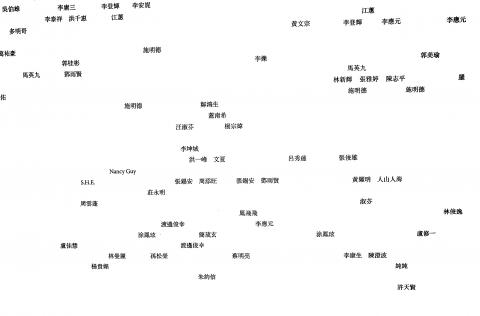 Teng Chao-ming, To Sing or Not to Sing? (2014).
Photo: Dana Ter
SINGING IN THE RAIN
To Sing or Not to Sing? (2014) explores the historical impact of the 1934 Hokkien pop song A Flower in the Rainy Night (雨夜花). Teng lists each time the song was used in a public event in Taiwan over the last 80 years from operas to political demonstrations by printing these dates on a wooden wall. The dates are also printed alongside names of historical and contemporary politicians.
The unevenly spaced characters create a feeling of disconnect, mirroring the viewer's own frustration with making sense of the artwork. The words however, are not random at all. Teng references Nancy Guy, a music professor at the University of California at San Diego. Guy argues in her 2008 article in The Drama Review, that the ill-fated young woman in the song has no control over her destiny, just as how Taiwan's fate (seemingly) depends on policy decisions in Beijing and Washington.
The different sections of the wall become less wordy until only commas, periods and parentheses are left. While these empty spaces may allude to silence and censorship, it also suggests that the future has yet to be written.
MURDER HE WROTE
Teng's other pieces are influenced by works created by Chinese-born Taiwanese artists and writers. A Monument for the (Im)possibility of Figuring it Out (2012) was inspired by director Edward Yang's (楊德昌) A Brighter Summer Day (牯嶺街少年殺人事件), a 1991 film about conflicts between teenage gang members from Taiwanese families and exiled Chinese families. The film is a dramatization of a real murder which occurred in 1961 when the son of a civil servant killed his girlfriend who was involved with another gang leader.
Teng reconstructs scenes from the film by arranging them as clues on stainless steel palettes. It is the viewer's job to piece together the scattered "clues" in order to solve the mystery. Teng also monumentalizes the murder in his fiberglass sculpture depicting the fatal stabbing.
The non-chronological arrangement of the clues creates confusion and forces viewers to reflect upon the significance of the murder. Although it occurred in 1961, the two-sided political rivalry which spawned it is still very much alive today.
IDENTITY THEFT
In Taipei People Drawing (2009), Teng transcribed the entire text of Pai Hsien-Yung's (白先勇) Taipei People (台北人), a collection of short stories compiled in 1971 of people who fled to Taiwan from China in 1949. Teng's fixation with this sense of "lost Chinese-ness," as he writes in his gallery notes, is evident in his painstaking handwritten transcription.
The theme of loss is also central in A Familiar Catastrophe (2014), which is Teng's artistic reinterpretation of Wang Wen-Hsing's (王文興) 1972 novel Family Catastrophe (家變). Teng recreates the father's abandonment through a giant-sized blue poster which represents the background used for taking identity card or passport pictures. His 10,000 copies of "Missing Father" fliers further emphasize this feeling of loss and searching for identity. It also draws an eerie parallel to Taiwan's search for its own identity.
The constant references to China in Therefore, X=X may seem antiquated or disturbing to some viewers. Others may disagree with Teng's rigid approach of likening pop history to a mathematical proof. However, it is the process of solving the equation that matters most. Likewise, what the exhibition does well is prove the need to confront an entangled past.
Publication Notes
Exhibition notes:
What: Therefore, X=X (因此,X等於X), Solo exhibition by Teng Chao-ming (鄧兆旻)
Where: Project Fulfill Art Space (就在藝術空間), 2, Alley 45, Ln 147, Xinyi Rd Sec 3, Taipei City (台北市信義路三段147巷45弄2號), tel: (02) 2707-6942.
When: Until Sept. 7. Open Tuesdays to Sundays from 1pm to 6pm
Admission: Free
On the net: www.pfarts.com/exhibition/exhibition.aspx
Comments will be moderated. Keep comments relevant to the article. Remarks containing abusive and obscene language, personal attacks of any kind or promotion will be removed and the user banned. Final decision will be at the discretion of the Taipei Times.