International choirs hit town
The Taipei International Choral Festival returns with a lineup of outstanding song performances in genres ranging from classical and jazz, to a cappella and pop
From contemporary a cappella to Filipino folk music, the Taipei International Choral Festival (台北國際合唱音樂節) returns this year with yet another diverse lineup that features five world-famous vocal groups and choirs from Australia, France, Canada, China and the Philippines to celebrate the fusion of classical, jazz, a cappella, folk, pop and church hymns.
"We hope to introduce different genres from different regions for each edition," says Ku Yu-chung (古育仲), one of the event organizers and the resident conductor for Taipei Philharmonic Chorus (台北愛樂合唱團).
Organized by the Taipei Philharmonic Foundation for Culture and Education (台北愛樂文教基金會), the 11-day event runs through Aug. 3 at the National Concert Hall (國家音樂廳) in Taipei and several cities and towns across the country.
Mikrokosmos Chamber Choir from France.
Photo courtesy of Taipei International Choral Festival
First to take the stage is Australia's Gondwana Voices, a children's choir that tours internationally and has performed at major events such as the World Choral Summit held in Beijing in 2012.
From France, the Mikrokosmos Chamber Choir livens up the traditional art form by injecting theatrical elements into their performance of art songs and contemporary compositions.
On the popular end of contemporary choral music, Canada's Cadence comprises four a cappella artists known for their innovative jazz-pop arrangements, instrumental imitations and electrifying stage presence.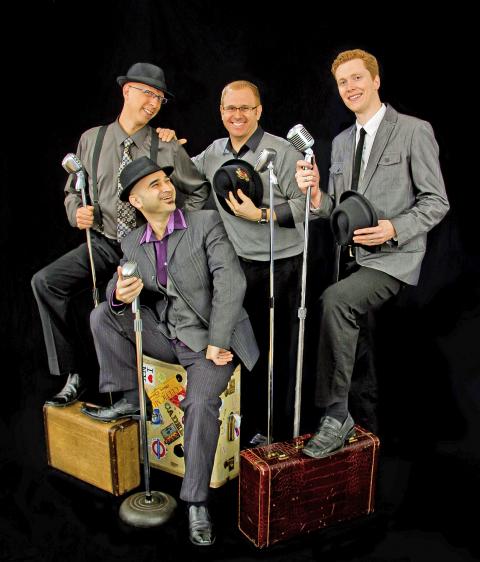 Canada's a cappella group Cadence.
Photo courtesy of Taipei International Choral Festival
The Philippines' multi-award winning U. P. Singing Ambassadors, on the other hand, reflects the diverse cultural influences of the Southeast Asian country with its dazzling repertoire drawn from Filipino folk music, church hymns and American pop songs.
Deeply rooted in tradition, the Inner Mongolia Youth Choir (內蒙古少年合唱團) from China will bring the music of urtiin duu (epic folk song) and khoomii (throat singing), accompanied by morin khuur, a Mongolian horse-headed stringed instrument.
Classical music lovers should be excited by the presence of internationally acclaimed German conductor Helmuth Rilling, who will lead the Taipei Philharmonic Chorus and Evergreen Symphony Orchestra (長榮交響樂團) in a presentation of Johannes Brahms' Ein Deutsches Requiem.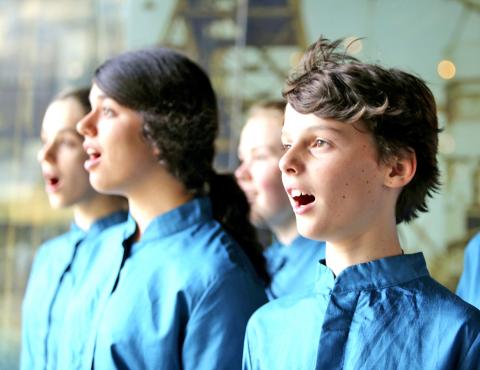 Gondwana Voices from Australia.
Photo courtesy of Taipei International Choral Festival
There are also free matinee concerts at venues across the city, including National Taiwan University Hospital and the National Taiwan Museum.
The international choirs will leave Taipei on a cross-nation tour.
In its 14th year, the annual festival offers not only concerts but choral music camps and workshops taught by invited conductors, including Theodora Pavlovitch from Bulgaria, Mark O'Leary of Australia and Loic Pierre from France.
German conductor Helmuth Rilling
Photo courtesy of Taipei International Choral Festival
One of the festival's long-term partners, Hungarian conductor Gabor Hollerung will teach the choral camp, whose members will team up with Taipei Philharmonic Chorus and Taipei Philharmonic Youth Orchestra (台北愛樂青年管絃樂團) and Taipei Philharmonic Chorus to present Carl Orff's Carmina Burana under the baton of Hollerung on the festival's closing night.
As in previous years, there will be 180 to 200 participants attending the camp. While the majority will be college students, people of different ages — ranging from high school students to retirees — have joined the workshop, as have choral lovers from Hong Kong, Singapore, Malaysia, South Korea and China, Ku says.
"The students have to learn and perform a piece in 10 days, so the work we choose can't be too long or difficult. This year's Carmina Burana is actually a bit challenging. But since our students are getting better and better each year, we decided to take on the challenge," he says.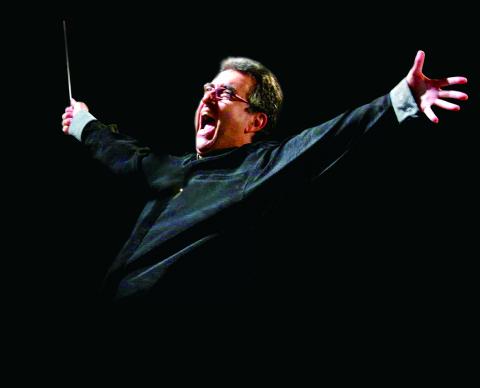 Hungarian conductor Gabor Hollerung.
Photo courtesy of Taipei International Choral Festival
Ku says that for the past decade or so, the art of choral music has enjoyed a healthy growth in Taiwan where international exchanges have become more frequent, and the quality of music improves.
"Before, people saw Japan, South Korea and the Philippines as the top three Asian countries with a strong tradition of choral music. Now they add Taiwan and Indonesia," Ku says.
Publication Notes
Festival notes
WHAT: The Taipei International Choral Festival 2014 (2014台北國際合唱音樂節)
WHEN: Through August 3
WHERE: National Concert Hall (國家音樂廳), 21-1 Zhongshan S Rd, Taipei City (台北市中山南路21-1號)
ADMISSION: NT$400 to NT$2,500 for Taipei shows, NT$100 to NT$1,000 for shows outside Taipei, available at NTCH ticketing outlets and online at www.artsticket.com
On the NET: www.facebook.com/TaipeiInternationalChoralFestival
Comments will be moderated. Keep comments relevant to the article. Remarks containing abusive and obscene language, personal attacks of any kind or promotion will be removed and the user banned. Final decision will be at the discretion of the Taipei Times.