Where do broken hearts go?
In Taipei for the second time, the Museum of Broken Relationships features g-string candy, fake breasts and love in a can — all in the name of mending broken hearts
What do Godzilla, an antique shaving kit and a g-string made out of candy have in common?
Although the list may sound random, the objects are all on display at the Museum of Broken Relationships (失戀博物館). These items and many more are part of an eclectic line-up of donations by individuals from 14 different countries reminding them of their former lovers. A traveling exhibition originating from Croatia, the museum is currently making its second appearance in Taipei, this time at Chiang Kai-shek Memorial Hall (中正紀念堂). Open daily from 9am to 6pm, with tickets priced at NT$250, the museum serves as a communal healing space for the broken-hearted — mostly young women in their 20s.
With minimal decorations and plenty of empty space, the exhibition is designed to encourage visitors to walk at a slow pace and reflect upon the stories being shared. Each item is clearly labeled in Chinese and English with facts such as how long the relationship lasted, the donor's home country, and, most importantly, the significance of the item to the individual. The anonymity adds a nice touch, making each story seem like it could be anyone's.
Godzilla toy wearing jewelry collected from a slew of former girlfriends, Mexico.
photo: Dana Ter
LIARS AND CHEATERS
As expected, there are the usual passive-aggressive tales behind all the cute love letters, teddy bears and necklaces, as well as stories depicting millennial woes of being dumped through social media.
But there is a refreshing dose of kooky as well — including fake sculpted breasts donated by a Serbian woman whose husband made her wear it during sex and edible g-string candy given to a Swiss lady by her womanizing ex-boyfriend. Other donations like "love in a can incense" along with a simple caption stating "doesn't work," are more light-hearted.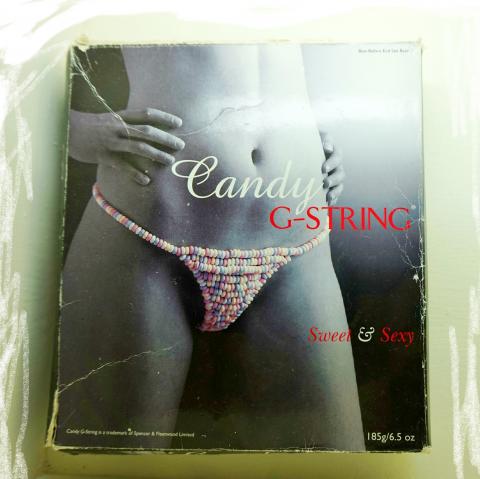 G-string candy, Switzerland.
photo: Dana Ter
Some of the most bizarre stories are from Taiwan. A woman from Taoyuan donated electronic gadgets containing messages from her ex-boyfriend, a picture of him and a diary detailing her lawsuit filed against him. She took out a loan to buy a car for her ex, and he repaid her by driving away with the car to see his other girlfriend. He never came back.
MALE PERSPECTIVES
However, the exhibition does not simply consist of objects reminding distraught young women of their cheating ex-boyfriends — although that collection is certainly abundant. Among the most moving tales are those of gay and lesbian lovers, children who grew up with absent parents and, strangely enough, donations from men who experienced heart-wrenching breakups.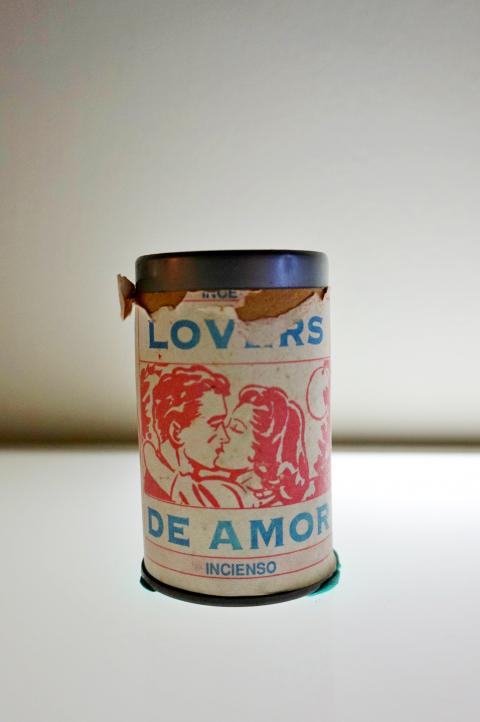 Love in a can incense, Indiana, USA.
photo: Dana Ter
Who knew that men have feelings?
Most notable among these is a gentleman from Hong Kong who embarked on a project to take 101 snapshots of anything on the streets of Croatia and Hong Kong which contained the word "color." His intention was to display the photographs on a street wall to surprise his girlfriend Carla, whose name sounds like "color". When they broke up, he donated these to the museum.
Another memorable item is an antique shaving kit given to a Croatian man from his true love. He was married when they met so they couldn't be together. Also noteworthy is a Godzilla toy from Mexico adorned with necklaces, earrings and hairclips. Godzilla was the man's favorite movie and the toy was a gift from his ex-girlfriend. He later used it to hang jewelry collected from his slew of lovers.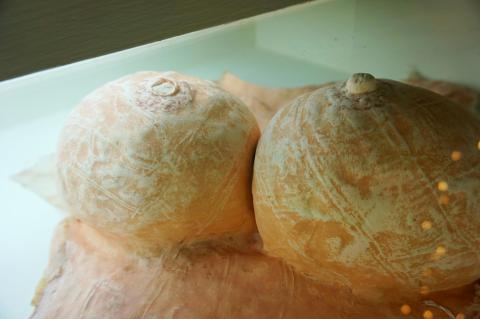 Fake sculpted breasts, Serbia.
photo: Dana Ter
Although a little trite, the exhibition succeeds the most at showcasing a variety of stories from which people can form their own judgments. The inclusion of male voices in particular provides hope to the predominantly female visitors that men do indeed harbor emotions and treasure their relationships.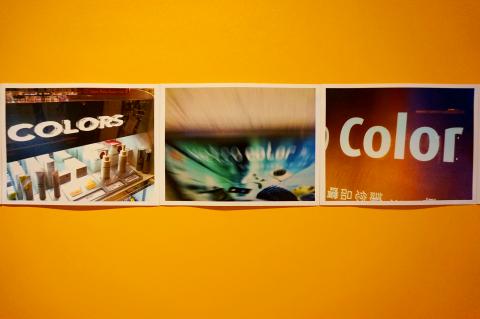 Pictures of signs containing the word "color" taken to surprise a woman named Carla, Hong Kong.
photo: Dana Ter
Comments will be moderated. Keep comments relevant to the article. Remarks containing abusive and obscene language, personal attacks of any kind or promotion will be removed and the user banned. Final decision will be at the discretion of the Taipei Times.