Where to go for the World Cup final
The World Cup final starts Monday at 3am, and where will you be? It's a tough call. You could stream it online or watch it on television (TVBS on Channel 56 and 42, PTS on Channel 13). Or you could try these places:
Cinemark (喜滿客影城)
A truly big screen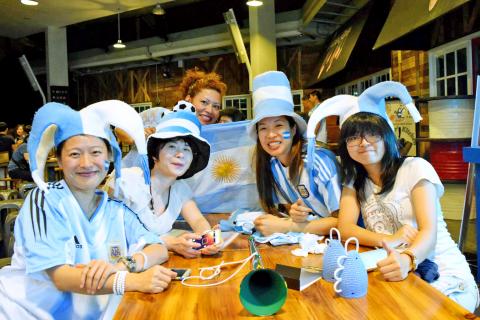 Soccer fans watch the FIFA World Cup semi-final between Argentina and the Netherlands at Gaucho on Thursday.
Photo courtesy of Gaucho
Admission: NT$300 (includes soda and popcorn)
Watch the game on a theater-grade screen and sound system in a cool cavernous environment. For the price of admission, Cinemark offers all-you-can-eat popcorn and soda. Tickets are available at the door only, and doors open on Monday at 2:30am. For more information, visit www.football.movieplus.tw
Grand Hyatt Taipei
More than screens
Admission: NT$650 (includes a drink)
A "championship fiesta" starts Sunday at 11pm in the Grand Hyatt hotel lobby, complete with stalls for calamari and wings, beer pong tables, DJs and "spectacular and sexy dance performances," says marketing chief Erin Chang (張容瑩). This space seats 500 and boasts two 210-inch projector screens and eight TVs. A majestic water fountain, available to soothe the nerves, will be converted into a cooler for beers.
Gaucho
Team Argentina
Cost: Meal order
Diehard Argentina fans looking for other diehard Argentina fans can head straight to Gaucho. This beautifully appointed Argentinian restaurant shuts off its glass-encased fire pit for the night, but offers a menu of beers and Latin American finger foods starting at 1am at 1 Yumen St, Taipei City (台北市中山區玉門街1號).
Wendel's
Team Germany
Admission: NT$600 (exchangeable for food and drinks)
Meanwhile, this purveyor of fresh bread and bistro treats will be hosting a finals party in support of Germany. Doors open at 1:30am at Wendel's Tienmu location, at 5, Dexing W Rd, Taipei City (台北市德行西路5號).
Brass Monkey
Big sports bar
Admission: Seated tickets sold out, NT$600 for standing (exchangeable for food and drinks )
Wander into any sports bar in Taipei and it's bound to have the game, though not all will be looking alive. Brass Monkey, with locations in Fuxing (復興) and Xinyi (信義), is a well-oiled merry-making machine that on Sunday offers multi-screen soccer action and upgraded projectors, as well as "Heineken dancers" and casual games. "We've been doing this for 11 years and done three World Cups, four Euros, three rugby world cups. Every big championship game, really," says proprietor Max Murphy. "The important thing is we stay a very positive environment. We don't want anybody screaming into the screen." Admission can be redeemed for items off a basic menu of beers (includes NT$150 Heineken) and a few American-style entrees like burgers with fries (NT$300). 166 Fuxing N Rd, Taipei City (台北市復興北路166號) and 20 Songshou Rd, Taipei City (台北市松壽路20號).
Hang Out Bistro
Small sports bar
Admission: NT$800 (exchangeable for food and drinks)
For a smaller crowd, try Hang Out Bistro. This is a low-key neighborhood bar with a handful of seats and a relaxed smoky atmosphere, located at 256, Zhongshan N Rd Sec 6, Taipei City (台北市中山北路六段265號). The menu includes handmade burgers, paninis and craft drinks, and patio seating is available so fans can soak up the moonlight. Doors open at Monday at 12am.
McDonald's
Bang for your buck
Admission: Meal order
McDonald's Taiwan taps into the golden opportunity that is the student population. Poor in pocket but rich in soccer spirit, the young have been flocking to 24-hour branches of the fast-food chain, where they can buy a burger and sit all night in front of a live broadcast. The screen is household-sized and the atmosphere is strictly PG-13: No smoking and outside drinks permitted, says the Taipei Linsen branch (台北林森) at 86, Nanjing E Rd Sec 1, Taipei City (台北市南京東路1段86號). Over 110 24-hour McDonald's nationwide including 30 in Taipei are set to broadcast Monday's game.
Comments will be moderated. Keep comments relevant to the article. Remarks containing abusive and obscene language, personal attacks of any kind or promotion will be removed and the user banned. Final decision will be at the discretion of the Taipei Times.