Tiananmen memory flickers in mini museum
Photographs, artifacts, videos and written histories are among the objects to be found at Hong Kong's June 4th Museum, the world's only museum devoted to the bloody crackdown on democracy activists in Beijing 25 years ago
To find the world's only museum chronicling the brutal crackdown on the 1989 Tiananmen protests, look for the skinny office building wedged between a Tibetan-themed pub and a sports bar on a side street on the edge of a Hong Kong tourist district.
With nothing to indicate its location, aside from a listing on the lobby directory, there's no clue for passers-by that it houses the June 4th Museum, dedicated to preserving the memory of one of the darkest periods in China's recent past through photographs, artifacts, videos and written histories of the events.
Yet a steady stream of visitors, many from mainland China, has been trickling in since it was opened in April. The interest shows that even though authorities have deleted the events from China's official record, their memory flickers 25 years on in Hong Kong.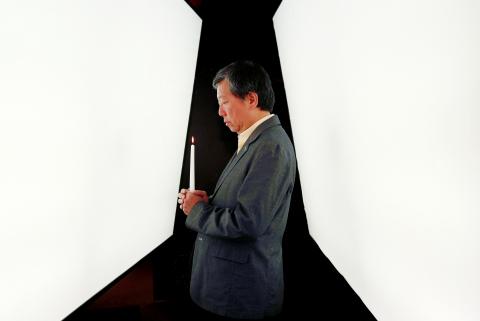 Lee Cheuk-yan, 57, lawmaker and chairman of the Hong Kong Alliance in Support of Patriotic Democratic Movements of China, poses with a candle in the center of a pathway symbolizing a bright future at the June 4th Museum in Hong Kong late last month. Today marks the 25th anniversary of the bloody crackdown in Beijing.
photo: REUTERS
The protests remain a taboo topic in mainland China, and Beijing has never given a full accounting of what happened during the crackdown that killed hundreds, possibly thousands. But in Hong Kong, which retains Western-style civil liberties unseen on the mainland, the memory of the Tiananmen protests are just one of many reminders of how the city's differences with China continue to widen 17 years after it ceased to be a British colony. Every year the city holds a candlelight vigil to commemorate the victims that's attended by tens of thousands, with numbers rising in recent years.
But otherwise, Hong Kong residents are more worried about the hordes of mainland visitors buying up everything from baby formula to luxury apartments and their bad manners, such as eating on the subway and letting their children urinate on the street.
"The world memory of it is fading and the younger generation doesn't know of it in China, where it's also banned," said Lee Cheuk-yan (李卓人), chairman of the Labor Party and head of the pro-democracy group that operates the museum. "So we think it's very important for us to preserve this historical truth."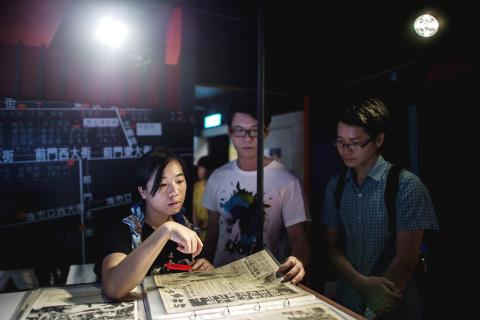 Visitors look at newspaper archives about China's June 4th 1986 Tiananmen military crackdown at the June 4th Museum in Hong Kong on late last month. Secretary General at Amnesty International Salil Shetty, who visited the museum, said Hong Kong's deteriorating freedom of expression was a matter of "deep" concern, as he urged the city's residents to guard against gradual erosion of freedom.
PHOTO: AFP
CHALLENGING OFFICIAL NARRATIVE
Lee said the museum aims to challenge the Communist Party to overturn its official verdict that the mostly student-led protests were a "counterrevolutionary riot."
His group, the Hong Kong Alliance In Support of Democratic Patriotic Movements in China, bought the space for nearly HK$10 million (US$1.3 million). But in a sign of the discomfort felt by some businesses about being associated with the Tiananmen protest, the building owners' committee is taking the group to court. The committee says the office's use as an exhibition hall violates the property deed and that visitors would swamp the building's two small elevators.
"We are confident about our legal position," Lee said.
Committee members could not be reached for comment. But committee member Yeung Cho-ming, secretary-general of a plastic manufacturing trade group, told the South China Morning Post newspaper in April that the museum is "definitely a political problem" and that they were afraid it would "bring us trouble."
The museum, just 75 square meters, is hidden away on the fifth floor of the nondescript Foo Hoo Center in Kowloon's Tsim Sha Tsui district.
Staffers say they see about 200 visitors a day on weekdays and 500 on weekends. About half are mainland Chinese.
The museum features a timeline of events, black-and-white news photos of scenes from those tumultuous days, including the famous shot of "tank man" — the lone protester who stood in front of a line of tanks.
Archival news footage of the student leaders is broadcast continuously on a computer tablet mounted on a wall. Another tablet shows a documentary in English. Nearly all the other exhibits are in Chinese.
A labyrinthine layout reflects "the maze which is the China of today," according to its Web site.
Visitors walking down an L-shaped section turn into a brightly lit passageway before emerging in front of a two-meter tall replica of the "Goddess of Democracy" statue that was famously erected by the protesters in Tiananmen Square. A copy of the statue is also displayed at Hong Kong's annual vigil.
"Entrance into turbulence, through the maze of chaos and exit onto democratic light," the Web site says.
A small screening room shows video interviews with parents talking about their sons or daughters killed in the square.
The museum's collection of 100 artifacts, 16,000 photos, 33 rolls of microfilm and hundreds of books and magazines will be rotated regularly. Visitors can write messages of support on a narrow chalkboard running the length of the wall.
Souvenirs on sale include USB memory sticks — some unmarked, others with logos — loaded with photos and documents and videos on the crackdown, as well as T-shirts, mugs and miniature "Goddess of Democracy" statues.
Penny Leung, visiting from Malaysia — and who was a Hong Kong high school student in 1989 — said it was important to have the museum as a way to counter Beijing's influence, which has been growing since it regained control of the city from Britain in 1997.
"Everyone should come to see history, to view the truth because the Chinese government has been concealing the truth. They do not have the guts to face history," said Leung, 42.
Wei Ying-jun, a photographer from Shanghai who was visiting Hong Kong, said it was important to keep the memory of the protests alive.
"Nowadays in fact, mainland people in public situations, even so-called intellectuals at lectures, will skip over this part of history," said Wei, 35, who as a boy was only dimly aware of what happened during and after the protests. He said his interest grew at university, where has was able to find more information on the school's internal network.
He said he was disappointed that officials had tried to sweep the protests under the rug.
"These events happened," Wei said. "It is a fact. But you can't treat it as if it didn't happen."
Comments will be moderated. Keep comments relevant to the article. Remarks containing abusive and obscene language, personal attacks of any kind or promotion will be removed and the user banned. Final decision will be at the discretion of the Taipei Times.