Painting the town...
Pow! Wow!, a week-long mural art festival, begins today throughout Taipei
If you look at Taipei from an artists' perspective, you would probably see an empty canvas of bleak walls in dire need of an aesthetic makeover. In fact, there are so many grey walls in Taipei that you would need an army of artists to get the job done. As it turns out, POW! WOW! had exactly that vision and put together an army of painters, illustrators, and graffiti artists, and all together they are ready to paint murals on walls throughout the capital.
The week-long arts festival, which began in Hong Kong and then spread to Hawaii, invites high-profile international artists and encourages them to collaborate with local artists to create murals with a cultural theme. It's a process that usually happens behind closed doors, but the festival will turn Taipei into an open-air gallery of urban, street, contemporary and graffiti-inspired murals that anyone can watch.
"Walls tend to be faceless and voiceless," said Jasper Wong (王翹楚), curator of the alfresco art show and Pow! Wow! founder.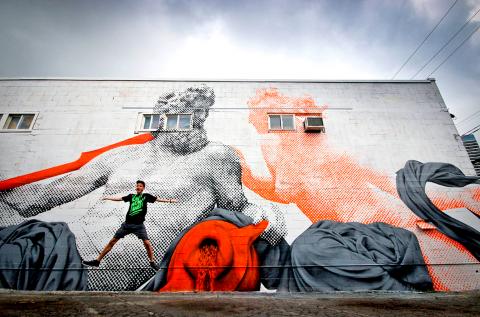 An artist poses in front of a mural he completed during a Pow! Wow! event in Hawaii.
Photo courtesy of POW! WOW!
"No one pays attention to them. They stand muted in the landscapes of our lives. Murals give these walls life. It gives them [a] voice... I've seen firsthand how it has transformed neighborhoods."
URBAN CANVAS
Cartoons, portraits and graffiti of Taiwan's culture and art history will be depicted through small and large-scale murals. But the underlying theme is gathering people, beautifying neighborhoods and educating youth through art, says Wong, who is especially excited to throw unprecedented global exposure at local artists and introduce Taiwan to a larger worldwide community of artists and art lovers.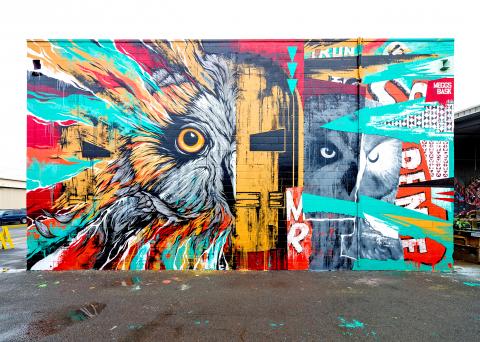 A completed collaborative mural by artists Meggs and Bask.
Photo courtesy of POW! WOW!
"Pow is the impact art has on people, like a punch in the face," Wong said of the inspiration. "Wow is the reaction a viewer has from the art. [It] describes a gathering to celebrate music, art and culture."
Larry Chen (陳正浩), POW! WOW!'s regional director in Taiwan, says that city officials were first apprehensive when he showed them his plan. But with a little help from the American Institute in Taiwan, Chen hooked up with Taipei City Department of Cultural Affairs Commissioner Liu Wei-gong (劉維公), and the event started to come together, with a slew of venues throughout the city donating their walls to artists. The Taipei City Zoo, for example, is celebrating its 100-year anniversary and the mural there will be inspired by animal-related themes.
Whether residents will warmly welcome the urban influenced art remains to be seen, but one way or another, the festival will provide Taipei with a week of live art led by cultural tastemakers, movers and shakers.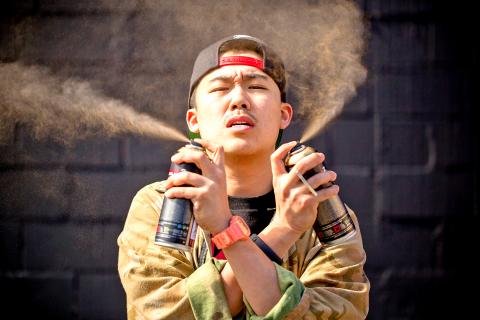 Pow! Wow! artist Yue Wu poses with cans of paint while painting murals in Hawaii.
Photo courtesy of POW! WOW!
The festival runs at various locations throughout Taipei City from today to June 2. A complete listing of times, dates, venues, and artists are available on the web: www.powwowtaiwan.com.
An Australian artist who calls herself Misery works on a mural as part of a Pow! Wow! event in Honolulu.
Photo courtesy of POW! WOW!
Comments will be moderated. Keep comments relevant to the article. Remarks containing abusive and obscene language, personal attacks of any kind or promotion will be removed and the user banned. Final decision will be at the discretion of the Taipei Times.