The Vinyl Word
Thomas Bartz got the idea for his three-wheeler motorcycle-cum-mobile-DJ-booth while exploring Berlin one cold and rainy March afternoon. Along with his wife, he casually sauntered into Gorlitzer Park, which Bartz describes as one of the ugliest in the world. In the middle of it was a bomb crater that doubled as a space for a DJ spinning tech house to a few people sipping beers. Berlin, he concluded, the coolest city on the planet.
And the city continued to be his muse — at least for a while. There was one DJ who created a mobile sound system out of a shopping cart and with it played records in a subway carriage. There was also a DJ named Miss Kittin playing underground gigs out of a secret room in the back of a kebab shop. For these reasons, and the city's numerous vinyl shops selling Italo disco records, Lyova Lyubov was born.
"Lyova was a Borat-esque character I invented: a Byelorussian pimp living in Tokyo, who (kind of as a joke) loved Italo disco," said Bartz, who will play at Korner tonight.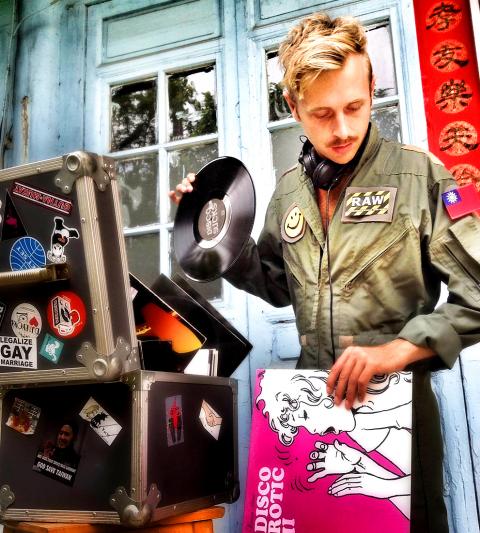 Thomas Bartz, aka DJ Lyova Lyubov, will take to the decks tonight at Korner. He'll be joined by B.B and Soundsquash for a party that lasts to the wee hours.
Photo courtesy of elsa la vache
Bartz didn't originally plan to become a DJ. After moving to Tainan, however, he just wanted to hear something he could dance too and the lack of an established music scene motivated him to begin his own scratching. It wasn't like Berlin, with its abundance of pop-up DJ shops, but it did have the space and freedom he needed to create his brand of music.
"I love Taiwan, especially the wild west city of Tainan because it gives me immense freedom to do basically whatever I want," he said.
Bartz built a portable DJ booth that he parks at different locations around Tainan and uses it to expose people to a style of music he calls analogue electronic future disco house for leather-bound sex-robots of 1983.
"I love spinning at [the city's monthly second-hand] markets. I don't get paid, but they're really cool events filled with local freaks and thousands of people pass through and this gives great exposure to the music I love."
Bartz plays early house, electro and italo disco — the latter he describes as forgotten electronic disco gems from the 1980s. His music isn't necessarily retro reproductions of that era, complete with cheesy lyrics and Italian accents, but music that uses the same synthesizers as old Italo but pioneered into something new.
"I also like how excited people back then were about the future. A lot of Italo deals specifically with space and robots. I think we've lost some of that childish excitement with the future today, partly perhaps because it doesn't have as much charm."
But Bartz doesn't want to be pigeonholed as a DJ who is influenced only by older music.
"What distinguishes the music I play from the more mainstream varieties of dance music is that it is rougher, warmer, rawer and more organic."
Bartz said the public is already surrounded by too many monitors and screens in our day-to-day life.
"I don't want a screen to come between me and the audience. I like the raw, physical simplicity of the turntables and their manual, instinctively tactile use."
Bartz certainly is a cocktail of sorts, blending the past with the future and putting it in the present, shaken and stirred with a touch of Germany and a splash of France. House music in some way, shape or form, all-night long.
■ DJ Lyova Lyubov plays tonight with B.B and Soundsquash from 11:30pm to 4:30am at Korner, B1, 200, Roosevelt Rd Sec 4, Taipei (台北市羅斯福路四段200號B1). Admission is NT$100 at the door with a drink.
Comments will be moderated. Keep comments relevant to the article. Remarks containing abusive and obscene language, personal attacks of any kind or promotion will be removed and the user banned. Final decision will be at the discretion of the Taipei Times.