Broadway musical with Tainan characteristics
Director Jeffrey Dunn and the Taipei Philharmonic Theater present a Broadway-style musical about a young Eurasian man searching for his father in Taiwan
The Taipei Philharmonic Theater (台北愛樂劇工廠) will tomorrow premiere Zeelandia — Return to Formosa (重返熱蘭遮). Directed by Jeffrey Dunn of West Side Story and Annie Get Your Gun, it is a Broadway-style musical with the same lavish romance and grand fight scenes. It will be performed in English with Chinese subtitles.
The musical numbers have an operatic style in the way of Miss Saigon but are shaped by Aboriginal folk music, according to composer-librettist duo of Derek Lin (林儒麟) and Norman Szabo.
The NT$20 million production premieres tomorrow in Greater Tainan and opens next month at Taipei's Metropolitan Hall. After that, the Taipei Philharmonic Theater plans to take the musical on an international tour.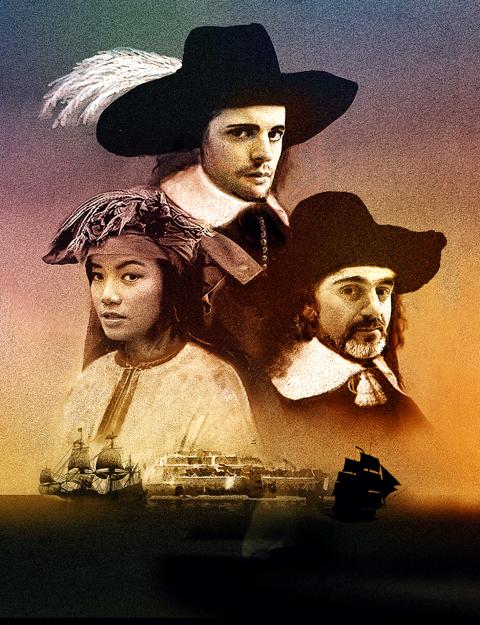 Zeelandia — Return to Formosa premieres in Greater Tainan tomorrow at 7:30pm.
Photo Courtesy of Taipei Philharmonic Theater
It is based on a simple story about a young man searching for his father in 17th century Formosa, short for La Ilha Formosa, the name Portuguese traders gave to Taiwan, which translates as "Beautiful Island."
Johan, who is half-Dutch and half Aboriginal, grows up as an orphan in the Netherlands.
As a 19-year-old naval lieutenant of the Dutch East India Company, he embarks for Dutch-controlled Formosa, specifically Fort Zeelandia (熱蘭遮城) located in what is today Greater Tainan.
"Even though it is set 400 years ago, it is a modern story. It's the same nowadays. People are born in Taiwan, they grow up elsewhere and they come back," said Giovanni Voneki, who plays the young explorer.
During his roots-seeking mission, Johan meets the Sirayan Aboriginal people (西拉雅族), one of the largest tribes of plains indigenes who were the closest ally to the Dutch during their reign.
Along the way, he also finds himself in a series of comical missteps with a young Sirayan woman named Pulima, played by Suzanne Jen (任書欣), an actress and alumnus of National Taiwan University's Foreign Languages and Literatures.
"He grew up in Holland and doesn't really understand how people in Taiwan behave. Sometimes he offends people without knowing it," Voneki said.
Zeelandia — Return to Formosa is based on a script by Edwin Chen (陳煒智), a graduate of New York University's Tisch School of Arts.
"With the story we want to tell, 'return' is the key word. Home is the place you can always return to," Chen said.
Publication Notes
Performance Notes
What: Zeelandia — Return to Formosa
When: Tomorrow at 7:30pm and Sunday at 2:30pm in Greater Tainan; June 6 at 7:30pm, June 7 at 2:30 and 7:30pm, June 8 at 2:30pm in Taipei
Where: Tainan Municipal Cultural Center (臺南文化中心演藝廳), 332, Chunghua Rd Sec 3, Greater Tainan (臺南市中華東路3段332號); Taipei's Metropolitan Hall (台北市社教館城市舞台), 25, Bade Rd Sec 3, Taipei City (臺北市八德路三段25號 )
Tickets: NT$500 to NT$3,000, available at the ticketing counter or online at www.artsticket.com.tw
On the Net: www.zeelandiamusical.com
Comments will be moderated. Keep comments relevant to the article. Remarks containing abusive and obscene language, personal attacks of any kind or promotion will be removed and the user banned. Final decision will be at the discretion of the Taipei Times.