Movie review: Anywhere, Somewhere, Nowhere 到不了的地方
Leading Lee's new film is a quest for personal discovery and a longing for home
Billed as a travelogue across Taiwan, Leading Lee's (李鼎) second feature, Anywhere, Somewhere, Nowhere (到不了的地方), is, in reality, a personal search for one's roots and identity.
The largely autobiographical account of the director's cross-country trip with real-life swimming coach Hsu Chun-hao (徐君豪) adheres to the framework of a road movie, in which the hero struggles to tackle loss through self-discovery. The film's uncertain attempt to address the theme of gay love suggests, however, a less-than-honest attempt to create what seems to be the cinematic confession of a troubled son.
Based on a travel book written by Lee and Hsu of a six-month journey in 2004, the film follows commercial director Lee Ming (Austin Lin, 林柏宏) and swimming coach Taike (Bryant Chang, 張睿家) as the two ride across the island on a motorbike. Having just lost his army officer father (Tou Tsung-hua, 庹宗華), who died due to a neurological disorder, Lee Ming longs to revisit a restaurant where they ate during a childhood trip to Taroko Gorge (太魯閣). Taike, on the other hand, is a runaway groom who dreams of swimming with flying fish on Lanyu Island (蘭嶼).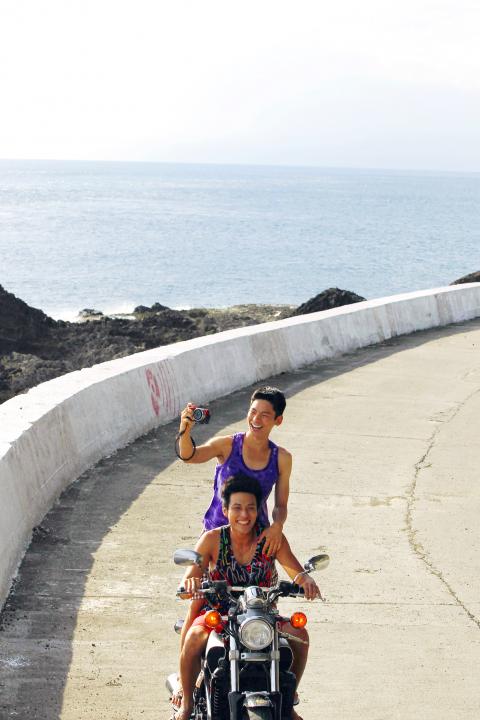 Austin Lin and Bryant Chang make an unlikely gay couple in Anywhere, Somewhere, Nowhere.
Photo Courtesy of Applause Entertainment
When they arrive at Taroko Gorge, however, the restaurant has closed. Disappointed, they continue their journey south to Jioumei (久美), where they learn about the Thousand Year Suspension Bridge (千歲吊橋), a story about a Japanese officer and an Aboriginal princess who jumped to their deaths nearly a century ago because their love was prohibited.
They then travel to Lanyu and make friends with the island's residents, who hail from the Tao (達悟) tribe, and newcomers from Taiwan's mainland. Throughout the journey, Lee Ming keeps returning to the same question: where is home?
Unevenly executed and, at times, messy, the film nevertheless clings to its motif of home, ingeniously connecting the protagonist's search for the lost father with his rediscovery of the land. A son of a soldier forced to flee to Taiwan with the Chinese Nationalist Party (KMT) army, the character of Lee Ming travels to remote towns, villages and indigenous tribes to seek traces of the deceased and, during the process, is able to gain insights and strength to reconcile with his family.
The often overwrought dialogue and flowery language that made Lee's debut feature My So Called Love (愛的發聲練習) disastrous, strangely fit the tone of the autobiographic work, as they are more like reflections of the protagonist's inner soliloquies and deliriums as he struggles to deal with his great loss.
Fantasy and dream sequences often reveal hidden emotions. The sequence that involves the love between the indigenous princess and her Japanese lover, for example, not only touches upon the country's colonial past but mirrors the implicitly felt because never admitted attraction between the two travel buddies. There is an undercurrent of homoeroticism throughout the film, in which Chang's character can always find excuses to take his shirt off and display his well-toned body.
While gay identity marks the narrative, Leading Lee's dubious reluctance to go further than showing harmless banter between the two men leaves the story partly underdeveloped and plots unexplained. In the end, Anywhere, Somewhere, Nowhere feels unfinished, missing its chance to become an admirably honest work.
Publication Notes
Film Notes
Anywhere, Somewhere, Nowhere 到不了的地方
Directed by: Leading Lee (李鼎)
Starring: Austin Lin (林柏宏) as Lee Ming, Bryant Chang (張睿家) as Taike, Tou Tsung-hua (庹宗華) as the father
Language: In Mandarin and Japanese with Chinese and English subtitles
Running Time: 124 MInutes
Taiwan Release: Today
Comments will be moderated. Keep comments relevant to the article. Remarks containing abusive and obscene language, personal attacks of any kind or promotion will be removed and the user banned. Final decision will be at the discretion of the Taipei Times.