Breaking new ground
Supported by top music industry professionals, Taiwan's indie bands are crossing language barriers and rocking North American shores
On a chilly mid-May afternoon in Flo Lounge, a casual-chic open-air setting in Queens, New York, two men handroll cigarettes while discussing Taiwanese indie music.
New York-based Eric de Fontenay, founder of MusicDish*China, and Taipei-based Jesse Liu (劉兆洪), general manager of ICON Promotions, are working hard to bring Taiwanese acts to North America. The duo were later joined by a small coterie of music industry types, including DJ Code (Wu Kai-fan, 吳鍇帆) and Shao Shih (少詩), the vocalist for DJ Code's EDM act RED (紅樂團).
De Fontenay recently signed on DJ Code and RED and the four of them had just returned from Canadian Music Week in Toronto.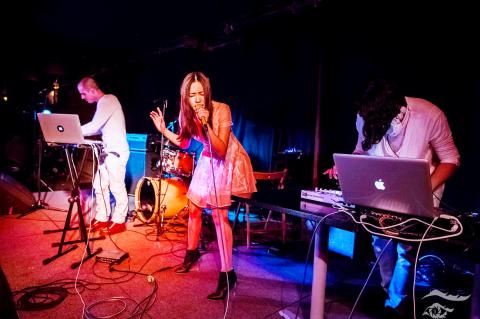 RED performs during Canadian Music Week.
Photo courtesy of RED
"A lot of local Canadians really like our music," said DJ Code.
While RED is attracting crowds in North America, they have still managed to retain a distinctly Taiwanese sound by using electronic arrangements to replicate the sounds of traditional Chinese instruments — a new music style that DJ Code says few Taiwanese bands are using.
"We're portraying an ancient culture, but our style is very modern," Shao said.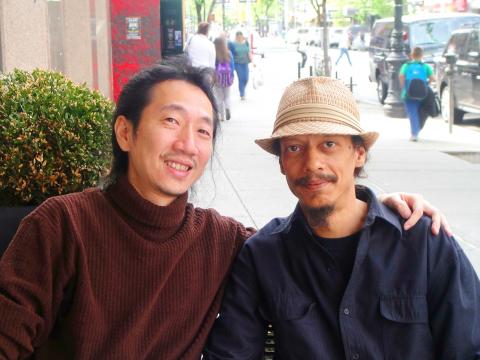 Eric de Fontenay, right and Jesse Liu at Flo Lounge in Queens, New York.
Photo courtesy of Harry Wang
indie music
DJ Code says that although Mandopop still dominates the Taiwanese market, "there are a lot of great indie musicians, but Taiwanese audiences are not as willing to spend as much money on an indie rock or metal concert."
Shao added that whereas Mandopop is more dependent on the Chinese and Asian markets, Taiwan's indie musicians are "trying to tackle the world stage."
The government in Taiwan has been supportive of indie musicians because it understands that it's an important exportable commodity, Liu says, "and for each album, they're supporting musicians with NT$300,000 (US$10,000), including album design, tracking, remix and release."
De Fontenay said he has a theory as to why Taiwanese indie acts like RED have more crossover potential in North America than Mandopop. He says that with EDM, metal, rock and reggae, "it's the power and energy coming from the band that matters."
As such, de Fontenay and Liu have devoted their efforts to signing on bands to tour the US and Canada. One of the ways in which MusicDish*China and ICON Promotions are seeking to increase the buzz of Taiwanese music is by collaborating with local acts. Both de Fontenay and Liu said this strategy draws more local fans to music festivals.
expanding market
In a similar fashion, Chthonic (閃靈) collaborated with Swedish death metal band Arch Enemy on its European tour. During Canadian Music Week, de Fontenay and Liu had MATZKA play with Kobo Town, a Caribbean calypso band from Toronto. They also had the Ins and Outs, a punk-rock band from Montreal, perform with Taiwanese-Canadian band IO.
And the language barrier amongst the bands didn't prove a shortcoming.
"They're musicians," Liu said. "Just put them together in a room for two hours and they'll come up with something amazing. That's the magic of music."
De Fontenay adds that there is a huge demand in North American markets for world music like MATZKA. However, he also says that iconic Mandopop singers like Jolin Tsai (蔡依林) and Chang Hui-mei (張惠妹), also known as A-Mei (阿妹), or popular punk-rock bands like Mayday (五月天) simply need to "whisper to the overseas Taiwanese and Chinese community and they'll immediately fill up an auditorium in New York."
Taiwanese singers — indie or Mandopop — are looking to expand beyond the Taiwan Strait.
However, de Fontenay said that Taiwan needs to stop seeing its small market as an impediment. There need to be more music conferences in Taiwan, he said, because it's not just about exporting talent overseas, but "bringing the best music industry professionals from overseas to Taiwan so they can understand how great the music is."
Comments will be moderated. Keep comments relevant to the article. Remarks containing abusive and obscene language, personal attacks of any kind or promotion will be removed and the user banned. Final decision will be at the discretion of the Taipei Times.