Telling it like it is
The arrival of new media has empowered individuals with the will and skills to contribute to journalism. Johnathan Lee and Yeh Chieh-ting have set up an English-language Web site to spread news about Taiwan to the world
Jonathan Lee (李宗翰) visits Taiwan once a year and each stay is less than a couple of weeks. Despite this, the 29-year-old US-born-and-educated Taiwanese has a profound interest in his parents' heritage — so great, in fact, that last year he co-founded an English-language media platform with a focus on Taiwan.
"We want to see Ketagalan Media become the leading gateway that facilitates the movement of ideas and trends between Taiwan, Asia and the rest of the World," he told the Taipei Times in an e-mail interview.
Lee and his team not only run podcasts on major economic and political issues on a regular basis but explore cultural topics — such as the gay marriage policy debate — drawing on views from experts and affected communities. Less than a year into its launch, the site already has a loyal readership in the US, Germany and Egypt.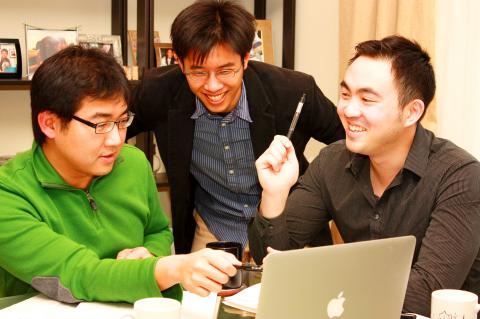 Ketagalan news team holding a discussion before podcast recording.
photo: nancy liu
Viewership peaked to a new high after the 24-day Sunflower movement.
"We began covering the protests just as the students stormed the parliament on March 18," Lee said, providing first-hand news accounts from inside the occupied parliament. He added that international media such as BBC World News and Foreign Policy, which don't have offices in Taiwan, paid attention to their frontline work.
Running an online news room, however, is not easy. The California-based startup has only six employees and every one, with the exception of Yeh Chieh-ting, works full-time elsewhere. Yeh was working as a corporate lawyer in New York and San Francisco before fully committing himself to co-founding Ketagalan Media.
"We had a great time reporting on the Sunflower movement, but there is only so much six people can handle, and if we had a bigger team, we could have done much more. Of course, we are also looking for sponsors interested in supporting us financially," the 31-year-old said.
"We not only want to tell people what is happening, we want to tell people why it is important."
Stories that didn't make the international headlines — the impact of building a pesticide plant that could potentially pollute the greater Tainan area, the closing of two Taiwanese independent newspapers, Lihpao Daily and Pots Weekly, and a private sex party that took place on a train two years ago — were discussed, followed and given coverage on Ketagalan.
CHANGING MEDIA LANDSCAPE
Yeh and Lee, neither of whom have a background in journalism but say they are enthusiastic about current affairs, are riding on a trend that will, if it hasn't already, change the global information landscape.
Wang Wei-ching (王維菁), associate professor at National Taiwan Normal University's Graduate Institute of Mass Communication, said that the age of the new media, or digital transmission of information through the Internet, including podcasts, RSS feeds and social networks, has arrived.
Easier access to technology has enabled individuals to become reporters, columnists and newsroom staffers. The news world is now as crowded as ever, with voices coming from all directions.
"Independent media startups, which have mushroomed in recent years, are leveraging on this trend, seeking interesting people to interview and interesting topics to report on. Traditional news publications, which run on a more rigid system, have a hard time adapting to this," Wang said.
Taking as an example the 70-year old United Daily News, one of Taiwan's oldest newspapers , she said it is losing its readership to independent startups because it has failed to deliver news from different perspectives.
Wang said that the newspaper did negative reporting about the students during the Sunflower movement, whereas it should have focused more on the significance and impact of the movement itself, the former journalist for the Liberty Times said.
The changes in the way news works has also presented itself as a challenge for the government. In response to the flourishing of the new media which has won over the heart of the youth and dominated the press in the Sunflower movement, a Cabinet spokesperson announced earlier that a new media task force will be set up to enhance policy communication with the younger generation.
The arrival of the new media is both an opportunity and challenge for everyone. Even the readers now are endowed with more responsibilities in that they have more things to read from and more things to sift out, said Wang.
"No one knows where this trend is taking us," she said, "but what we know is that it will be a fascinating journey of discovery."
Comments will be moderated. Keep comments relevant to the article. Remarks containing abusive and obscene language, personal attacks of any kind or promotion will be removed and the user banned. Final decision will be at the discretion of the Taipei Times.