Filmmaker at new frontier as Myanmar slowly opens up
'Ice Poison,' the third feature by director Midi Z, has proved another film festival hit with its raw depiction of life for the country's frustrated youngsters
It is a cold, grey and sleety February afternoon in Berlin, but Burmese-Taiwanese filmmaker Midi Z (趙德胤) appears to be bursting at the seams with a tropical enthusiasm. It is not surprising — the 31-year-old's third feature film Ice Poison (冰毒) had been selected for inclusion in the city's prestigious film festival and reviews had been warm.
We find ourselves chatting on the chilly stairs outside the film festival's HQ, a renovated museum. Our path to the building's inner sanctum, where the world's filmmaking elite are gathered, is blocked by black-jacketed security officers. Having made several feature films in his native Myanmar, Midi Z is no stranger to steely-eyed officials and despite having no festival accreditation he has soon convinced the ear-piece wearing guards to allow me inside.
Hundreds of film sector big-wigs are conducting deals within the warmed-up interior and their smartphone chatter fills the hall. Midi Z leads me to a tiny corner of the venue where he has ensconced himself amid a small army of representatives from the Taiwanese film industry.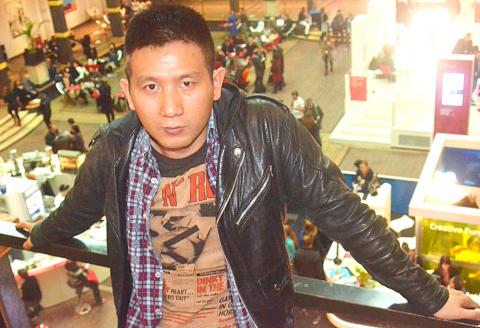 Midi Z pictured at the Berlin Film Festival in February.
Photo: Sam Sky Wild
Variety magazine described Ice Poison as "simple, direct and involving" and the film — starring Wang Shin-hong (王興洪) as the son of an impoverished vegetable farmer, alongside theatre actress and dancer Wu Ke-xi (吳可熙) who plays Sanmei (a young woman returning to her homeland to bury her grandfather) — is currently playing at the well-respected Tribeca Film Festival in New York. It was also included in the Hong Kong Film festival as well as a series of other film events worldwide. Not bad for the youngest son of a cash-strapped Chinese family in Myanmar.
At the age of 16 — when Midi Z had just moved alone to Taipei to undertake his studies — he had to supplement his education with menial jobs while surreptitiously sleeping in student lodgings, without paying rent. Moving to Taiwan, says Midi Z, made him "more objective … and I think more realistic." Something he feels that has bolstered his filmmaking.
The story of Midi Z's early and surprisingly successful career in film is now relatively well known. He graduated from the Department of Industrial and Commercial Design at the National Taiwan University of Science and Technology (國立台灣科技大學) and his graduation film Paloma Blanca made its mark at a number of international film festivals; in 2009 he joined the Golden Horse Film Academy in Taipei, the brain-child of Hou Hsiao-hsien (侯孝賢), a leading figure on Taiwan's New Wave cinema movement.
Evidently a survivor, Midi Z still found himself at a loss towards the end of 2010 and made his way back to Myanmar — the inspiration of all his creative endeavors.
"I couldn't help but dream of returning to Myanmar to do something connected to the culture … but I arrived there and felt sad," he says. "I couldn't find any job connected to my career … [and] I felt a big gap because I had been living in Taipei, which is such a modern city and so different to my home town."
His first feature film, Return to Burma (歸來的人), was inspired by his real-life journey and, like all his films since, was filmed on the fly with a shoestring budget in a country emerging from despotic rule where rules are still enforced by heavy-handed authorities. It is an approach that comes with a major element of risk.
Midi Z insists he has never bribed corrupt officials but says being in possession of the business cards of well-placed officials can come in handy.
GUERILLA FILMMAKING
"We were in a train station shooting Ice Poison and it was crowded and we were in the open ... The police came and they wanted to arrest us. I told them: 'I'm just filming the view, it's not political.' I pretended to be a tourist … Then I told them that the technician had been invited by the military authorities to teach young filmmakers and showed them a military man's card. They left us alone."
In addition to his guerrilla filmmaking style, all his films are built around the themes of poverty, alienation and powerless, which define modern-day Myanmar. And he insists that his movies are a reflection of his own experiences.
"My life experience is as a poor boy, so most of the story ideas come from me when I'm exploring who I am."
Ice Poison is a slow film — certainly for audiences raised on slick, heavily-edited Hollywood fare — and there are times when Midi Z's extended shots feel like they continue for longer than perhaps they should. However, his films offer a rare glimpse of a society undergoing rapid change and his loose documentary style provides a sense of authenticity.
Midi Z is reflective on the subject of filmmaking which he says leaves him sad and "full of regret." For the bubbly director, the creative process seems an incredibly draining one.
"There are so many limits — a very small budget, no permits to shoot. I feel so weak and exhausted. But when it's finished and after the editing is over you feel so proud of your crew, of yourself. The creative process is like this even if you are a famous director, or a very small director like me. It's the same."
The diminutive filmmaker, who describes himself as a "student director," relaxes onto the balcony where we are standing and takes in the hub-bub of the glitterati noise on the ground floor below.
"Back in 1989 when we heard the news about the Berlin Wall it was just a city far away — I could never imagine I would go there."
Ice Poison is set to open at selected cinemas in Taiwan in mid-July.
Comments will be moderated. Keep comments relevant to the article. Remarks containing abusive and obscene language, personal attacks of any kind or promotion will be removed and the user banned. Final decision will be at the discretion of the Taipei Times.