The Vinyl Word
Your relationship with techno probably needs some clearing up. Depending on who you are, you might think it's what you called dance music in the 90s when you were speaker dancing to Mr. Vain, or euro house music if you grew up with any gay friends, or for the really young ones, what Beyonce's music sounded like in 2011 when she came out with Run The World. At least, the majority of people think techno is the music you hear in clubs today. But it's not — it's the music you hear at raves.
"Techno has a more psychological vibe to it, or a dramatic touch if you can put it that way," says Naja (real-name Joao Jardim), a Portuguese DJ with a meticulous taste for fine techno and intelligent house.
"Techno is definitely not only hard pumping beats as many people would think. It can actually go from melodic and soft, to very rhythmic, danceable and uplifting, to more dark, hypnotic and even mind driven," he said.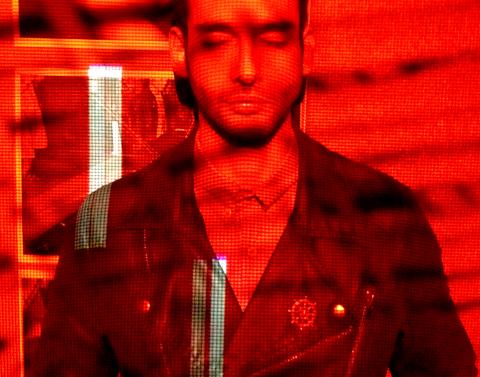 DJ Naja says that techno is what moves the underground music scene in Taiwan.
Photo courtesy of Fanny Bouyssou
Throughout the 90s, techno inaugurated the legendary rave scene and went on to fuel many of its subgenres. The electronic music you listen to today, in all its forms, probably stems from techno. The scene died down shortly after that, but now it's not only back, it's also mainstream. But music purists like Naja are not happy about the comeback because of the fact that it's mainstream.
profit-driven edm clubs
In the 90s, raves were underground, music-centric and mostly illegal parties that would end only after the sun came up. Today's fist pumping, bottle popping and cash flowing spawn of the scene — EDM clubs, have diluted if not totally dissolved these elements. When I bring this up with Naja, he says that's why he fell into playing at more underground clubs like Korner and The Wall when he moved here from Lisbon three years ago.
"Many clubs throughout the world opted to follow an exclusively profit-oriented path and while there is nothing wrong in making money, in this case it's a no different business than a slaughterhouse that produces meat. No one has a passion for selling sausages. They do it for the money. And they will do absolutely whatever they can to maximize their profits."
"EDM is a product conceived to make big bucks," he added. "Basically, that's it. There's no art in it, no substance, no complexity and definitely no subtlety"
gimme underground or gimme death
Naja says that underground clubs are more music-oriented and put an effort into the quality of music above all else. But "underground" is a highly misconstrued word nowadays, and Naja says that it really only means the difference between music culture and places that play commercial music. But it's not just about music.
"It's a question of thinking independently, questioning things and choosing what you want, opposed to do what the masses do without thinking and what the big corporations are trying to push you into, solely to fill their pockets. The mainstream club industry is just another face of that."
Meanwhile, there is a scene that's quickly developing here in Taipei but Naja says it's still in its early stages and still stands relative to Europe. He was met with both frustration and bewilderment when he came from Europe to Taiwan with his half-Taiwanese and half-French fiance. There were a lot of people here with a genuine passion for music but the fact that the scene was still in its beginning stages sometimes required a lot of patience and perseverance. But things are changing at a fast pace, he says, but it's never as fast as people would like, right?
"The Korner project started, and in just one year the whole scene changed. These are also exciting times, since this is the point from where new projects will emerge."
Hopefully the upcoming projects will cast a new light on techno, preferably a bright one that illuminates the path leading underground so that the next time you find yourself on a its dimmer dance floor, you'll know exactly why you are there.
■ Naja plays tonight from 11:30pm to 4am at Korner inside The Wall (這牆), B1, 200, Roosevelt Rd Sec 4, Taipei City (台北市羅斯福路四段200號B1). Tickets are NT$100 at the door and includes a drink.
Comments will be moderated. Keep comments relevant to the article. Remarks containing abusive and obscene language, personal attacks of any kind or promotion will be removed and the user banned. Final decision will be at the discretion of the Taipei Times.