Art exhibition listings
In the new Program X-Site, the Taipei Fine Arts Museum will bring a landscape installation to its central plaza every spring. The 2014 inaugural installation is Landscape of the Boundary (邊緣地景) by C.J.S. Architecture-Art Studio, selected from 29 submissions. This winning work — a riff on the temporary scaffolding at construction sites — is a gridded building that pedestrians can explore. Force applied to the floor gently bounces back, creating for the visitor an otherworldly sensation. Made with local moso bamboo (毛竹) and makino bamboo (桂竹), this structure will fade over time from deep green to light tan, mimicking a natural landscape that changes with the seasons.
■ Plaza of the Taipei Fine Arts Museum, 181, Zhongshan N Rd Sec 3, Taipei City (台北市中山北路三段181號), tel: (02) 2595-7656. Open Tuesdays to Sundays from 9:30am to 5:30pm and until 8:30pm on Saturdays. General admission: NT$30
■ Opens tomorrow. Until June 29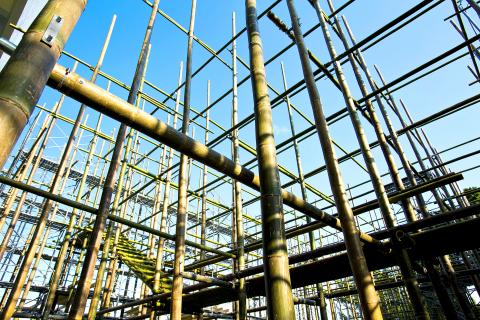 C.J.S. Architecture-Art Studio, Landscape of the Boundary (2014).
Photo courtesy of TFAM
Everyone is A Mirror of Mine (每個人都是我的一面鏡子) is Chinese photographer Zhang Bojun's (張博鈞) solo show about loneliness in China. Over the course of seven years, Zhang photographed faces in the crowds on city streets. As China rapidly industrializes, more migrants are drawn to the cities, where they work and reside yet never quite became full citizens, Zhang writes in the gallery notes. For his solo show, he digitally alters thousands of crowd images, shrinking faces and combining shots into large colorful textile-like blocks bearing patterns that arise from individual alienation — a visual metaphor for a deepening trend in contemporary Chinese society. The opening reception includes a lecture by former Taiwan Photo Fair chairman Chiu I-chien (邱奕堅) tomorrow at 2:30pm.
■ 1839 Contemporary Gallery (當代藝廊), B1, 120 Yanji St, Taipei City (台北市延吉街120號B1), tel: (02) 2778-8458. Open Tuesdays to Sundays from 11am to 8pm. Free admission
■ Opening reception tomorrow at 2:30pm. Until May 25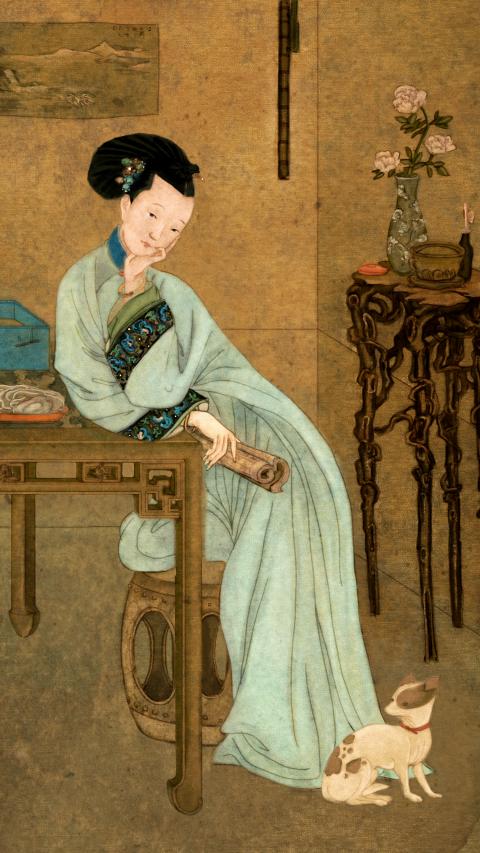 Chang Li-ren, Classic Skin Flick Series 10: Spring Room (2013).
Photo courtesy of VT Artsalon
I Fiori E Il Sole (鮮花和陽光是唯一讓生活可以忍受的美女) is a solo exhibition by artist Brigitta Rossetti , who works with literary themes. In Liber, a paean to the printed book, she converts three antique copies of Dante's Divine Comedy into art pieces, installing them into a wall and making ornate butterflies with its yellowed pages. Each wing is devised to frame passages of text, which are chosen to remark on the role of books in a free society. Rossetti also presents three series — Sounding Flowers, Imaginary Flowers and Fiore Di-versi — that use texts as props in a floral landscape to tell a story. Rossetti is an Italian poet and visual artist based in Chicago and Milan.
■ Bluerider Art, 9F, 25-1, Renai Rd Sec 4, Taipei City (北市仁愛路四段25-1號9樓), tel: (02) 2752-2238, open Tuesdays to Sundays from 9am to 6pm
■ Opens Sunday. Until May 27
Remaster and Appropriating the Classics (復辟 vs 挪用經典) is a joint Hong Kong-Taiwan show that brings together artists who play with classic ink wash techniques or historic themes. In Gough in the Valley (谷林歌賦圖), Tang Kwok Hin (鄧國騫) of Hong Kong uses a search engine to build a collage featuring "classic" icons like mountain and water. Chen Chin-Yao (陳浚豪) gives an update to famous Taiwanese political portraits, while Chang Li-Ren (張立人) reinvents women from familiar paintings.
■ VT Art Salon (非常廟藝文空間), B1, 17, Ln 56, Xinsheng Rd Sec 3, Taipei City (台北市新生北路三段56巷17號B1), tel: (02) 2597-2525, open Tuesdays through Fridays from 11:30am to 7pm, Saturdays from 1:30pm to 9pm, closed Sundays and Mondays
■ Opening reception tomorrow at 7pm. Until May 10
Taiwan Black Jade Exhibition: A Unique New Breed of Gems (惜墨如玉:新品種寶石) is an introduction to a lesser-known jade indigenous to Taiwan's East Rift Valley. Black jade, a specimen that takes three times as long to form, appears partially dark and contains veins of emerald and gold. The exhibition spotlights artistry that takes advantage of black jade's semi-opaque property, such as thin tea cups that allow light to shine through and illuminate the interior. It also provides an introduction to the development of black jade and properties of other precious minerals in Hualien and Taitung.
■ GG02, National Taiwan Museum (臺灣博物館), 2 Xiangyang Rd, Taipei City (臺北市襄陽路2號), tel: (02) 2382-2566, open Tuesdays through Sundays from 9:30am to 5 pm
■ Until Jan. 25
Comments will be moderated. Keep comments relevant to the article. Remarks containing abusive and obscene language, personal attacks of any kind or promotion will be removed and the user banned. Final decision will be at the discretion of the Taipei Times.