Modern-day 'collector'
A theatrical performance for the technology-obsessed generation
Late English author John Fowles' novel The Collector depicts a lonely young man who collects butterflies and falls in love with a woman. But he lacks the social skills necessary to talk to her, instead admiring her from a distance. After winning a fortune from gambling, however, he abducts her in the hope that she will fall in love with him.
Oleg Liptsin, the artistic director for International Theater Ensemble, wrote the script for Collector (蝴蝶春夢), a play based on Fowles' story, and suggests that it's the protagonist's obsession with technology and gadgets that is behind his isolation from society.
"In a way we are losing our sense of reality… and there's no escape from it," Liptsin told the Taipei Times last week.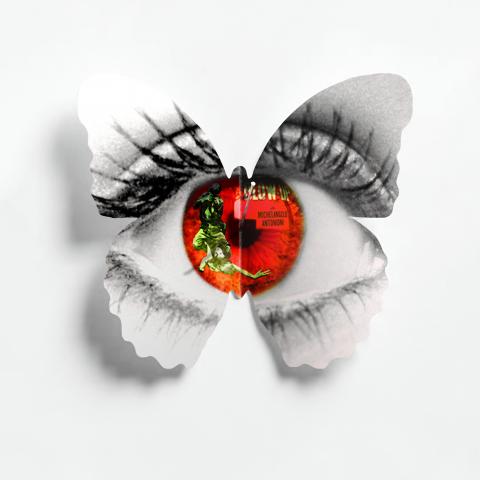 Collector by International Theater Ensemble.
photo courtesy of International Theater Ensemble
Liptsin, who lives in Silicon Valley, observes how people may have taken the convenience of technology for granted, and overlooked its negative side effects. He hopes that Collector will be a wake up call for anyone who watches it.
"We should think more about substantial issues in life … such as love, freedom and caring for one another," he said.
Liptsin says the story develops from suspense to romance to love but ends with violence and murder. Played by Ray Yeh (葉百恂), the young man's insatiable desire to possess the woman removes any fear he might have for kidnapping her. But a sense of embarrassment and shame emerges after he abducts the woman, played by Ho Ai-cheng (何艾橙).
Although imprisoned, the woman tries to find a way to like her kidnapper, who showers her with gifts. But what she wants the most — freedom — is something the young man won't allow.
Liptsin doesn't mind revealing the end of the story because he believes that the plot's twists and turns, as well as the transient nature of the characters' relationship, should hold the audience's attention.
The play is in Chinese.
Publication Notes
Performance Notes:
What: Collector (蝴蝶春夢)
When: April 18 and Aril 19 at 7:30pm; April 19 and April 20 at 2:30pm
Where: National Experimental Theater (國家實驗劇場), 21-1 Zhongshan S Rd, Taipei City (台北市中山南路21-1號)
Admission: NT$600, available through NTCH ticketing, online at www.artsticket.com.tw and at 7-Eleven ibon kiosks
Comments will be moderated. Keep comments relevant to the article. Remarks containing abusive and obscene language, personal attacks of any kind or promotion will be removed and the user banned. Final decision will be at the discretion of the Taipei Times.