Art for kids
The Taipei Fine Arts Museum's recently opened Children's Art Education Center encourages youngsters to to get in touch with their creative juices
The names of Chen Chieh-jen (陳界仁), Kao Chung-li (高重黎), Chang Chien-chi (張乾琦) and Yuan Goang-ming (袁廣鳴) suggest a scholarly exhibition on some of Taiwan's major artists. Their works, however, will be displayed at the Taipei Fine Arts Museum's (台北市立美術館) recently opened Children's Art Education Center (兒童藝術教育中心), which aims to encourage youngsters to appreciate, take an interest in and learn about contemporary art through exhibitions, workshops, learning programs and interactive games.
Five years in the planning, the art center is located in the museum's basement space and composed of an exhibition area, two workshop rooms, an activity hall and a spacious courtyard. Unlike conventional art programs and classes that teach traditional forms of art — watercolor painting, sculptures and sketches — the children's division is designed to reflect and be in line with the museums' focus on contemporary art, says Liu Chien-kuo (劉建國), chief of the museum's Education Department, who has managed the project since its inception.
"For more than 20 years, we had over 40 types of art classes that concentrated on traditional artistic media because art spaces and education were lacking. In 2009, we began to explore the idea of shifting from our early mission to the establishment of an integrated space devoted to children and the diversity of contemporary art," Liu told the Taipei Times.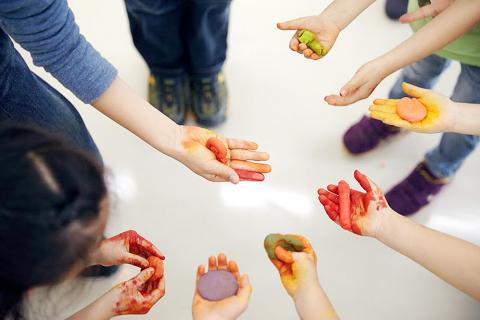 The Children's Art Education Center opened last Friday at Taipei Fine Arts Museum.
Photo courtesy of Taipei Fine Arts Museum
Plenty of activities
Activities offered at the art center, for example, will not try to teach kids how to draw, but let them gain a better understanding of various artistic expressions through meeting, talking to and playing games with contemporary artists. Exhibitions will be professionally planned and designed.
"Our exhibitions won't be simple, cutesy or childish even though our target audience is young. Each exhibition will be an official show by serious artists. The only thing different is that we will rely on assistance tools such as interactive games or learning material to help children understand and make it child-friendly," Liu said.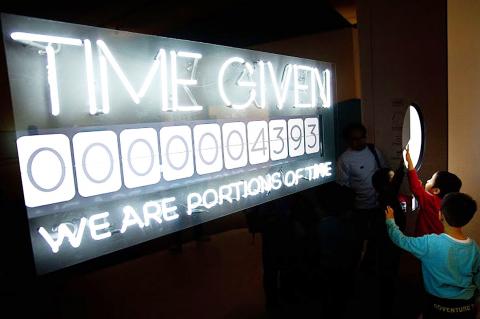 Below: Alice Wang (王艾莉), Time Cheque.
Photo courtesy of Taipei Fine Arts Museum
Name of a Gift, the center's inaugural exhibition, invites eight contemporary artists, including video artists Chen and Kao, photographer Chang and new media artist Yuan, to create a series of works on the theme of the Gift, which suggests that artists offer their talent to inspire a youthful mind. Each of the invited artists will exhibit their works for three weeks. The first show is by noted illustrator Page Tsou (鄒俊昇), who draws attention to the beauty of everyday objects. Tsou's series is inspired by the folk Chinese ritual of chuachou (抓週), in which a baby is presented with different items, each of which symbolizes a possible future for the child.
In an adjacent room, puppet company Flying-Group Theatre's (飛人集社劇團) Gift Wrapping is a large installation piece in the shape of a suitcase that is packed with clothes and suggests the different phases of life. Standing next to the colorful suitcase is Time Cheque, an interactive installation work by Alice Wang (王艾莉), which involves visitors writing a check to a loved one, specifying the amount of time she or he is willing to deduct from their life to spend with the check's recipient.
In addition to the exhibition, a plethora of activities ranging from guided tours, workshops led by artists to art-making sessions are on offer for youngsters. Some activities require the participation of adults. For more information, log on to the center's Web site at www.tfam.museum/kid. Reservations for activities can be made online or by calling (02) 2595-7656 X 313.
Comments will be moderated. Keep comments relevant to the article. Remarks containing abusive and obscene language, personal attacks of any kind or promotion will be removed and the user banned. Final decision will be at the discretion of the Taipei Times.