Restaurant review: Aux Champs sur Marne (馬恩田園法國廚房)
On Taipei's Xingan Street, a restaurant named after Champs sur Marne, a commune in the eastern suburbs of Paris, has been serving elaborate French cuisine for more than seven years.
Aux Champs sur Marne, or Fields upon Marne, offers a gastronomic getaway to Europe. Once diners enter the restaurant, housed in half-timbered walls, the hustle and bustle of the street is left far behind.
My party went to the restaurant on a weekday, and ordered the business lunch menu (NT$720) — a two-course meal that comes with a choice of salad and soup and a main course, or a main course and dessert. Both options include a beverage. For an additional NT$100, you can make it a three-course meal.
The yogurt-like sour cream with raspberries is a refreshing treat.
Photo: Tang Hsiang-yi, Taipei Times
The fixed-price menu offers plenty of choices. There are salad with bacon and grated Parmesan cheese, salad with Brie cheese or Roquefort cheese, salad with mushrooms sauteed in garlic and salad with smoked salmon. We chose the chef-recommended salad with confit duck gizzards, which arrived with a crusty French bread roll straight from the oven.
The salad looked appealing with its colorful mix of lettuce, asparagus, shredded purple cabbage and carrot, topped with sprinkles of cheese. The confit duck gizzards with mushrooms were aromatic and pleasantly chewy, emitting scents of pepper and red shallots and being set off by a balsamic vinaigrette.
For the main course, we chose pan-fried sea bass with white wine sauce and beef tongue Burgundy style with tagliatelle pasta. Other equally tantalizing options included grilled pork chop with green pepper sauce and balsamic vinegar and seared Hokkaido scallop with cider vinegar cream sauce.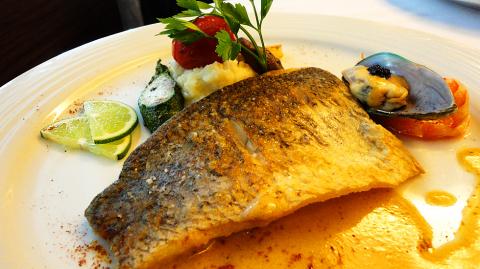 The pan-fried sea bass has crispy skin and tender flesh.
Photo: Tang Hsiang-yi, Taipei Times
The sea bass had a crispy golden skin, and yet its flesh was still juicy and tender. The slightly-buttery and shrimpy sauce didn't overpower the seafood, but gently enhanced it.
As if the generous portion of the fish wasn't satisfying enough, a mussel dressed with caviar, mashed potatoes, roasted vegetables like zucchini, tomato and water bamboo shoots came served on the same plate.
Covered in red wine sauce, the braised beef tongue — about 2-centimeters thick — had an extremely soft and smooth texture. As sauce-making is key to haute cuisine, I asked chef and proprietor Frederic Tran about the ingredients in this rich, savory sauce. He told me that it was made from beef broth and a variety of vegetables including celery, onion, mushrooms and garlic scapes. But the crucial element is smoked bacon, which accentuates its meaty flavor.
The salad with confit duck gizzards with balsamic dressing.
Photo: Tang Hsiang-yi, Taipei Times
The plate came with tagliatelle, and the same generous portions of vegetables and mashed potatoes as the sea bass.
My stomach was somewhat distended after the main course. Consequently, I only picked at the desert of yogurt-like sour cream with raspberries and caramel cookie crumbs. It's a refreshingly light treat, neither oversweet nor watery.
Other options for dessert include chocolate fondant cake, creme brulee, crepe with ice cream, and "ile flottante" or floating island — poached meringue floating on a sea of English cream.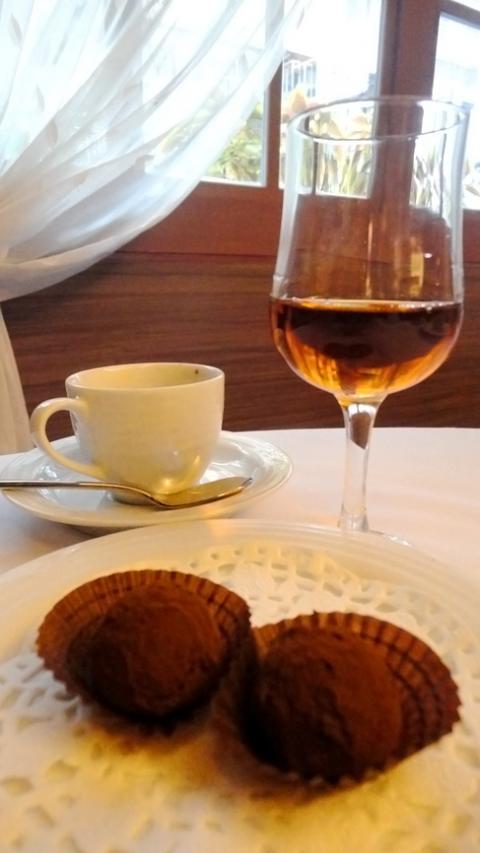 Complimentary chocolate truffles were served after meal with coffee.
Photo: Tang Hsiang-yi, Taipei Times
After the dessert, a cup of coffee came with hand-made chocolate truffle to round out the hearty meal.
If you come for dinner, do so on an empty stomach so as to have room for the full-course meal, which starts with bite-sized hors d'oeuvres. Priced at NT$1,420, the dinner menu offers more choices than lunch — including salad with crab meat fish cake, duck breast with apple confit and mustard and pan-fried salmon with ratatouille.
I have dined at the restaurant several times over the years, mainly for the succulent beef tongue. Tran usually takes the customer's order on his own and makes recommendations. His menu doesn't change much, but the quality remains stable, which has resulted in a steady customer base. Reservations are strongly recommended on the weekends.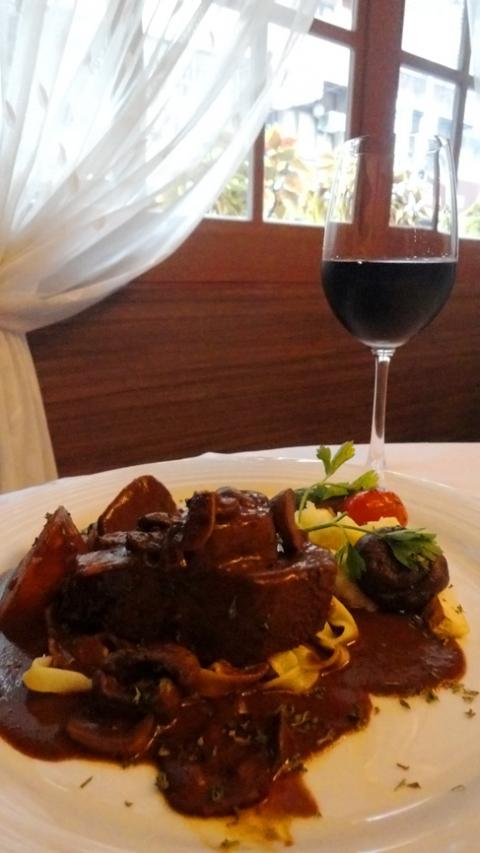 The braised beef tongue Burgundy style has a tender and smooth texture.
Photo: Tang Hsiang-yi, Taipei Times
Publication Notes
Aux Champs sur Marne (馬恩田園法國廚房)
Address: 161, Xingan St, Taipei City (台北市興安街161號)
Telephone: (02) 2547-2423
Open: Monday to Saturday from 11:30am to 3pm and 6pm to 10pm. Closed on Sunday.
Average meal: NT$800 for lunch and NT$1,500 for dinner
Details: Menu in French and Mandarin; credit cards accepted
Comments will be moderated. Keep comments relevant to the article. Remarks containing abusive and obscene language, personal attacks of any kind or promotion will be removed and the user banned. Final decision will be at the discretion of the Taipei Times.