The lay of the land
Based on the true story of Yang Ju-men, Cho Li's latest film fails as political drama
Amid the student-led Sunflower Movement against the cross-strait service trade pact, Cho Li's (卓立) The Rice Bomber (白米炸彈客) opens in theaters today with the story of Yang Ju-men (楊儒門), who took up a much more radical, one-man campaign a decade ago to protest rice imports, calling on the government to address the plight of Taiwan's farmers. Potentially an engaging political drama, the film is weakened by an uneven script and unfortunately misses its chance to rekindle interest in a genre that has been absent from Taiwanese cinema for far too long.
The film opens with a beautiful sunny morning, when suddenly a small homemade bomb explodes, scattering grains of rice everywhere. The camera pans to the face of a young man looking angrily at the camera. That man, we soon learn, is Yang (Huang Chien-wei, 黃健瑋).
The story then moves back in time. Upon completing his military service, Yang returns to his hometown of Erlin (二林) in Changhua County, where his family have been rice farmers for generations. However, as most of his family have moved to the city to seek better lives, the young man is left alone with his aging grandparents only to find out that the local government plans to turn their land into an industrial park.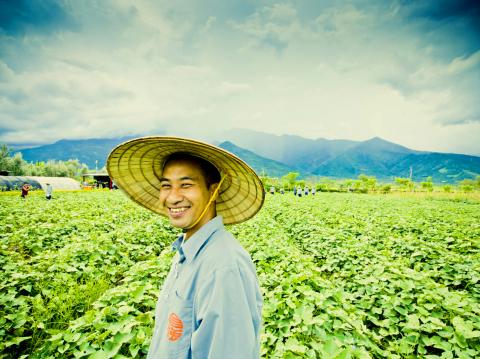 Huang Chien-wei plays the lead in The Rice Bomber.
Photo courtesy of Activator Marketing Company
One day, Yang bumps into Troublemaker (Nikki Hsieh, 謝欣穎), a childhood friend who claims to be a revolutionary but maintains the lifestyle of a spoiled girl supported by her wealthy father. It soon turns out that the girls father is the main force behind the forced land expropriation.
Yang's disillusionment with the system eventually reaches a climax in 2002 when Taiwan enters the WTO. Worrying that membership in the trade body will threaten the survival of local rice producers, he petitions the authorities for a better agricultural policy to take care of the welfare and livelihood of the country's farmers. But no matter where he turns, Yang receives no response, and he soon decides to take matters into his own hands.
In November 2003, Yang plants the first homemade bomb in a public park in Taipei and leaves a small packet of rice and a note meant to draw the public's attention to the plight of farmers, and soon becomes known as The Rice Bomber. One year later, having planted his 17th rice bomb, Yang turns himself in to police, prompting activists and farmers to rally for his cause.
Co-written by Hung Hung (鴻鴻) and Chin Tu-lan (金篤蘭), the film is designed to depict what has happened in today's farming villages. As we follow Yang's gradual politicization, a variety of problems facing the rural communities emerge. It shows poverty-stricken elderly farmers losing their land to forced expropriation and local politicians gaining "public support" through intimidation and bribery.
But the story never fully develops into a genuinely political drama, choosing rather to spend a significant amount of time on a fictional relationship between the protagonist and the self-proclaimed revolutionary. If done properly, the role of a wannabe rebel full of hot air could have made an interesting contrast to Yang's radical acts. But unfortunately, the girl remains a ridiculous caricature.
In the end, The Rice Bomber fails to develop its characters — we learn practically nothing about Yang's underlying psychological state — and neither does it generate any degree of tension. Director Cho's attempt at political cinema deserves attention, but her reluctance to follow through is a pity.
Publication Notes
The Rice Bomber (白米炸彈客)
Directed by: Cho Li (卓立)
Starring: Huang Chien-wei (黃健瑋) as Yang Ju-men, Nikki Hsieh (謝欣穎) as Troublemaker, Michael Chang (張少懷) as Yang Tung-tsai
Language: in Mandarin with Chinese and English subtitles
Running time: 118 minutes
Taiwan release: Today
Comments will be moderated. Keep comments relevant to the article. Remarks containing abusive and obscene language, personal attacks of any kind or promotion will be removed and the user banned. Final decision will be at the discretion of the Taipei Times.