The Vinyl Word
Last week in Taipei was hectic. The Blast brought international hip-hop luminaries Ghostface Killah and Raekwon from Wu-Tang Clan, Bass Kitchen hosted German deep house master Move D and Urban Asia had Digital, probably one of the most influential drum and bass DJs of our time. This was all in the span of a few days. Also, local promoter Spykee Fat came out of his rabbit hole and threw one of his illustrious Dance Rock Taipei parties with top dance music DJs from Taiwan and Japan. Finally, Liquid Lifestyle celebrated their 11th anniversary with a hip-hop party. Whew.
These parties happened at, respectively, ATT Showbox, Korner, Triangle, The Wall and Luxy. A wide range of music at a wide range of venues — it was hard to decide where to go. As I was recovering on Sunday, I came across a lengthy article that a British DJ from Greater Kaohsiung, DJ Chamber (real name Theo Cox), published on social media, in which he eloquently described his frustrations with Taiwan's electronic music scene.
While a bit dated, Cox's account depicted a scene that he described as undernourished and lacking in diversity.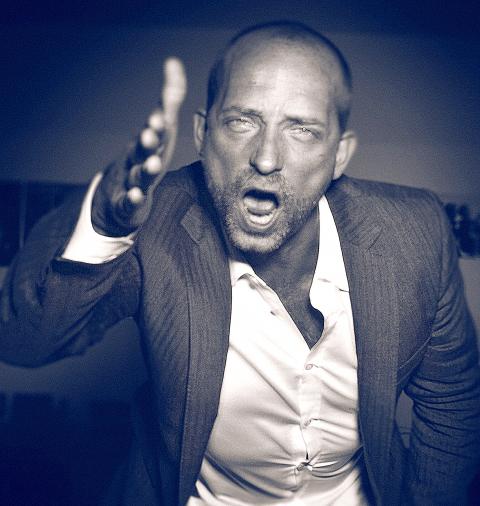 DJ Tomcraft is one of two German DJs playing tomorrow in Taipei.
Photo courtesy of The Loop
"The problem with the Taiwanese electronic music scene in my eyes is that certain larger venues and promotions are run purely as soulless businesses and backed behind the scenes by huge financial investments, going towards promotion and marketing for their events and performers," he wrote.
"A healthy and varied music scene is sadly not being allowed to grow and develop, with the smaller, independent, massively soulful and 'in it for the love' venues, artists and promoters operating on budgets a tiny fraction of the size of that of the 'big boys.'"
He gives an example of how the financial weight that tilts the scales in how some clubs plough money into advertising their resident DJs, and mass marketing their promotions.
"Of course this makes good business sense for the venue, but to me (a DJ who has spent a huge amount of time and energy honing my skills and building a loyal online and offline fan base), it feels extremely soulless when an artist has gained their fans through financial investment rather than any display of skill, showmanship or even the most basic of ability."
The end result, he says, is a string of almost identical top 40 clubs, no healthy scene and very little in the way of new and exciting young groups, DJs and producers — just clones learning how to play top 40.
Six years ago, I would have agreed with all of this, but this week I barely had enough time to kick my shoes off between events. The same goes for last week, and the week before that. Needless to say, Taiwan is happening.
Problems exist in this scene and in every scene; they are by no means local. Every city in the world with a subculture of any sort is facing some sort of challenges and frustrations, even in the city that started it all — Las Vegas. A few weeks ago a picture went viral after a new Las Vegas club posted a snapshot of its rules, which essentially banned any DJ from playing anything mainstream. Everyone, including Vegas, is fed up.
But we need to step back and look at the bigger picture. The world is full of necessary evils, and the key lies in balance. We need massive clubs because they bring the big name DJs that inspire the no name DJs, often losing money in the process. Whether you like it or not, it's their funding of the scene that exposes the more local and alternative scene to more heads, and gradually people develop specific tastes and head underground more consistently. But if everyone decided to go underground all at once, well then it wouldn't really be underground anymore. Everyone contributes and thus everyone should be supported in order to keep the synergy flowing and maintain a well-balanced scene.
Cox has since told me that he has seen some improvement in the scene, and we're certainly heading in the right direction — if we're not already there, as this weekend we're faced with choices. Two German DJs, two clubs, two scenes, one night. If you fall into that category of people that are in it for the music, then it's really all just the same, isn't it?
■ German progressive house DJ Tomcraft (Thomas Bruckner) plays tomorrow from 10pm to 5am at Cerle, 5F, 201 Zhongxiao E Rd Sec 4, Taipei City (台北市忠孝東路四段201號5樓). Admission at the door is not available, but reservations can be made by calling 0955-904-600.
■ German underground techno DJ Kobosil plays tomorrow from 11:30pm to 4am at Korner, B1, 200, Roosevelt Rd Sec 4, Taipei (台北市羅斯福路四段200號B1). Admission is NT$500 in advance and NT$650 at the door. Ticket includes a drink.
Comments will be moderated. Keep comments relevant to the article. Remarks containing abusive and obscene language, personal attacks of any kind or promotion will be removed and the user banned. Final decision will be at the discretion of the Taipei Times.