Theater marathon
Beginning next week, Tainaner Ensemble will revise its 'Hamlet' and 'Bent' and stage its new production, 'Pool (No Water)'
Tainaner Ensemble (台南人劇團) will start an eight-week run beginning April 4 at Taipei's Wellspring Theater, where it will stage three productions in an ensemble titled Let's Play in the Spring! (春天戲水).
Lu Po-shen (呂柏伸), the ensemble's artistic director, says the 27-year-old troupe is moving forward to be a repertory theater, showing popular and signature productions in the past on a regular basis while making new ones.
Lu says the general lifecycle of a new production is one weekend or two at most. The work is then shelved. Let's Play in the Spring! aims to change that, with two reruns, Hamlet (哈姆雷) and Bent (浪跡天涯), and a new production, Pool (No Water) (游泳池(沒水)) "It's like recycling," Lu quipped.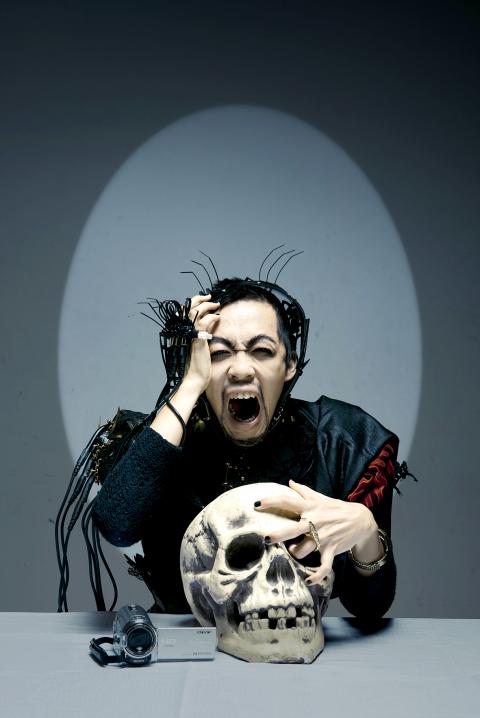 Tainaner revises its version of Hamlet.
Photo courtesy of Tainaner Ensemble
But revising a production doesn't mean it's the same as previous performances. Hamlet, which premiered in 2005 in the troupe's Shakespeare Unplugged (莎士比亞不插電) series, has been remodeled with different stage design and actors. For Lu, remaking a play can improve what was not accomplished due to time or budget constraints in the first place.
The other two plays on the bill are acclaimed works by contemporary European or American dramatists, on provocative themes that Lu believes are rarely presented in Taiwan.
Bent depicts Nazi Germany's persecution of homosexuals. Last November, Tainaner premiered the Tony Award-nominated play by American dramatist Martin Sherman amid the debate over same-sex marriage. Tickets for all five performances sold out.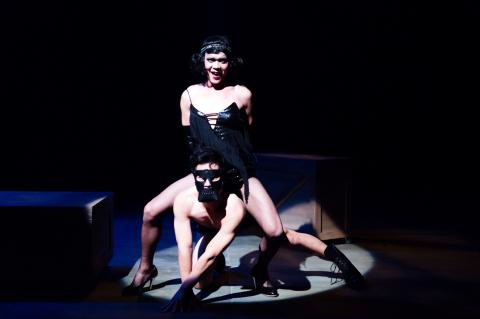 Bent recounts the Nazi persecution of homosexuals.
Photo courtesy of Tainaner Ensemble
Pool (No Water), by English playwright Mark Ravenhill, examines the limits of an artist's conscience in their pursuit of art.
REPERTORY THEATER
Lu says that actors generally spend two to three months preparing for a production, and are paid by the number of shows they act in. It is often the case that they spend a few months without a paycheck. More performances mean more opportunity to hone their stagecraft, and it boosts their income.
Although repertory theater seems to be a positive direction to follow, especially for established theater companies, there has been few successful examples in the local performing arts scene.
The problem lies in the lack of performance venues, Lu says, and an insufficient number of viewers. The Wellspring Theater is the only venue in Taipei that welcomes longer-running programs. Other venues, such as the National Theater (國家戲劇院) or Metropolitan Hall (城市舞台), allow a maximum of two weeks, since the request from various theater companies is overwhelming.
The performing arts industry needs more medium-sized venues that accommodate 600 to 800 people, Lu says, but the government prefers to build large theaters like the Taichung Metropolitan Opera House (台中大都會歌劇院) and Wei Wu Ying Center for the Arts (衛武營藝術文化中心) in Greater Kaohsiung. The former has more than 2,000 seats while the latter has 6,000, an unrealistic size for its location.
"Even if it were in Taipei, to attract that number would require a massive effort," Lu said.
"But government officials seem only interested in something large … they just don't get what we need."
Publication Notes
Performance Notes:
What: Let's Play in the Spring! (春天戲水)
When: For Bent, April 4, 5, 9 to 12 at 7:30pm; April 5, 6, 12, 13 at 2:30pm.
For Hamlet, April 18, 19, 23 to 26 and May 1 to 3 at 7:30pm; April 19, 20, 26, 27 and May 3 at 2:30pm
For Pool (No Water), May 9, 10, 15-17, 22 to 24 at 7:30pm; May 10, 11, 17, 18, 24 at 2:30 pm
Where: Wellspring Theater (水源劇場), 92 Roosevelt Rd Sec 4, Taipei City (台北市羅斯福路四段92號)
Admission: NT$700, NT$800 and NT$2,000, available through NTCH ticketing, online at www.artsticket.com.tw and at 7-Eleven ibon kiosks and other convenience chain store ticketing kiosks
Comments will be moderated. Keep comments relevant to the article. Remarks containing abusive and obscene language, personal attacks of any kind or promotion will be removed and the user banned. Final decision will be at the discretion of the Taipei Times.