A case full of bass
Tom Lloyd and Campbell Burns have found an ideal way to reuse old suitcases – turn them into speakers
At first glance, Basscases look like they could have been stolen straight off the set of Dick Clark's American Bandstand. Unabashedly retro yet distinctively modern, these sleek suitcase/speaker hybrids come with an input for any device and deliver booming sounds that are perfect for getting a party started.
Basscase was started by two expats, Tom Lloyd and Campbell Burns, who were involved in music production, deejaying and performing in Greater Kaohsiung.
"In many ways Basscase was a natural extension of our love of sound and music," Burns said in an e-mail interview with the Taipei Times.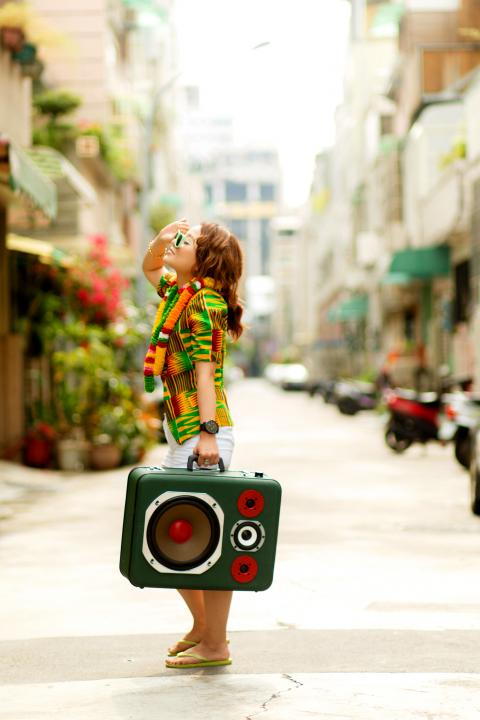 Basscases come in all shapes, sizes and designs.
Photo courtesy of Basscase
"Having both grown up around rave culture, I suppose you could say we gained a love of loud music in the great outdoors," Burns said. He added that the pair learned to build sound speakers and work with amps when they put on outdoor parties.
About a year ago, there were a few leftover speakers at one of these gigs and a beat up suitcase lying around, and an idea clicked. They started to cut holes and attach wires, and Basscase was born.
Burns said the first prototype was pretty rough, but public interest convinced them to keep at it.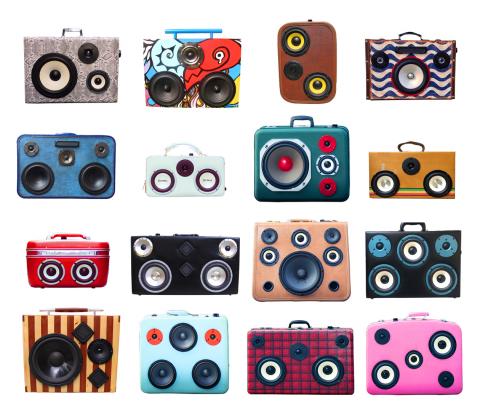 Basscases come in all shapes, sizes and designs.
Photo courtesy of Basscase
"Our mission was to make something that was loud and had hi-fi sound as well as a rechargeable battery that lasted from dusk till dawn. Everyone has huge music collections in their phones and tablets, but most portable speakers lack bass and clarity. Basscase wants to fill this void."
WORD OF MOUTH
Lloyd and Burns have made 26 one-of-a-kind Basscases and sold three-quarters of them through word of mouth or on Facebook.
"A lot of doing this business involves scouting around second-hand stores and markets to find vintage or interesting cases," Burns said.
Once they fall in love with a case, the process is set in motion. But "sometimes we'll find some amazing speakers but don't have the right case for it yet, so we end up semi-hoarding things till we find the right match."
Burns said his favorite speaker was built from a vintage case that a friend found while traveling. "Each case has a history and a story to tell," Burns said.
"My favorite case was a bar case our friend brought back from Canada. We built the speakers into the lid and you could carry 2 bottles of wine in the rest of the Basscase. It was badass."
While they have created Rasta-themed Basscases, as well as ones covered in snakeskin, Burns and Lloyd have been getting their artist friends to help them decorate their latest creations.
Burns says that although they've already built up a moderate degree of success, Basscase aims to maintain as high a level of craftsmanship as possible and are always looking for new and interesting ideas to improve their cases.
"It's tempting to replicate something you've done before, but we want to keep every Basscase unique. We are always on the lookout for new technologies that can help us do that," said Burns.
The Basscase boys will be holding a "full moon" party in April, when they'll chain up a bunch of larger Basscases like a Voltron sound system. For more information go to: basscase.tw or Basscasetw on Facebook.
Comments will be moderated. Keep comments relevant to the article. Remarks containing abusive and obscene language, personal attacks of any kind or promotion will be removed and the user banned. Final decision will be at the discretion of the Taipei Times.